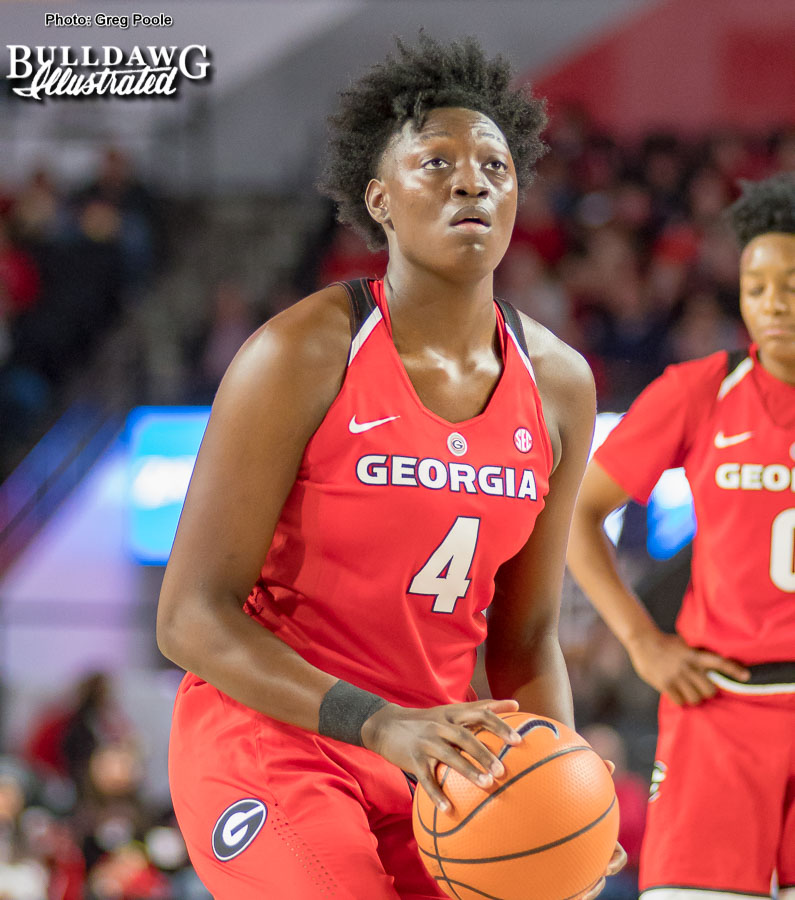 Georgia senior forward Caliya Robinson recorded her second-straight double-double to lead the Lady Bulldogs basketball team to an 83-75 win against Charleston Southern on Sunday at Stegeman Coliseum.
Robinson had 19 points and 10 rebounds and was one of five Georgia players to score in double figures. Gabby Connally, a sophomore guard, scored a season-high 20 points.
Redshirt junior Taja Cole scored 10 points with seven rebounds and seven assists, while redshirt sophomore Jenna Staiti finished the game with a career-high of 11 points and four rebounds.
Georgia had its best game at the free throw line with a 19-of-24 finish from the line against the Buccaneers. Connally went a perfect 5-for-5, while freshman guard Kaila Hubbard scored all five of her points behind the line.
Georgia is now 5-3 this season and will host Furman on Tuesday at 7 p.m.
"I think offensively we looked really good," Georgia head coach Joni Taylor said. "We have to show up on both sides of the court. I thought we executed really well. We got the ball inside, and we shot the three really well. I was really happy with our free throw percentage. That is something we have been harping on, so I'm really happy we got to the free throw line."
A high-scoring performance by both teams highlighted the first half of the game, with neither squad gaining more than a seven-point advantage over the first 20 minutes as Georgia trailed 45-44 at the half.
Coming out after the break, Georgia went on a 5-0 run, but Charleston Southern answered with a 6-0 run for a 51-49 advantage, the team's first lead of the second half. Midway through the third period, a free throw by senior Lady Bulldog Caliya Robinson made it a 54-all game, marking the seventh and last tie of the game. Next, sophomore Gabby Connally stole one of her career-high four steals before finding redshirt junior Taja Cole in the paint for the layup and the Georgia lead.
From then on, Georgia pulled away. The Lady Bulldogs went on an 11-0 run for their 62-54 advantage, with Robinson scoring seven points and Cole and Connally adding two points apiece. Georgia would maintain its lead the entire second half of the game to to finish with an 83-75 victory over Charleston Southern.
The Lady Bulldogs' victory over the Buccaneers improves their record at home to 4-0. Georgia concludes its three-game home-stand Tuesday at 7.p.m. against Furman in Stegeman Coliseum.