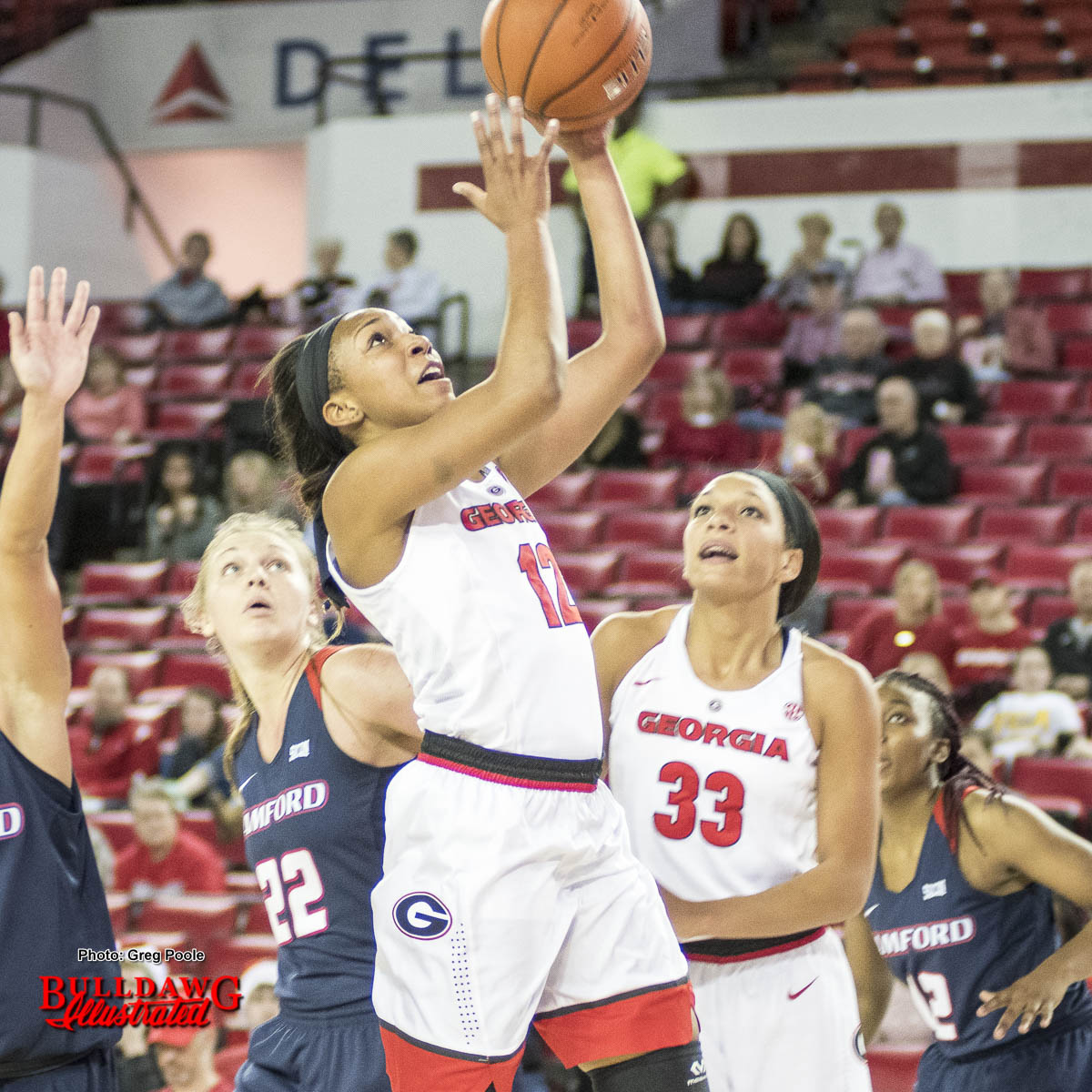 Georgia women's basketball team rising seniors Haley Clark and Mackenzie Engram were recognized in the areas of sportsmanship and leadership Monday evening at the annual Student-Athlete Awards Banquet hosted by the UGA Athletic Association.



Clark received the UGA Athletics Sportsmanship-Ethics Award, which is given annually to one female and male student-athlete who are selected based upon their displays of trustworthiness, respect, responsibility, friendship, caring and citizenship. Engram was chosen for the Clifford Lewis Leadership Award — an honor presented to one female student-athlete who demonstrates a commitment to a group of individuals above personal gain.


"Haley and Mackenzie are very deserving of these honors," head coach Joni Taylor said. "They are great representatives, not only for our program, but for young women who strive to make a difference in their respective communities. These two have taken on leadership roles within our athletics department and both work hard every single day to represent this University and our program with class and integrity. They truly embody what it means to be a Lady Bulldog. I am so proud of them and honored to be their coach."


A native of Orlando, Fla., Clark was Georgia's starting point guard in each of the team's 31 games this past season. She ranked in the top-5 in the Southeastern Conference in assists per game during league play, averaging 4.7 per contest, with 122 total for the season. On a roster that featured just eight scholarship players, Clark was forced to play close to 33 minutes per game after starting just four contests in her previous two seasons combined.


Engram, a 2017 SEC Community Service Team member and AllState Good Works Team nominee, is a leader for the Lady Bulldogs both on the court and in the community. She serves as the team's Student-Athlete Advisory Committee representative and routinely organizes the squad's community service efforts. This past season, Engram came on strong especially late in the year, scoring in double figures in seven of the final 11 regular season games. She averaged 11.3 points and 6.0 rebounds per game —both the third-best numbers on the team.


Last week, it was announced that both Clark and Engram placed on the 2017 SEC Academic Honor Roll.


Below is more information about the Clifford Lewis Leadership and UGA Sportsmanship/Ethics Awards.


Clifford Lewis Leadership Award

Established in 1989 to honor Dr. Clifford Lewis, the first female member of the Athletic Board. During her 42-year association with UGA, she served as student, professor, Chair of the Department of Physical Education and Associate Dean of the College of Education. Through her leadership, women's athletics at UGA prospered.


UGA Sportsmanship-Ethics Award

Given to a male and a female student-athlete who are guided by principles of ethic behavior and sportsmanship. They have acquired the knowledge that enables them to live their lives as citizens of high character. One female and one male student-athlete were selected based upon their displays of trustworthiness, respect, responsibility, friendship, caring, and citizenship.