Monday night Caliya Robinson put up 24 points, just shy of her career high of 30 points, to help the Lady Bulldogs defeat Ole Miss 78-56.
Maya Caldwell was right behind Robinson, with 15 points. Georgia led by as many as 27 points in the third quarter, and they only recorded nine turnovers. Against Auburn, the Bulldogs recorded 28 turnovers.
Head coach Joni Taylor said that when they addressed the problem of turnovers, they made changes so that this was no longer an issue. She commented that team is playing all around good basketball.
"We are at a point where we are peaking at the right time I think we have a more mature understanding of who we are as a team and what we need to do versus where we were at the beginning of the year," Taylor said.
Robinson had another impressive game on the court. She had a fast start on offense, opening up the game with a 3-pointer to give the Dawgs the momentum early. Robinson said she took the shots she was given.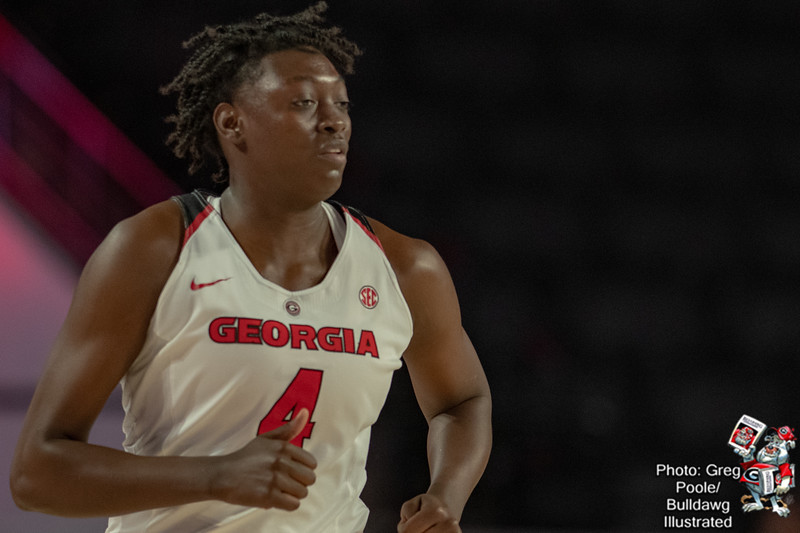 "I just shot a lot of shots I took earlier today in shootarounds. A lot of those shots were just comfortable and shots I was feeling," Robinson said.
The rest of her team made sure she had the opportunity to take those shots. Taja Cole had 10 assists, and she made sure to feed the ball to Robinson.
"We're leaving her open. All her shots were… wide open, so she just took the open shots, and she converted them every time," Cole said.
The SEC tournament is approaching in early March, and Georgia is preparing for these upcoming games. Taylor said their main focus is to win their last few games before the tournament.
To see all UGA Women's Basketball 2019 galleries
CLICK HERE
Cole said that it is all about executing on the court. She said the coaching staff has been saying for them "to just try and put all four quarters together." Consistency is key for Georgia for the remainder of their season as they approach the postseason.
"There can be no letdowns for us in terms of the position we're in trying to claw our way back into fighting position in the SEC race and also to get into the NCAA tournament," Taylor said. "I think our team understands that now and we've had really good focus in practice and have been able to put some good games together."
The Bulldogs will play Arkansas Thursday in Athens, Georgia.