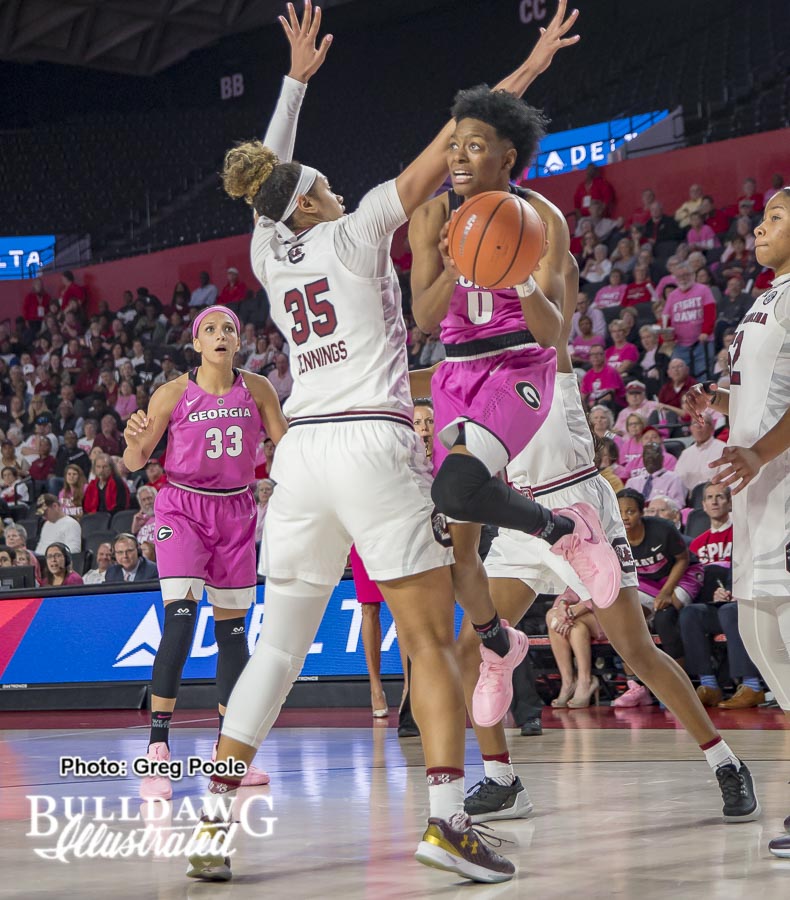 Game Information
#19 Georgia Lady Bulldogs (22-5, 10-4 SEC) at Alabama Crimson Tide (17-10, 7-7 SEC)
Thursday, Feb. 22, 2018 // 8 p.m. ET // Coleman Coliseum (15,383)
Watch: SEC Network +  (Eli Gold — play-by-play, Rick Moody— analyst)
Radio: 103.7 WKXT-FM and 960 AM; also available on GeorgiaDogs.com and the Georgia Bulldog App
(Jeff Dantzler — The Voice of the Lady Bulldogs)
Opening Tip 
» The No. 19-ranked Georgia Lady Bulldogs hit the road for the second-straight game when they travel to Tuscaloosa to take on the Alabama Crimson Tide. Tipoff is scheduled for 8 p.m. ET/7 p.m. CT on SEC Network +.
» Georgia enters the game ranked No. 19 in both the Associated Press and USA Today Coaches polls and 28th in the NCAA RPI. The Lady Bulldogs were the No. 15 overall seed in the NCAA tournament committee's reveal this past Monday night.
» The Lady Bulldogs are 22-5 overall, with all five losses coming to teams ranked in the latest AP top-25. In fact, three of those squads are ranked in the top-10 of the NCAA RPI, while all have an RPI of 26 or higher.
» Head Coach Joni Taylor was named one of 10 semifinalists for the 2018 Werner Ladder Naismith National Coach of the Year Award, it was announced on Wednesday. Taylor's team, which is currently in third place in the SEC, was picked eighth in this year's preseason poll. Georgia reached last season's win total of 16 through just 18 games, while the improvement from 16-15 to 22-5 is the largest single-season turnaround since Coach Andy Landers' first season in 1979-80.
» Junior forward Caliya Robinson leads Georgia in both scoring (13.1 ppg) and rebounding (7.6 rpg) this season. The SEC Defensive Player of the Year candidate is the only player in the conference to rank top-10 in the league in three major defensive categories: blocks (82), steals (47) and defensive rebounds (5.8 rpg). Robinson's 82 blocks are the second-most in the SEC and rank ninth nationally.
» As a team, Georgia leads the league in several statistical categories, including assists (16.5 per game) and field-goal percentage defense. The Lady Bulldogs have held 21 of 27 opponents, including four-straight, at or below 40-percent shooting from the field.
Series Information 
Overall: Georgia leads, 38-11
In Athens:  Georgia leads, 18-3
In Tuscaloosa: Georgia leads, 14-6
Neutral Sites: Georgia leads, 6-2
Current Streak: Georgia has won 8 of last 10
Last Meeting:  Georgia won, 71-65 (OT) (2/23/17)
Largest Margin of Victory: Georgia won, 96-41 (1/7/01)
Largest Defeat: Alabama won, 105-81 (2/29/92)
Last Time Out
Georgia Lady Bulldog junior forward Caliya Robinson scored a season-high 28 points to lead her team to a 66-52 victory Monday evening at The Pavilion on the Ole Miss campus.
The Lady Bulldogs saw their 17-point halftime lead trimmed down to a one-point margin in the third quarter, before outscoring the Rebels 18-8 in the fourth.
Robinson's 28 points were just two shy of her career-high 30 that she scored last season against Minnesota. In addition to Robinson's performance, freshman Que Morrison finished with 10 points, 10 rebounds and six assists.
"We never gave up the lead, but I thought we just came out sluggish in that third quarter," head coach Joni Taylor said. "Ole Miss was aggressive after the half and we started fouling and giving up offensive boards. In the fourth, we went back to what we do best. It's always tough to win on the road and we have another tough one Thursday at Alabama."
Georgia Notebook
Robinson A Top-10 Finalist for Katrina McClain Award
» Georgia junior forward Caliya Robinson has been named a finalist for the 2018 Katrina McClain Award, which goes to the nation's top power forward. The honor is named for the former Lady Bulldog, who as a two-time All-American and the 1987 National Player of the Year. Robinson is currently 27 points from 1,000 in her career and just two blocks from 200. She would be just the fifth player in school history to reach the 200-block total for a career.
Clark Leading In Senior Season
» While veterans Mackenzie Engram and Caliya Robinson lead the team in most statistical categories, senior Haley Clark has also been a consistent leader for the Lady Bulldogs. Clark has started every game the last two seasons — a string of 58-straight contests. Clark, who already has a bachelor's degree in finance and is working on a master's in financial planning, is a nominee for the CoSIDA Academic All-District Team and also the SEC Scholar-Athlete of the Year award.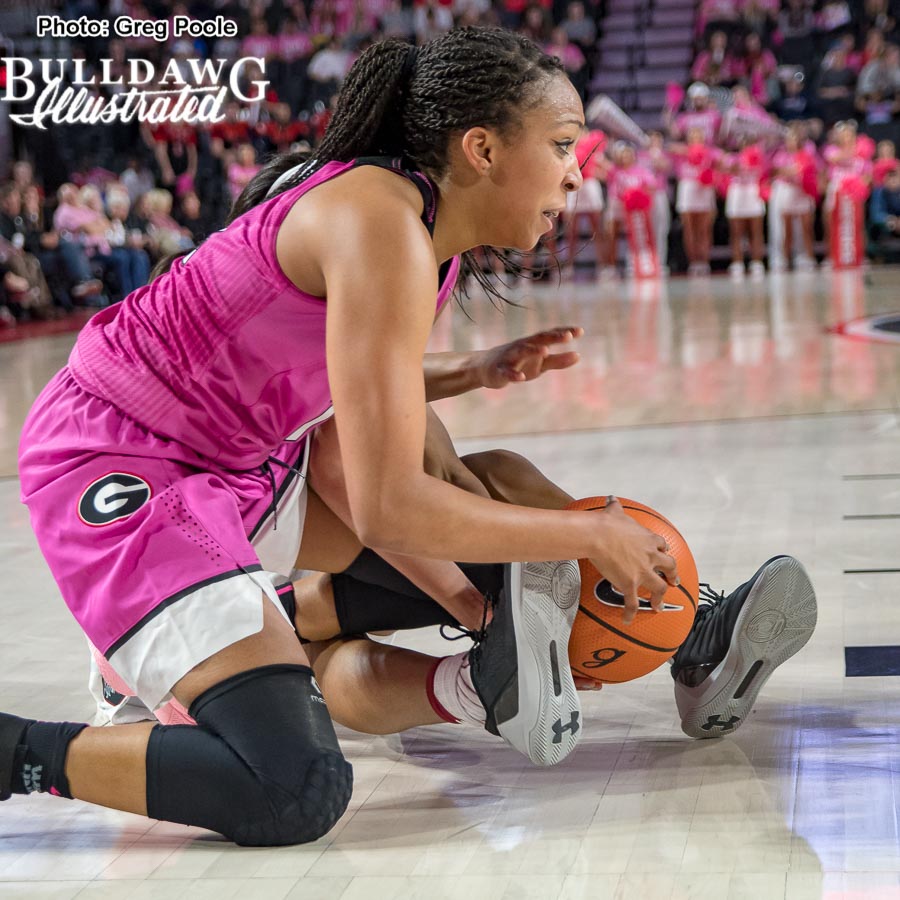 I
t Starts With Defense Under Taylor
» Georgia prides itself on defense, and that has paid off this season. The Lady Bulldogs lead the conference in field-goal percentage defense (35.8 percent) — a mark that ranks 11th nationally. In all, the Lady Bulldogs are 22-0 in three seasons under Coach Taylor when holding an opponent to 50 points or less and are 19-2 when an opponent shoots less than 40 percent this season.
Undefeated January For Only Fifth Time
» Georgia finished the month of January with a perfect 7-0 record. It marked only the fifth time in program history that the Lady Bulldogs have gone undefeated in January. Three of those previous four teams (1985-86, 1990-91 and 1995-96) won the SEC title that same season.
Taylor's Team Exceeding Expectations … A Three-Year Trend
» There is still a lot of basketball to be played, but this year's performance marks a trend for the Lady Bulldogs under head coach Joni Taylor. Georgia was picked eighth in the SEC's preseason poll, and so far it looks like the Lady Bulldogs will once again exceed expectations. In Coach Taylor's first year, Georgia was picked ninth and finished sixth (one game out of fourth). In her second season, the Lady Bulldogs were picked 12th and finished eighth.
Georgia's Road Streak The Best In Over 20 Years
» The Lady Bulldogs began the year with a perfect 8-0 mark away from home — their best start on the road since the 1994-95 NCAA Final Four team began the year 11-0 away from Stegeman Coliseum. Georgia's current streak came to an end on Feb. 1, when LSU defeated the Lady Bulldogs, 71-60.
Lady Bulldogs Bave Mixture Of Youth And Experience
» Even though the Lady Bulldogs are led by veteran players, three of Georgia's top-5 scorers are actually newcomers. Morrison leads the way with 8.7 ppg, followed by Taja Cole's 7.8 ppg and Gabby Connally's 7.4 ppg.
Balanced Bulldogs
» Through 27 games, eight or more players have scored in 21 contests. In all, every available player on the Lady Bulldogs' roster has scored a point, while nine players average 15 or more minutes per game.