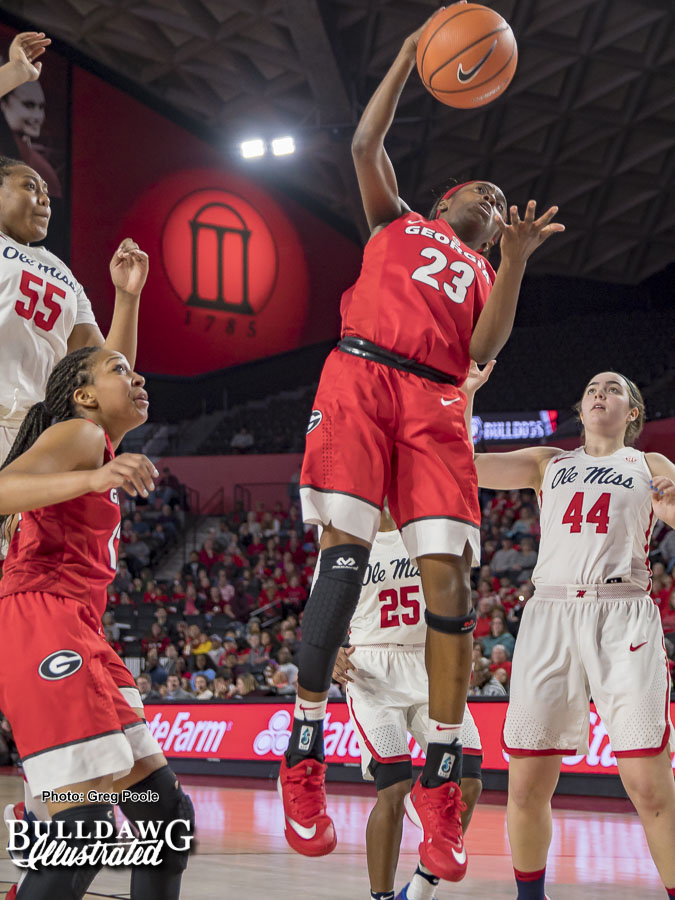 #19 Georgia Lady Bulldogs (23-5, 11-4 SEC) vs. Florida (11-17, 3-12 SEC)
Sunday, Feb. 25, 2018 // Noon ET // Stegeman Coliseum (10,523)
Watch: SEC Network  (Courtney Lyle – play-by-play; Tamika Catchings – analyst)
Radio: Georgia Bulldog Network by IMG // Jeff Dantzler (play-by-play)
In Athens: 960 AM and 103.7 FM
*also available on GeorgiaDogs.com and the Georgia Bulldogs app
Game Promotions 
» Senior Day — There will be a ceremony before the game to honor Haley Clark, Simone Costa and Mackenzie Engram
» The first 1,000 fans in attendance will receive a Saudia Roundtree bobblehead
» Girl Power Day — Students from Clarke and Barrow counties meet with Georgia student-athletes before the game
» Halftime performance by Russian Bar trio
Opening Tip 
» The No. 19-ranked Georgia Lady Bulldogs return home to host Florida in the team's regular season finale. Tipoff is scheduled for Noon ET inside Stegeman Coliseum.
» Sunday is Senior Day for three Lady Bulldog seniors — Haley Clark, Simone Costa and Mackenzie Engram. The trio will be honored during a pregame ceremony.
» With a win on Sunday, Georgia can clinch the No. 3 seed and a double-bye in this week's Southeastern Conference Tournament. It would be an impressive accomplishment for a team that was picked eighth in the SEC's preseason poll after a 16-15 finish a year ago.
» This year's turnaround to a 23-5 overall record is the program's biggest since Hall of Fame Coach Andy Landers led the team to a 16-12 mark in his first year after the team went just 6-19 the season before he took over.
» Georgia is currently ranked No. 19 in both the Associated Press and USA Today Coaches polls and 25th in the latest NCAA RPI. The Lady Bulldogs, who were chosen as the No. 15 overall seed in the NCAA Tournament committee's latest reveal, have five losses — all to teams that are ranked in this week's AP top-25.
» Winning with defense has been the mantra for the Lady Bulldogs this season. Georgia leads the SEC in field-goal percentage defense and has held its last five league opponents below 40-percent from the field. The Lady Bulldogs have held 22 of 28 teams at or below 40-percent this year and are 23-0 under head coach Joni Taylor when an opponent scores 50 points or less.
» Junior forward Caliya Robinson is a leading SEC Defensive Player of the Year candidate. She is currently second in the SEC in blocks with 85 total and 11th in steals with 1.8 per game. Robinson is also Georgia's leading scorer and rebounder and needs just 15 points to reach 1,000 career points in her career.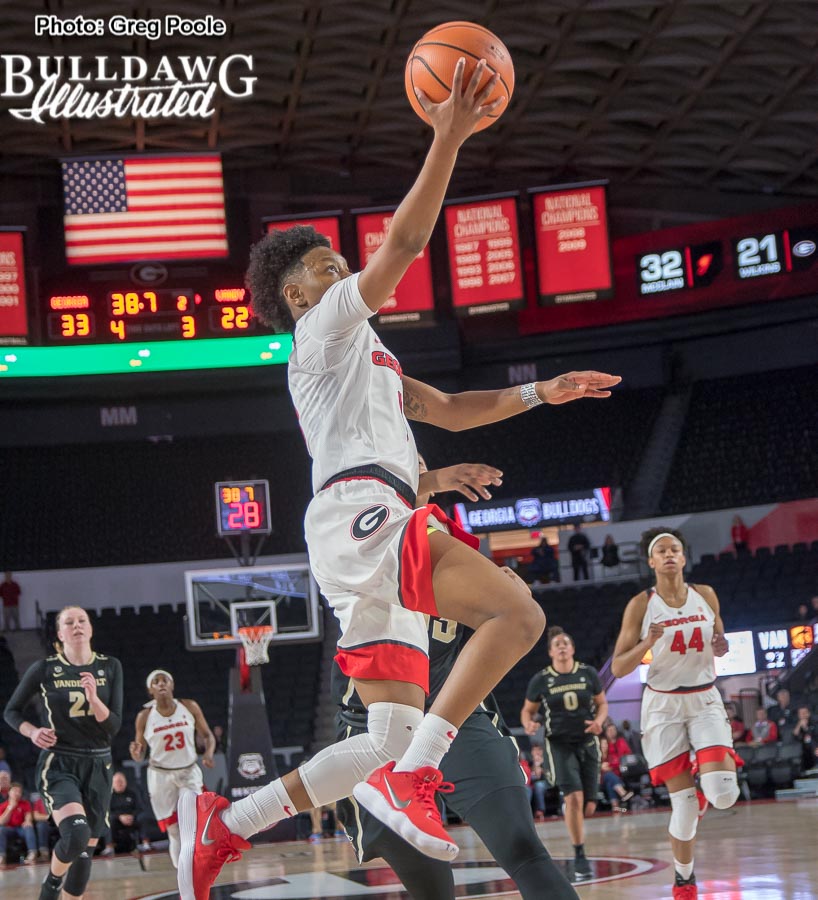 Series Information vs. Florida
Overall: Georgia leads, 54-17
In Athens:  Georgia leads, 28-5
In Gainesville: Georgia leads, 24-11
Neutral Sites: Georgia leads, 2-1
Current Streak: Georgia has won 4 of last 6
Last Meeting:  Georgia won, 66-57 (1/28/18)
Largest Margin of Victory: Georgia won, 105-62 (1/12/03)
Largest Defeat: Florida won, 94- 61 (1/7/98)
Last Time Out
A putback by junior forward Caliya Robinson with three seconds remaining in the game sent the contest into overtime, where the Georgia Lady Bulldogs basketball team took control in a 49-43 victory against Alabama Thursday evening at Coleman Coliseum.
Senior forward Mackenzie Engram led all scorers with 16 points, while Robinson added a double-double of 12 points and 12 rebounds.
"I thought we were relentless defensively when things did not go our way on the offensive end," head coach Joni Taylor said. "Give Alabama credit. I think that is an NCAA Tournament team and Kristy has them playing really well right now. For us, we finally stopped turning it over in the overtime period and that was the difference in the game."
Georgia Notebook
Joni Taylor A Semifinalist For National Coach Of The Year
» Georgia's Joni Taylor is one of 10 semifinalists for the Werner Ladder Naismith National Coach of the Year award. Taylor is one of three SEC coaches, joining Robin Pingeton (Missouri) and Vic Schaeffer (Mississippi State), on the prestigious list.
Exceeding Expectations … A Three-Year Trend
» There is still a lot of basketball to be played, but this year's performance marks a trend for the Lady Bulldogs under head coach Joni Taylor. Georgia was picked eighth in the SEC's preseason poll, and so far it looks like the Lady Bulldogs will once again exceed expectations. In Coach Taylor's first year, Georgia was picked ninth and finished sixth (one game out of fourth). In her second season, the Lady Bulldogs were picked 12th and finished eighth.
Clark Leading In Senior Season
» While veterans Mackenzie Engram and Caliya Robinson lead the team in most statistical categories, senior Haley Clark has also been a consistent leader for the Lady Bulldogs. Clark has started every game the last two seasons — a string of 59-straight contests. Clark, who already has a bachelor's degree in finance and is working on a master's in financial planning, is a nominee for the CoSIDA Academic All-District Team and also the SEC Scholar-Athlete of the Year award.
Another 20-win Season For the Lady Bulldogs
» Georgia is currently 23-5, marking the second 20 win campaign in three years under Coach Taylor. A 20-win season is nothing new for the Lady Bulldogs basketball program. In the last 38 years (since 1980-81), Georgia has recorded 20 or more wins 31 times.
It Starts With Defense Under Taylor
» Georgia prides itself on defense, and that has paid off this season. The Lady Bulldogs lead the conference in field-goal percentage defense (34.7 percent) — a mark that ranks ninth nationally. In all, the Lady Bulldogs are 23-0 in three seasons under Coach Taylor when holding an opponent to 50 points or less and are 20-2 when an opponent shoots less than 40 percent this season.
Undefeated January For Only Fifth Time
» Georgia finished the month of January with a perfect 7-0 record. It marked only the fifth time in program history that the Lady Bulldogs have gone undefeated in January. Three of those previous four teams (1985-86, 1990-91 and 1995-96) won the SEC title that same season.
Georgia's Road Streak The Best In Over 20 Years
» The Lady Bulldogs began the year with a perfect 8-0 mark away from home — their best start on the road since the 1994-95 NCAA Final Four team began the year 11-0 away from Stegeman Coliseum. Georgia's current streak came to an end on Feb. 1, when LSU defeated the Lady Bulldogs, 71-60.