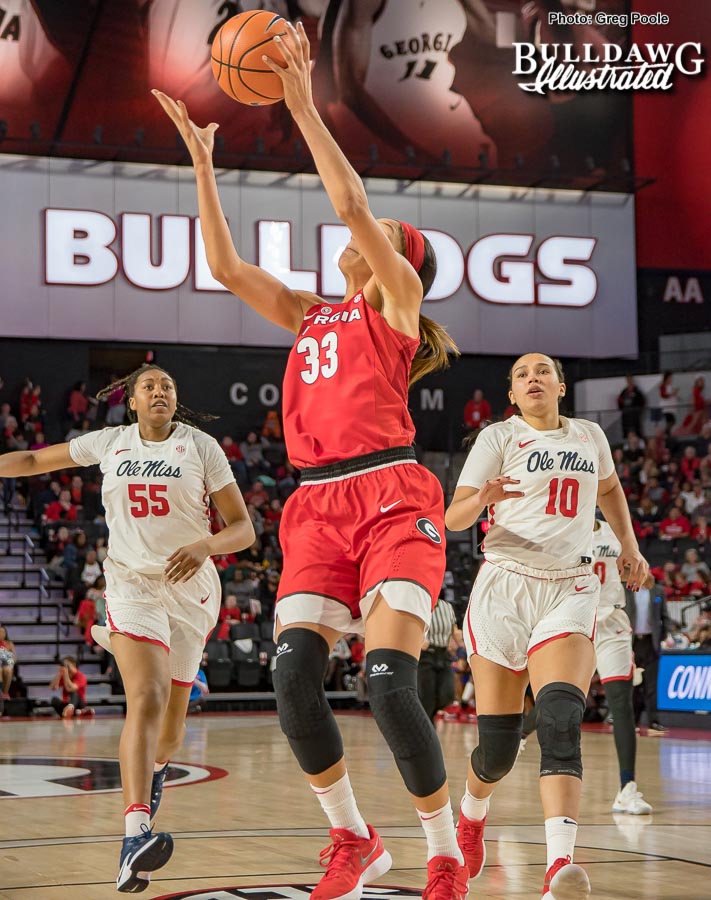 #19/20 Georgia Lady Bulldogs (21-5, 9-4 SEC) vs. Ole Miss (11-15, 1-12 SEC)
Monday, Feb. 19, 2018 // 7 pm ET // The Pavilion at Ole Miss (9,500) // Oxford, Miss.
Watch: SEC Network  (Brenda VanLengen – play-by-play; Carol Ross – analyst)
Radio: Georgia Bulldog Network by IMG // Jeff Dantzler (play-by-play)
In Athens: 960 AM and 103.7 FM
*also available on GeorgiaDogs.com and the Georgia Bulldogs app
» The No. 19-ranked Georgia Lady Bulldogs head to Oxford, Miss., on Monday to play the Ole Miss Rebels. The contest will air nationally on the SEC Network.
» After starting the season with a 21-3 record — the team's best start since the 2012-13 campaign — the Lady Bulldogs have lost two-straight games to a pair of ranked opponents. Four of Georgia's five losses this year have come against teams with an RPI of 15 or higher.
» The Lady Bulldogs have been impressive on the road this season, starting 8-0 away from home. That 8-0 record was the team's best mark since the 1994-95 NCAA Final Four squad began 11-0. However, Georgia has lost back-to-back road games at LSU and at Tennessee.
» Senior forward Mackenzie Engram has scored in double figures in four-straight games and leads the team with 13.0 ppg.
» Junior forward Caliya Robinson enters the game ranked second in the SEC and eighth nationally in blocks with 81 total and 3.2 per contest. Robinson is the only player in the SEC to rank in the top-10 of the league in three major defensive categories — blocks (81), steals (45) and defensive rebounds (5.8 per game).
» Although Engram and Robinson are Georgia's leaders, three of the Lady Bulldogs' top-5 scorers are newcomers. Morrison leads the trio with 8.6 ppg and has the chance to become the first freshman to start every game in her first season since Alexis Kendrick in 2002-03.
» As a team, Georgia leads the SEC and is 13th nationally in field-goal percentage defense, holding teams to just 35.2 percent shooting from the floor. The Lady Bulldogs have held 20 of 26 opponents this season at or below 40-percent shooting from the field.
Series Information vs. Ole Miss
Overall: Georgia leads, 33-13
In Athens:  Georgia leads, 18-1
In Oxford: Tied, 9-9
Neutral Sites: Georgia leads, 6-3
Current Streak: Georgia has won 7 of last 9
Last Meeting:  Georgia won, 69-45 (2/4/18)
Largest Margin of Victory: Georgia won 96-54 (1/16/03)
Largest Defeat: Ole Miss won 88-59 (2/1/92)
Last Time Out
A second-half offensive outburst from the eighth-ranked South Carolina Gamecocks overtook the 19th-ranked Georgia Lady Bulldogs' first half margin in the 77-65 final at Stegeman Coliseum on Thursday night.
Senior forward Mackenzie Engram led Georgia (21-5, 9-4) with the 10th double-double of her career, combining 11 points, 11 rebounds, three steals and two blocks on the game. Three other Lady Bulldogs also posted double-digit scoring outputs: redshirt sophomore guard Taja Cole (12), junior forward Caliya Robinson (11), freshman guard Que Morrison (11).
"From a game plan standpoint, we executed offensively," Georgia head coach Joni Taylor. "We did what we wanted to do and got some really good looks. Our kids played really hard."
Georgia Notebook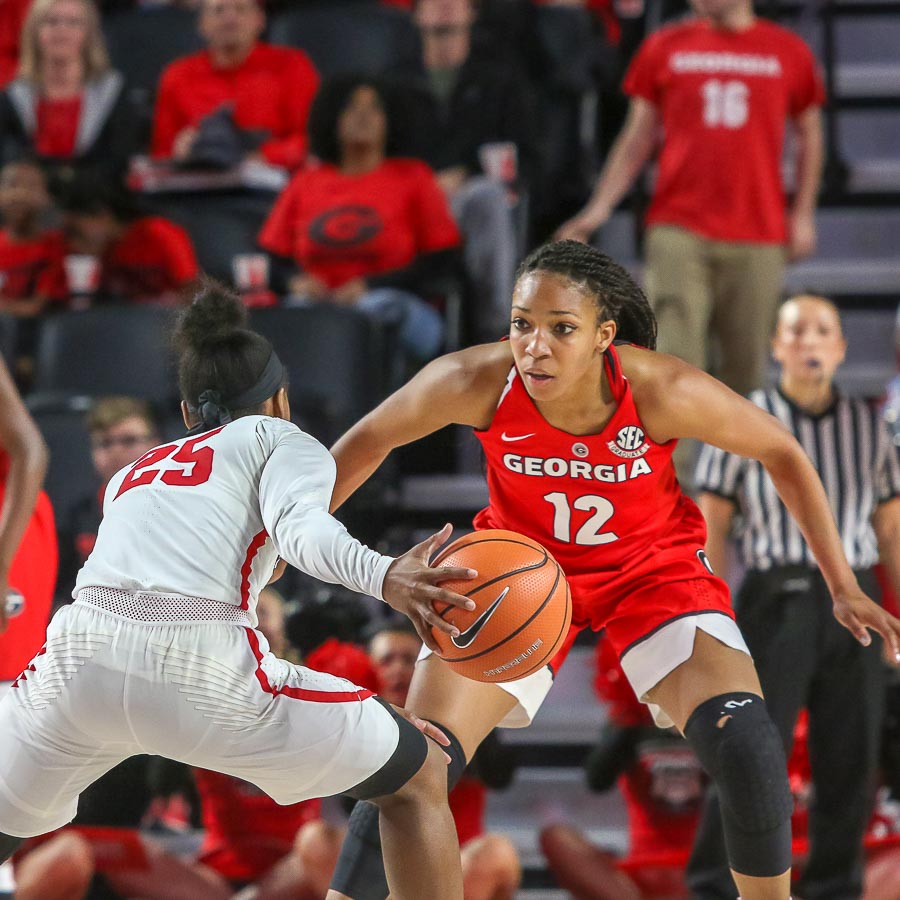 Clark Leading In Senior Season
» While veterans Mackenzie Engram and Caliya Robinson lead the team in most statistical categories, senior Haley Clark has also been a consistent leader for the Lady Bulldogs. Clark has started every game the last two seasons — a string of 57-straight contests. Clark, who already has a bachelor's degree in finance and is working on a master's in financial planning, is a nominee for the CoSIDA Academic All-District Team and will be a nominee for the SEC Scholar-Athlete of the Year award.
Another 20-win Season For the Lady Bulldogs
» Georgia is currently 21-5, marking the second 20 win campaign in three years under Coach Taylor. A 20-win season is nothing new for the Lady Bulldogs basketball program. In the last 38 years (since 1980-81), Georgia has recorded 20 or more wins 31 times.
It Starts With Defense Under Taylor
» Georgia prides itself on defense, and that has paid off this season. The Lady Bulldogs lead the conference in field-goal percentage defense (35.2 percent) — a mark that ranks 13th nationally. In all, the Lady Bulldogs are 22-0 in three seasons under Coach Taylor when holding an opponent to 50 points or less and are 18-2 when an opponent shoots less than 40 percent this season.
Taylor's Team Exceeding Expectations … A Three-Year Trend
» There is still a lot of basketball to be played, but this year's performance marks a trend for the Lady Bulldogs under head coach Joni Taylor. Georgia was picked eighth in the SEC's preseason poll, and so far it looks like the Lady Bulldogs will once again exceed expectations. In Coach Taylor's first year, Georgia was picked ninth and finished sixth (one game out of fourth). In her second season, the Lady Bulldogs were picked 12th and finished eighth.
Balanced Bulldogs
» Through 26 games, eight or more players have scored in 21 contests. In all, every available player on the Lady Bulldogs' roster has scored a point, while eight players average 15 or more minutes per game.
Undefeated January For Only Fifth Time
» Georgia finished the month of January with a perfect 7-0 record. It marked only the fifth time in program history the Lady Bulldogs have gone undefeated in January. Three of those previous four teams (1985-86, 1990-91 and 1995-96) all won the SEC title that same season.
Robinson A Top-10 Finalist For Katrina McClain Award
» Georgia junior forward Caliya Robinson has been named a finalist for the 2018 Katrina McClain Award, which goes to the nation's top power forward. The honor is named for the former Lady Bulldog, who as a two-time All-American and the 1987 National Player of the Year.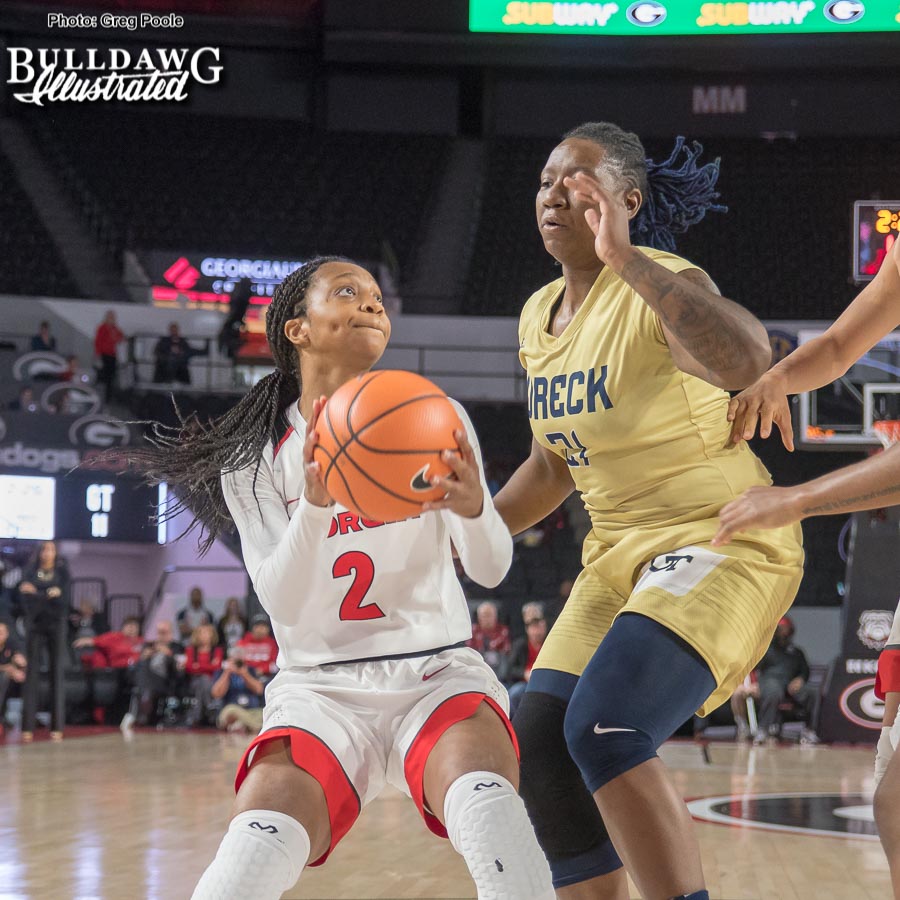 Connally Sets Georgia Freshman Record
» Georgia freshman guard Gabby Connally put together one of the best single-game freshman performances in school history during her homecoming trip to Texas A&M.
The San Antonio, Texas native scored 37 points, marking the best game by a Georgia rookie against an SEC opponent in the program's illustrious history. Not only was it the best against a league opponent, but it is tied for the third-best game by a Georgia freshman overall only behind Coco Miller's 45 points against Charleston Southern in 1997 and Janet Harris' 39-point effort versus Valdosta State in 1981. Connally scored 15 of her points in the overtime period, knocking in 11-fo-12 free throws during that five-minute stretch.
What A Turnaround
» It took just 18 games into the season for the Lady Bulldogs to reach last year's win total of 16 games. It took 30 games for Georgia to reach the 16-win total a season ago, with that victory coming at the SEC Tournament against Auburn.
Georgia's Clark Already A College Graduate
» A three-time selection to the SEC Academic Honor Roll, Haley Clark graduated in just three years and received her diploma from UGA during graduation ceremonies this past May. Clark received her bachelor's degree in business and finance and is pursuing a master's in financial planning. One of her career goals is to work in corporate finance and help other athletes with financial planning.