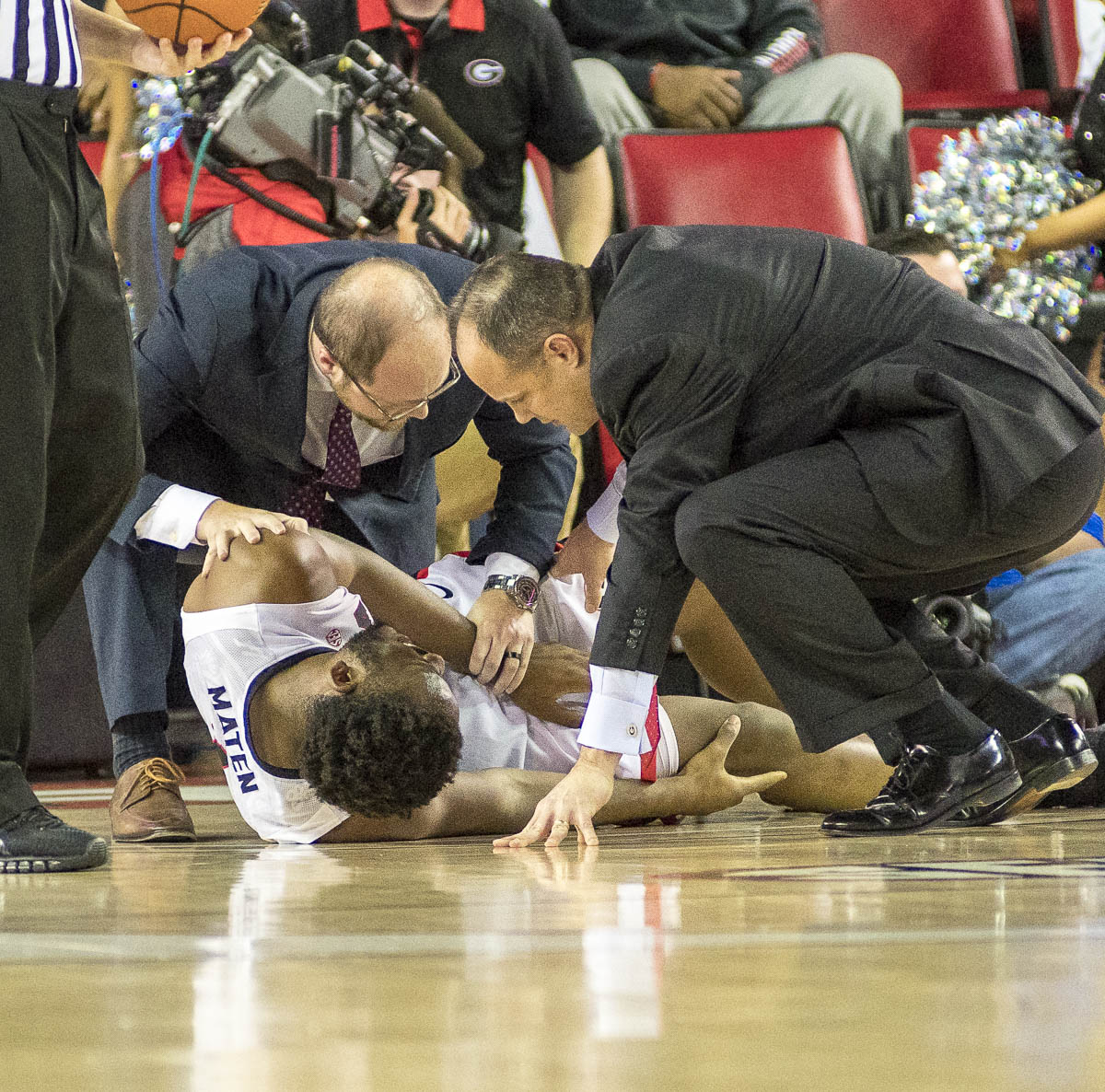 The UGA basketball team desperately needed a signature win and after Yante Maten went down, it made the road that much tougher for the Bulldogs, in what ended up being a hard-fought 82-77 loss.


Yante Maten, who is arguably the Bulldogs' best player, went down with only 1:36 of the game having been played in the first half and he never came back. However, JJ Frazier did not let Maten's absence affect his play as he led both teams in scoring with 36 points, but it proved to not be enough.


The Bulldogs also saw some added production from their bench in Pape Diatta and Mike Edwards. Edwards saw added playing time in Maten's absence and scored 10 points, while Diatta scored 9 points of his own.


Kentucky did not have two scorers dominating the stat sheet like their last game against the Bulldogs, which saw Malik Monk finish with 37 points and Isaiah Briscoe finish with 23, but had a much more balanced scoring attack. The Wildcats had three players in double-digits with D'Aaron Fox with 16, Bam Adebayo with 12, and Monk with 16.


The game was very much back and forth for its entirety, especially in the second half. There were 10 lead changes in the last 8:20 of play, which gave this game the same exciting feel as these two teams' first meeting.


The game was won with 44 seconds left to play when the Bulldogs had a 75-73 lead but Kentucky's De'Aaron Fox scored six straight unanswered free throws and that was the late key run that led the Wildcats to victory.


Mark Fox's Bulldogs have struggled to win close games this season and have been on the brink of earning a few signature wins, but in each and every big game, they have lost in the closest of fashions. This game may have been the Bulldogs' last chance of earning a key signature win and now their only hope of making it to the NCAA tournament is winning the SEC tournament.


This team is definitely talented enough to win the SEC tournament, but they will have to end their trend of losing games against higher-ranked opponents. Yante Maten's status for the remaining games will also play a key role in how the rest of the season goes for the Bulldogs.


The Bulldogs will hope to get back on track against the Alabama Crimson Tide on Thursday, February 20th.