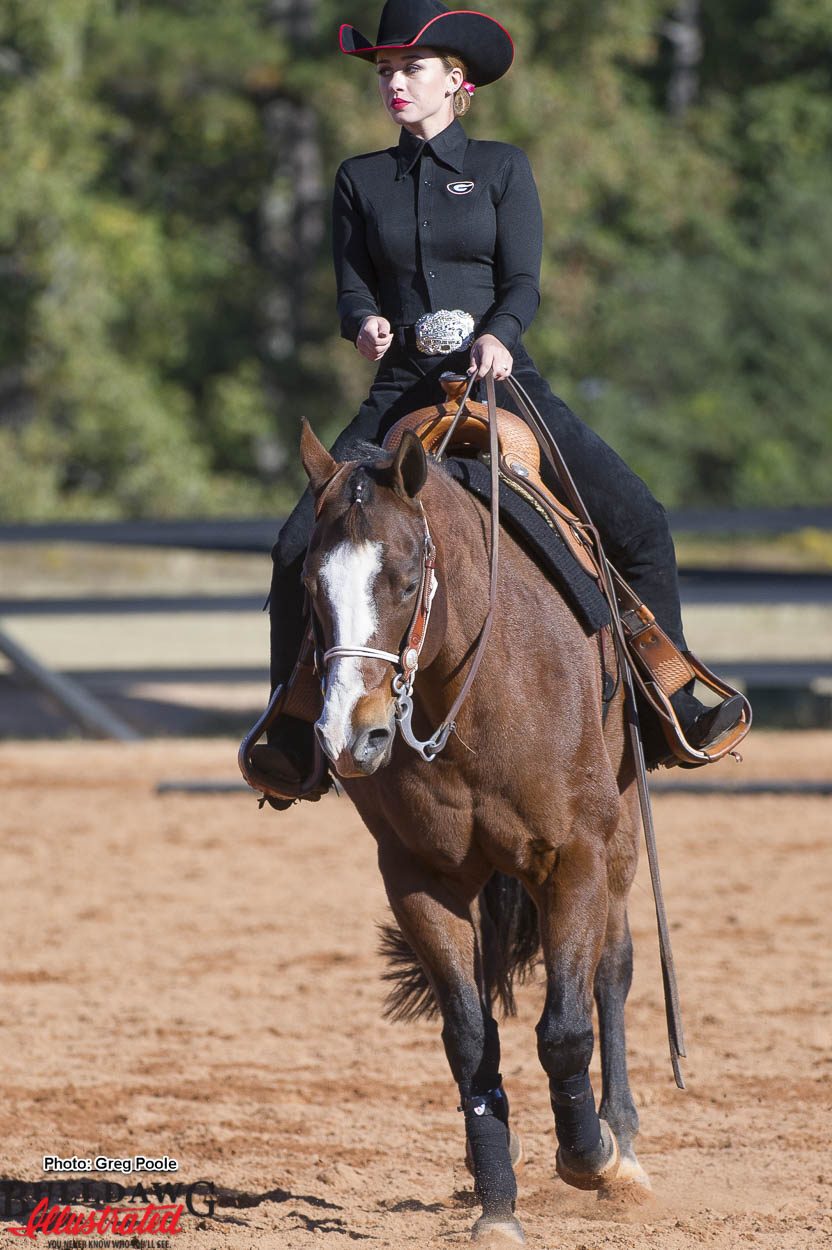 The top-ranked Georgia equestrian team opened 2018 with a midseason scrimmage at the UGA Equestrian Complex, defeating Converse College 8-1 on Friday afternoon.

"I was very impressed with how they rode," Georgia head coach Meghan Boenig. "This is just such a great opportunity to get so many people out and riding early in the season. Some really good tests, just proud as punch of the depth and talent of this team. We enjoyed having Converse out here, what a great team to scrimmage against. That sets a good tone for the rest of the semester."
Sophomore Carly Reinsel (Equitation over Fences) and freshman Hayley Mairano (Equitation on the Flat) headlined the Georgia squad, earning Most Outstanding Performance honors.
Opening the afternoon with Equitation over Fences, Georgia swept the field with four uncontested points. Junior Madison Newman opened the competition for Georgia with a score of 84, topping Elizabeth Gilbert's 75. Sophomore Carly Reinsel followed, posting a score of 87 over Caroline Gilliam's 60, earning MOP honors with the largest margin of victory on the day. Senior Vanessa McCarthy and junior Danielle Walawender concluded the high-scoring in Fences for Georgia with respective scores of 86 and 85.
Georgia claimed Equitation on the Flat 4-1, with senior Caroline Johnson starting the event with a strong 73 over Gilliam's 67. Freshman Carter Anderson notched an event-high score of 78 against Lydia Davidson's 68 for Converse to hand the Bulldogs the 2-0 margin. Freshman Samantha Gastelum edged Jennifer Matusik 72-69, before Hayley Mariano earned MOP honors with a 76 score over Elizabeth Gilbert (64).
"I think we will still be putting in a little bit of those technical details, working on moments of great equitation or smoothing out some transitional work," Boenig said. "We will be putting all of those into place, and some lead change work as well. There are always things to continue to work on."
Georgia is back in action on Saturday, February 3 at 11 a.m. at the UGA Equestrian Complex, playing host to Sweet Briar College.