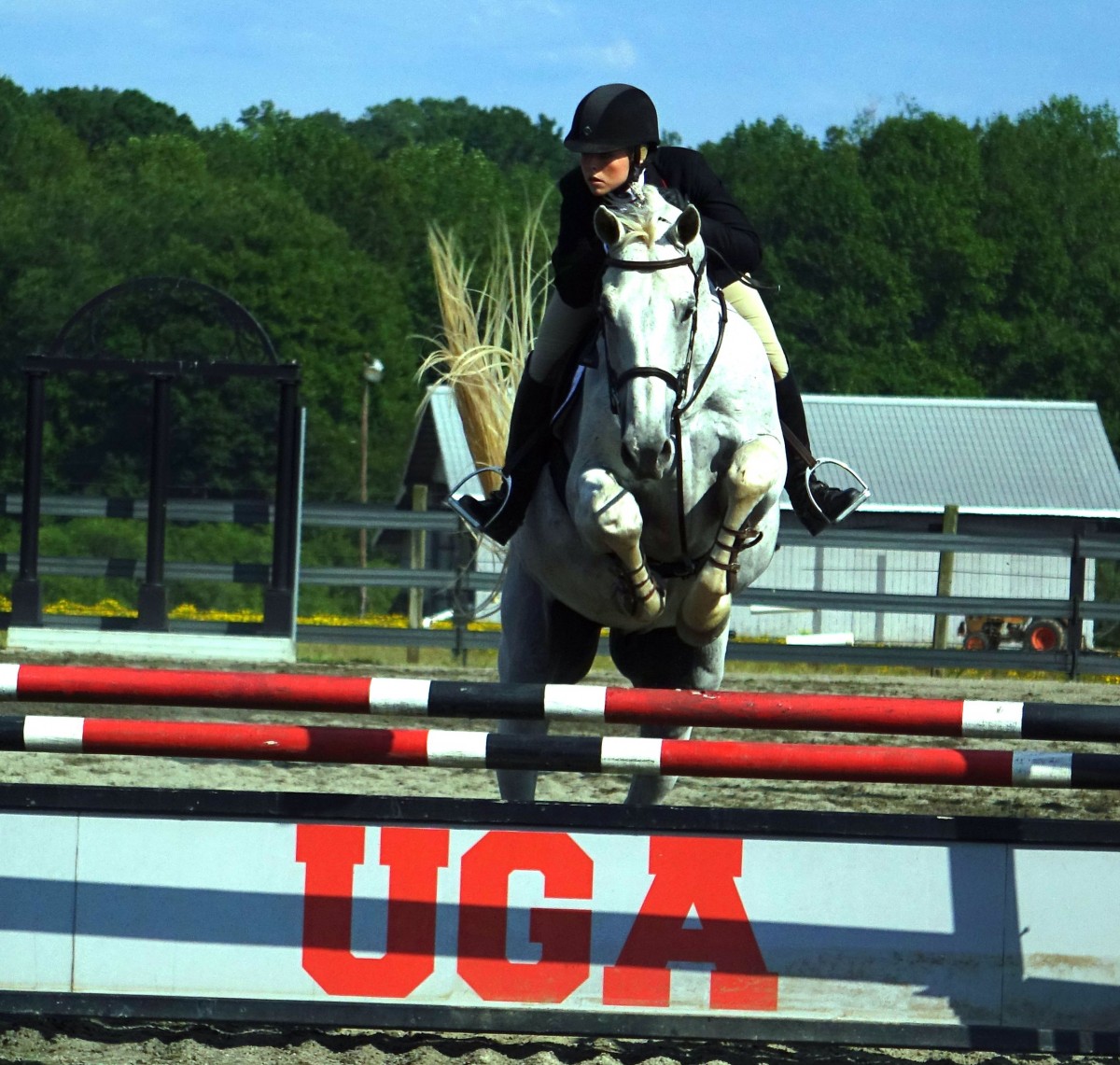 [su_spacer size="20″] The No. 1 ranked Georgia equestrian team edged No.7 Texas A&M 10-9 on Friday in Bishop, Ga.  Addy Cord (Equitation Over Fences) and Lauren Garmon (Reining) took home MOP honors for the Bulldogs.
[su_spacer size="40″] "It was a great competition," Georgia head coach Meghan Boenig said.  "You're never going to have an easy day when you're in the SEC and today was no exception to that.  We're excited about the win and for what we're going to take from today to apply to the next meet."
[su_spacer size="40″] In Equitation Over Fences, Georgia jumped to an early lead, winning the event 4-1.  Texas A&M's Rachel Hake took the first point of the day with an 80-70 lead over Liza Finsness.  Georgia took the next four points.  Leylan Gleeson rode to an 83-55 win over Texas A&M's Alex Desiderio before Alex Maracic defeated Rebekah Chenelle 82-65. Addy Cord won the point against Hannah Williams 88-67.  Meg O'Mara closed out the event with a 91-85 win over Marlena Parker.
[su_spacer size="40″] In Horsemanship, Georgia's Rachel Kolb took the first point defeating Carolyn Day 74.5-72.5.  Texas A&M won the next three points of the event.  Texas A&M's Logan Pluhar rode to a 77-74.5 win over Georgia's Sammie Johnson before Kaci Fisher defeated Madison Anger 75.5-74.5.  Rachel Lucht grabbed a point from Heather Schmidt with a score of 72.5-72.  Bailey Anderson won the final point with a score of 76.5-75 over Texas A&M's Avery Ellis.  Texas A&M won the event 3-2.
[su_spacer size="40″] Going into the second half Georgia led Texas A&M 6-4.
[su_spacer size="40″] It began to rain with the start of Equitation on the Flat.  Addy Cord started off the event and defeated Texas A&M's Alex Desiderio 81-74.  Alex Maracic picked up the next point for the Bulldogs with an 87-79 win over Marlena Parker before Leylan Gleeson defeated Anna Rea 89-78.  Texas A&M took the final two points of the event.  Georgia's Meg O'Mara fell to Hannah Williams 78-75 before Audrey Gallagher defeated Liza Finsness 83-79.
[su_spacer size="40″] The Bulldogs led the Aggies 9-6 going in to Reining.  The Aggies earned the first point as Ashley Dotson edged Lindsey Cheek 73-71.5.  Lauren Garmon put a point on the board after defeating Logan Pluhar 74-73.  Texas A&M's Hannah Jechow grabbed a point defeating Charley Thiel 71.5-70. Texas A&M grabbed the next point when Sarah Kate Gridder defeated Kyndall Harper 69.5-63.  The final point of the day resulted in a tie between Claudia Spreng and Madison Bohman with a score of 70.5.
[su_spacer size="40″] The Bulldogs will travel to Dover, Del. next week to face Delaware State and Fresno State.  The Georgia Bulldogs take on the Bulldogs from Fresno State on Friday Oct. 2.  Georgia will compete against Delaware State on Saturday Oct. 3.
[su_spacer size="60″]