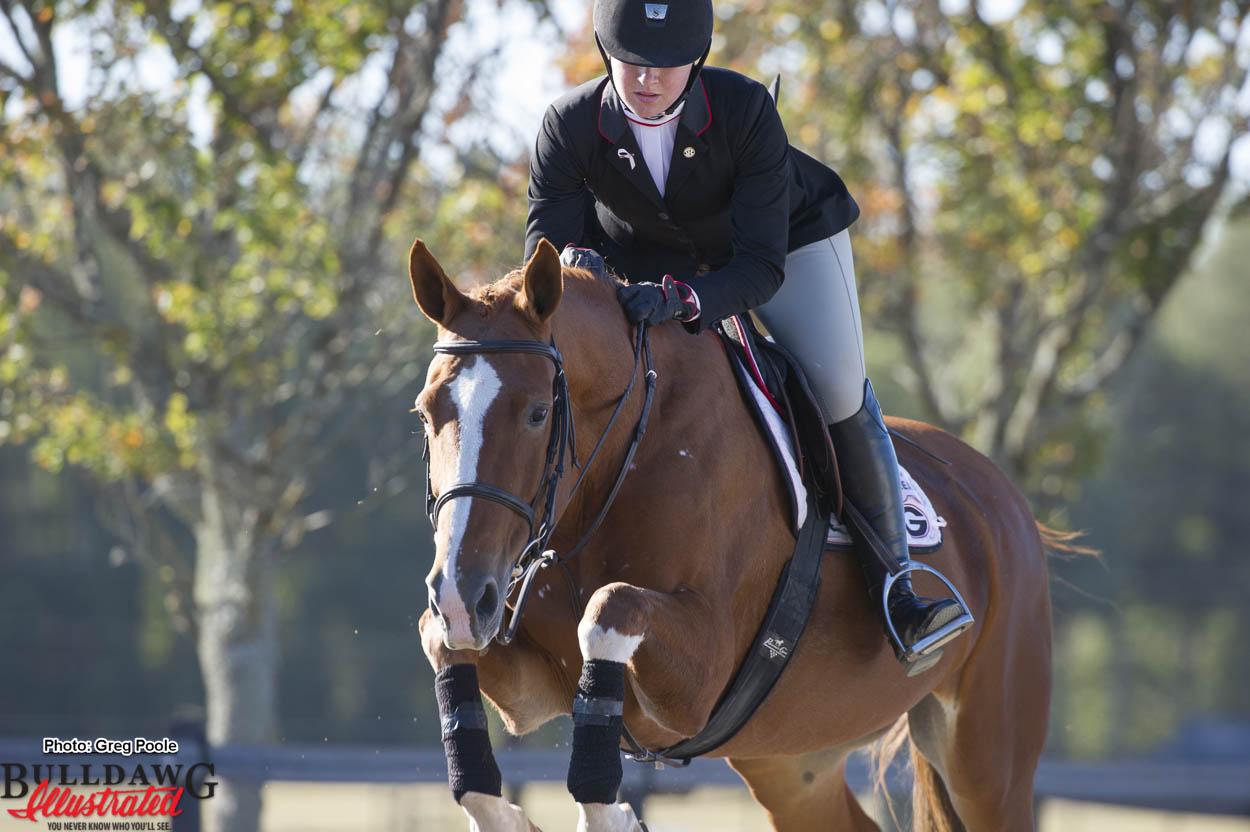 The No 4 University of Georgia equestrian team topped No. 7 Texas A&M, 10-9, on Thursday at the UGA Equestrian Complex.
Highlighting the meet was junior Sara Lewis, who earned the Horsemanship Most Outstanding Performance honors in her first ride this season with a score of 75.
"It feels very good to win after a lot of hard work and making so many adjustments," Georgia head coach Meghan Boenig said. "From weather, timeframe, order of events, horses—so many things had to be flexible and that was a great thing to learn and overcome. In many ways there is so much more that we want to do. I think there is a real sense of hunger. We want a bigger spread. We are thrilled for today, but we are hungry for tomorrow. I am really excited for South Carolina, our last SEC meet of the fall."
Georgia (1-1) jumped to an advantage in Fences, 3-2. Senior Hayley Mairano and sophomore Rachel McMullen earned the first two points with scores of 83 and 82, respectively. Texas A&M (0-1) kept it close, taking the next two rides. Freshman Jordan Toering gave Georgia the lead with an 82-80 point for the Bulldogs.
The Bulldogs lengthened its lead in Horsemanship, winning the event 4-1. Senior Lexie Lane took the first point. In her first ride of the season, Lewis rode to an MOP-earning score of 75.  The Bulldogs dropped the next point to the Aggies, before claiming the final two.  Juniors Taylor Burgess and Kendall Gill won their rides with scores of 70.5 and 73.5, respectively.
Holding a 7-3 advantage after two events, the Bulldogs added one tally in Flat. Georgia and Texas A&M pushed the first point after both team's riders tied with an 80. Senior Isabelle Heckler grabbed the lone point of the event with an 81-72 win over the Aggies' Rhian Murphy.
Georgia sealed the victory in Reining, claiming two more points. Juniors Courtney Blumer and Addy Cullum notched the first two points of the event after riding to scores of 71.5 and 70.5. Texas A&M closed the gap with riders winning the final three points of the day to make the final score 10-9.
The Bulldogs conclude fall competition on the road on Nov. 13, in Columbia, S.C to face the Gamecocks.