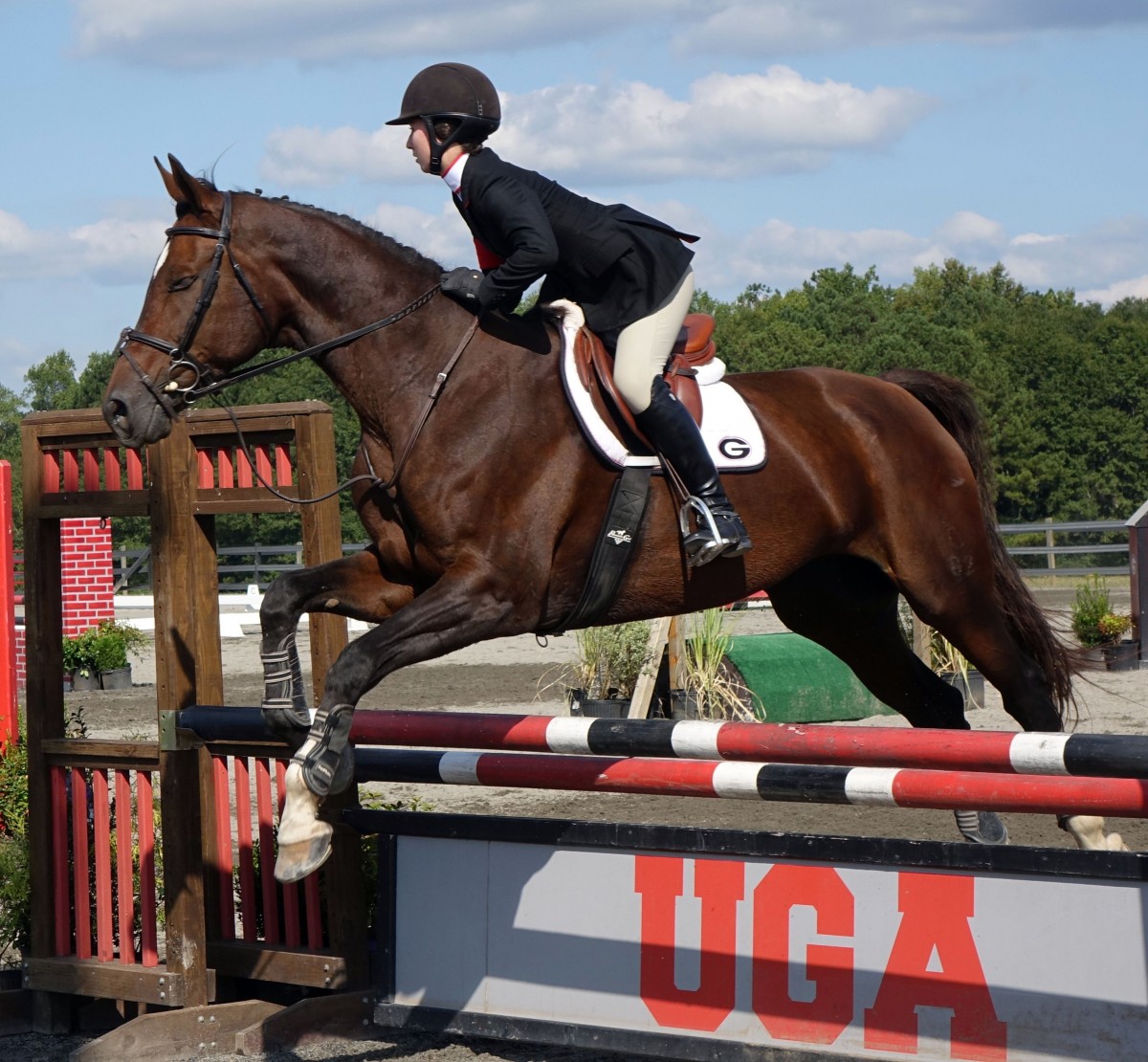 [su_spacer size="20″] The No. 1 Georgia equestrian team will travel to Delaware for a pair of meets against No. 5 Fresno State and Delaware State.  The Georgia Bulldogs will first take on the Bulldogs of Fresno State on Friday with a 12:30 p.m. start.  Georgia then takes on Delaware State on Saturday immediately following competition between Delaware State and Fresno State, which is slated to start at 8 a.m.  Due to the weather forecast the meets will be held at the Delaware State Fair Grounds in the Quillen Arena located in Harrington, Del.  Georgia is currently 1-0 on the season after defeating Texas A&M at home last Friday.
"We are excited to be heading on the road," head coach Meghan Boenig said. "Getting off of our horses will be a great experience for all of our riders, particularly for the freshmen. "It's not often that we get a neutral site competition.  There is no home advantage for Friday's meet and it's like a championship in that manner which is exciting."
Fresno State is currently ranked fifth with this weekend being their first round of match-ups. Georgia and Fresno State last met when Georgia defeated Fresno State 14-6 on March 6 in Bishop, Ga.
McKenzie Lantz was a member of the Georgia equestrian team from 2011-14 and was recently hired as the western coach at Fresno State.
"We are excited to compete against a former Bulldog as we compete against Fresno State," Boenig said.
This weekend also marks the start of the regular season for Delaware State. The Hornets hosted an exhibition with Alabama and the University of Delaware last weekend.  Delaware State defeated Alabama 7-5 in a Hunt Seat only competition before also defeating the University of Delaware 15-1 in a dual-meet. Georgia and Delaware State last met in Bishop, Ga. on February 8 when the Bulldogs defeated the Hornets 16-3.
Live scoring updates will be available by following @UGAEquestrian on Twitter.
Line-up (vs. Fresno State)
Equitation Over Fences
Addy Cord
Liza Finsness
Leylan Gleeson
Ali Haupt
Maddie Newman
Meg O'Mara
Equitation on the Flat
Addy Cord
Liza Finsness
Leylan Gleeson
Emma Mandarino
Maddie Newman
Meg O'Mara
Horsemanship
Bailey Anderson
Payton Anderson
Maddie Anger
Sammie Johnson
Rachel Kolb
Heather Schmidt
Reining
Lindsey Cheek
Lauren Garmon
Kyndall Harper
Graysen Stroud
Claudia Spreng
Charley Thiel
Line-up (vs. Delaware State)
Equitation Over Fences
Jessica Blum
Ali Haupt
Emma Mandarino
Meg O'Mara
Equitation on the Flat
Jessica Blum
Addy Cord
Liza Finsness
Leylan Gleeson
Meg O'Mara
Horsemanship
Bailey Anderson
Maddie Anger
Sammie Johnson
Rachel Kolb
Heather Schmidt
Reining
Lauren Garmon
Kyndall Harper
Graysen Stroud
Claudia Spreng
Charley Thiel
[su_spacer size="60″]