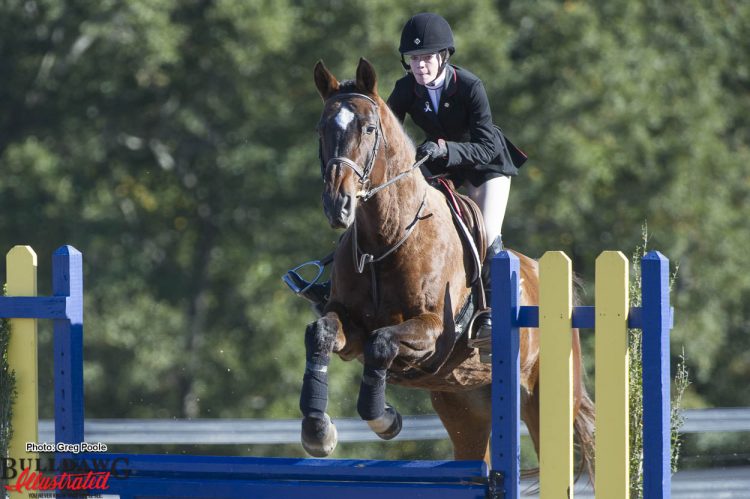 The No. 3 Georgia equestrian team earned its first victory of the season with a 17-2 defeat of Tennessee-Martin on Saturday at the UGA Equestrian Complex.


Freshman Maddy Darst claimed Most Outstanding Player honors in both Equitation on the Flat and Equitation Over Fences. Claudia Spreng claimed MOP honors for her ride in Reining.


"Wins always feel good but I think if you treat them much different than a loss then you're in trouble," Georgia head coach Meghan Boenig said. "We can't take the foot off the gas for tomorrow, and the next day, and the next. There are always things we are working on to do better and I was pleased with the way the girls rode today."


[foogallery id="91046″]

Georgia jumped to an early 4-1 lead in Equitation Over Fences. Freshmen Sydney Hutchins and Darst each defeated their opponents by ten points with scores of 75 and 81, respectively. Sophomore Emma Mandarino defeated UT- Martin's Monica Zoromski 80-71. Meg O'Mara closed out the event with another point for the Bulldogs.


Georgia extended its lead in Horsemanship, defeating the Skyhawks 4-1. Sammie Johnson earned the first point for Georgia, 67-62.5, before UT-Martin's Bobbie Piddock edged Anna Hutlas, 72.5-72. Bailey Anderson answered by defeating her opponent 73.5-73. Madison Anger and Graysen Stroud closed out the event earning two more points for the Bulldogs.


Georgia led Tennessee-Martin 8-2 with two events remaining in competition.


The Bulldogs rode to a 4-0 victory in Equitation on the Flat. After Hutchins rode to a tie against UT-Martin's Randi LaChance with a score of 76, Meg O'Mara earned a point for Georgia, defeating her opponent, 82-67. Liza Finsness, Madison Newman, and Darst each followed suit, claiming points for the Bulldogs. Darst rode to an event high score of 85 to earn MOP honors.


Georgia swept Tennessee-Martin in Reining. Graysen Stroud rode to a 71-67.5 victory over UTM's Sami Felts, before Lindsey Cheek and Claudia Spreng both scored a 69.5 to defeat their opponents. Kyndall Harper and Charley Thiel closed out the event with two more points for the Bulldogs.