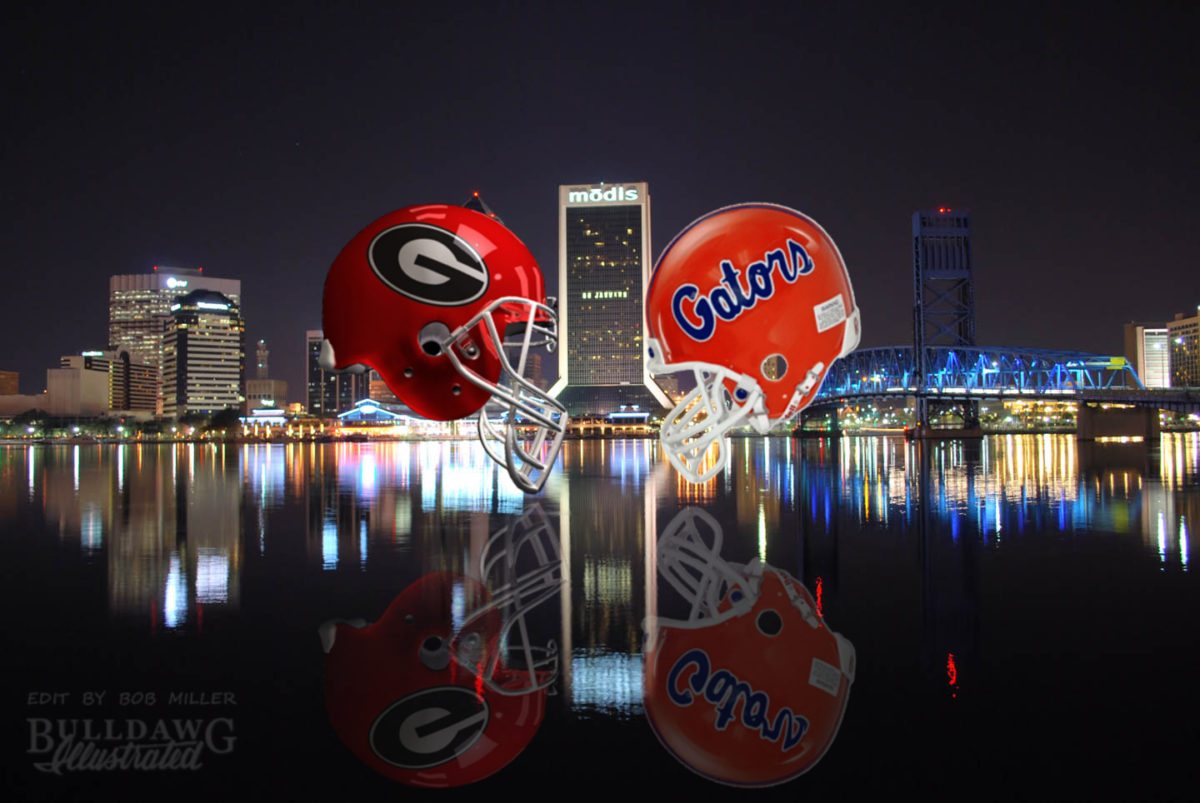 For Georgia fans, a 7-0 start to the Bulldogs' 2017 college football season is great, but it is moot if the unthinkable happens and Florida upends Kirby's Dogs in Jacksonville this coming Saturday.


While there has been talk during this bye week of winning the SEC East and facing Alabama in the SEC Championship game over in Atlanta in the beautiful and brand-spanking new Mercedes-Benz Stadium on December 2nd. And on top of that, whether the Bulldogs win or lose the SEC Championship game, would they still make the college football playoffs? Yes. All that is quite possible, and I have to admit, I myself have drifted into those conversations and speculations, but the fact still remains that Georgia has to beat Florida on Saturday.


The annual Georgia-Florida game, which I still refer to as the World's Largest Outdoor Cocktail Party to the enmity of the PC crowd, has not been kind to the Bulldogs since Steve Spurrier put the Gators football program on the map in the Nineties. Before Spurrier, during the 70's and 80's, former Georgia Head Coach and Athletic Director Vince Dooley owned Florida. His record against the Gators was a very healthy 17-7-1. But Dooley stepped down as Head Coach of the Georgia program in 1988 and then Spurrier came over to Duke to Florida in 1990. Suffice it to say, Georgia's domination in the series turned on its head.


From 1990-2010, the Bulldogs won three games in a 21-year span. The memories of the glory days and good times down in Jacksonville faded and a generation of Georgia fans grew up not knowing that Florida used to be Uga's chew toy. There was hope renewed in 2011 as Georgia under former Head Coach Mark Richt reeled off three straight victories, including a 17-9 upset victory over a then No. 2 ranked Gator squad. Unfortunately, that streak came to an end in 2014, and Florida has won the last three games by double-digits.


Now, that time of the year has come around again. All signs point to a No. 3 Georgia Bulldogs team putting those Gators in their place this year. But then the spirit of Larry Munson on my right shoulder whispers in my ear, "Remember 2002 and 2005…" What is the relevance of those two years you may ask? Like the 2017 Bulldogs, the 2002 and 2005 Georgia squads went into Jacksonville undefeated. The 2002 Bulldogs were 8-0 and ranked No. 5 while the 2005 team was 7-0 and ranked No. 4. Both Georgia teams were upended, and although both ended up being SEC Championship seasons for Georgia, 20-13 and 14-10 losses to Florida are still burned in my memory, possibly in-part, due to the long drive back to Watkinsville, GA.


Before the season, on our BD Illustrated On-Air podcasts and talking with fellow Bulldawg Illustrated readers and posters, I thought this Georgia team had the potential to be a 10-2 even 11-1 team with those 1 or 2 losses coming from the Notre Dame, Florida, and Auburn group of road games. The Dogs have passed one test up in Southbend with a 20-19 win over the Irish, and that win is looking better and better each week, but Florida and Auburn are still on the docket.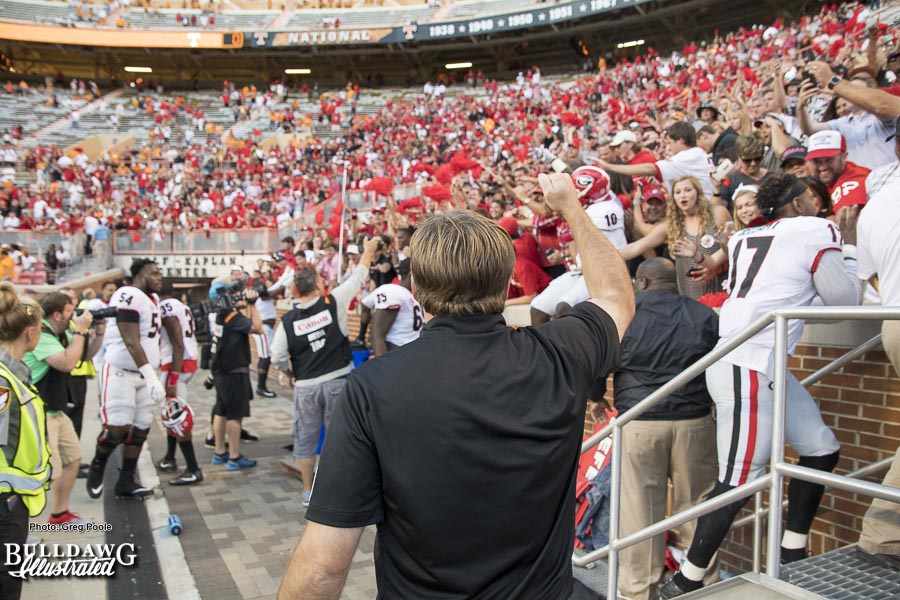 But I do have to admit, from what I've seen of this 2017 Georgia football team, Kirby's Dogs are a focused bunch. They are definitely a "mean machine in red and black." And Florida is struggling as well as missing a bunch of players due to injuries and suspensions. The Gators are ripe for a beat down.


Florida is having trouble moving the ball on offense once again this year, averaging just 23.8 points and 351.2 yards per game which is 12th and 10th out of 14 SEC teams currently (not factoring this weekend's games). And the Gators are not as strong on defense as they have been in the past, allowing 23.3 points and 354.8 yards per game which is 8th and 6th out of 14 conference teams currently. Meanwhile, the Bulldogs lead the SEC in defense, allowing just 252.6 yards per game and are second only behind Alabama in points allowed per game with 12.6. Erk Russell would be proud of this bunch I dare say.


And Georgia is not just playing really good defense, the Dogs' offense and special teams are night and day from last year. Offensive Coordinator Jim Chaney and Offensive Line Coach Sam Pittman have the running game clicking at the moment with tailbacks Nick Chubb, Sony Michel, D'Andre Swift, Elijah Holyfield, Brian Herrien. Georgia is averaging 282.86 yards per game on the ground at 5.77 yards per carry, both second in the conference only to the Crimson Tide. The Bulldogs are also putting up points this year averaging 37.6 a game, which is, you guessed it, only second to Alabama in the SEC. Last year, Georgia only managed to score 30 more points in four of their 13 games, but this year, they have done so in six of their seven contests. All with true freshman quarterback Jake Fromm running the show since sophomore Jacob Eason went down with an injury eight plays into the season back in the Dogs' opener versus Appalachian State. Eason's back from that injury, but Fromm, so far, has not relented the reigns of the offense.


In addition, when a Georgia offensive drive stalls, Bulldog fans are not having to sit on the edge of their seat, pulling out their hair when it comes to punting the ball. With Cameron Nizialek launching the ball off the end of his foot into the stratosphere, opponents are having a tough time capitalizing when they do stop Georgia. Then there are the kickoffs. Rodrigo Blankenship kicked well last year, but he is playing at a different level in 2017. His touchback percentage on kickoffs has gone up from 36.36% in 2016 to 75.51% this season.


So then, with the Bulldogs playing so well in all three phases of the game, why am I still nervous? It's the history of the series over the last 27 years. Since 1990, Georgia is 6-21 versus those Swamp Lizards, and as I alluded to earlier, I've seen top-five Georgia teams get upended down in Jacksonville when all signs pointed to a "W" coming into The Game. That is why 7-0 is great but all that matters this week is Georgia stomping a mudhole in Florida. It's time for Kirby's Dogs to start a new chapter in the history of the Georgia-Florida series.



---
Recent Articles by Bob Miller


[pt_view id="83405b425p"]