[su_spacer size="20″]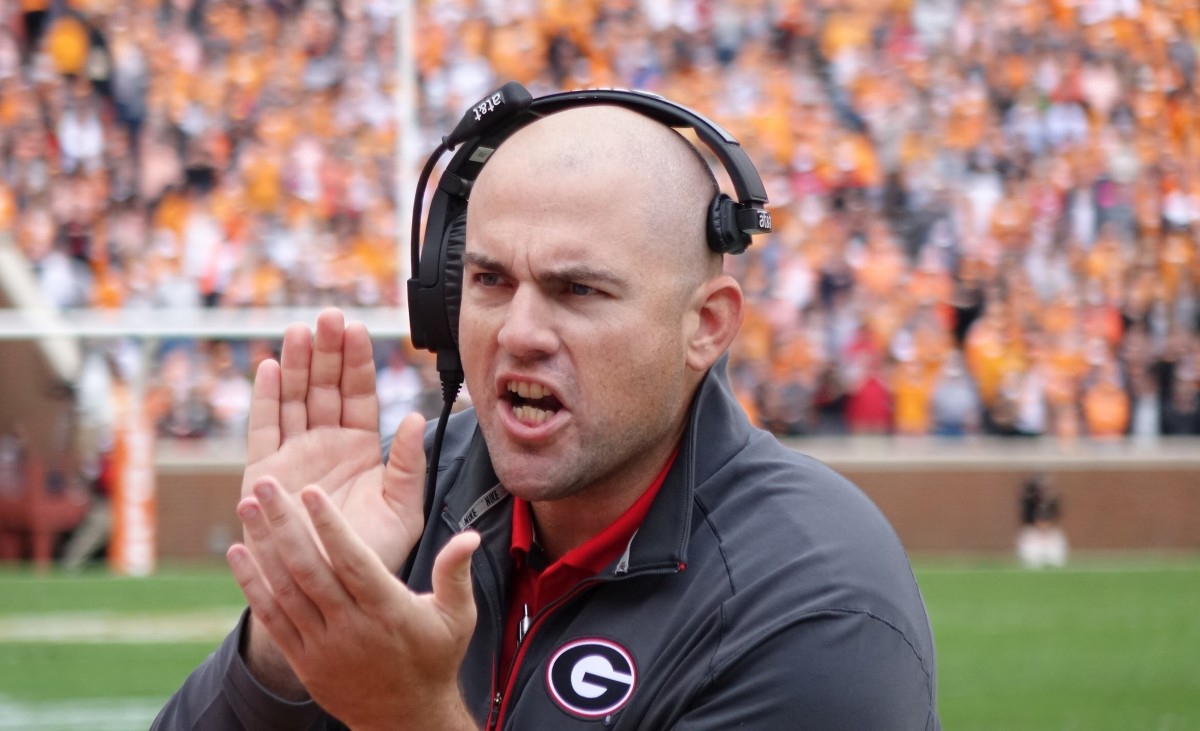 [su_spacer size="40″] In our preseason Bulldawg Illustrated, your faithful columnist, historian, and radio and television personality (often mistaken for both Tom Brady and Roger Federer) pontificated on the beloved Georgia football program and the trajectory of the program. It was my belief that this was an eight to nine win type team but that in the very near future, as in 2016 and/or 2017, the Bulldogs would break through to greatness.
[su_spacer size="20″]
With a major upgrade in staff numbers, salaries and a facilities commitment, Georgia coach Mark Richt has received at least most of what he has asked for from the University's athletic administration. A few years ago, Richt spoke about being on "the cutting edge" of football. While the program slipped in recruiting, dealt with a couple of bad hires and found itself in relative mediocrity, the Bulldogs from 2008-2014 averaged a bit over four losses per season and had just one great year, 2012. But with the invigoration of a new defensive staff, plus excellent hires in Rob Sale and Thomas Brown on the offensive staff, Georgia was infused with a great deal of positive energy the last two seasons. The Bulldogs new offensive staff was topped off by longtime National Football League offensive coordinator Brian Schottenheimer, who has taken over for the highly successful Mike Bobo, in his first season at Colorado. A blue star recruiting class in 2015, and what is shaping up as another for 2016, has had the forecast for the next two campaigns on the uptick.
[su_spacer size="40″] But these last two Saturdays have left the red and black feeling blue.
[su_spacer size="40″] Alabama crushed Georgia 38-10 in the rain between the hedges. Then this past Saturday, the Bulldogs suffered a crushing 38-31 loss at Tennessee, as a 24-3 late first half lead evaporated, leaving the Georgia people stunned, downtrodden, disappointed and downright frustrated. To make matters worse, the Bulldogs tremendous sophomore tailback Nick Chubb, who has been a humble, uplifting, classy, shining light of the program, suffered a knee injury on the first play from scrimmage.
[su_spacer size="40″] So as we sit six games into the season, with two-time defending Southeastern Conference East Division winner Missouri (fans in Athens, Gainesville, Knoxville and Steve Spurrier era Columbia, S.C. have to swallow hard when thinking about that) coming to town, it is a good time for a midterm report.
[su_spacer size="40″] Amongst Georgia's biggest reasons for optimism is this freshman class of defenders and the potential of the recruiting class currently being put together by the Bulldogs staff. Looking exclusively at this year's true freshmen, the front seven in particular is an area where Georgia cleaned up this past February, and most of these highly touted prospects have already gotten their feet wet as rookie and shown a great deal of potential.
[su_spacer size="40″] Along the defensive line, there is Trenton Thompson, the top prospect in the state a year ago, who is already having a big impact. Thompson is joined by Jonathan Ledbetter, Chauncey Rivers, DaQuan Hawkins and Michael Barnett for an impressive group of true freshmen defensive linemen. Natrez Patrick, Roquan Smith and De'Andre Walker are the foundation for the future linebacking corps.
[su_spacer size="40″] Clearly these last two weeks have been an indicator that Georgia needs improvement in several areas.
[su_spacer size="40″] But this group along the front seven is the type of class that Georgia needs to consistently reel in — across the board — to be a contender for the Southeastern Conference crown and one of those coveted playoff spots.
[su_spacer size="40″] There is recruiting and development, and both are vital to any program's success. The next two and a half years will be a major proving ground on both fronts.
[su_spacer size="40″] In 2013, Georgia signed just two of the top 15 prospects in the Peach State. In the 2014 NFL Draft, 17 natives of Georgia were drafted. The Bulldogs signed one. Zach Mettenberger, who was dismissed from the Georgia program and finished his career at LSU.
[su_spacer size="40″] These are the types of totals that indicate why the program's win total over the last seven seasons have fallen off from where they were during Georgia's superb run of success from 2002¬2007.
[su_spacer size="40″] Sale's recruiting work along the offensive line is especially important. This is the one position, when breaking down the offense and defense, during the Richt era where the Bulldogs have spent the most seasons fretting over depth of talent. Georgia simply wasn't signing enough good offensive linemen annually. Sale is working to get that back on track.
[su_spacer size="40″] But the area that continues to be the most perplexing and frustrating is the kicking game. In the 21st century, a series of special teams malfunctions — Jacksonville has in particular been the site of Georgia kicking game horrors — has separated the Bull-dogs from further glory. The list is long and undistinguished.
[su_spacer size="40″] A year ago — though there were major breakdowns in Georgia's three painful losses — the kicking game as a whole made big strides forward. That has been slammed into reverse this season, though. The Bulldogs special teams play — despite a pair of punt return touchdowns — has been poor.
[su_spacer size="40″] This is a major speed-bump looking ahead to the optimism surrounding the program for 2016 and beyond. Perhaps the question Richt has fielded more frequently than any from fans and reporters is why the Bulldogs don't have an assistant coach devoted 100 percent to special teams. Major kicking game mal-functions these last two weeks have done nothing but increase that angst.
[su_spacer size="40″] Over the last two years, Richt's staff has been almost completely overhauled, with a total of seven new assistants brought in for 2014 and 2015. Only Bryan McClendon and John Lilly have remained on the staff of nine.
[su_spacer size="40″] Richt has clearly shown in the last couple of years that he is willing to make changes. But that kicking game remains a constant foil. If Georgia is to get where so many desperately want, these special teams gaffes must be cleaned up. Or there are going to be some disappointing Saturdays road-blocking that drive to greatness.
[su_spacer size="40″] Over the last two and a half years, Georgia has now lost 10 games. Over that stretch, the Bulldogs have been favored in Las Vegas in 31 of 32 contests. The loss to Alabama marked a tenth straight year in which the Bulldogs have lost a game by 15 or more points. The blown 21-point lead is the largest since Georgia fell to Bill Walsh and Stanford in the 1978 Bluebonnet Bowl.
[su_spacer size="40″] Georgia should be better than that. The elusive next step remains a major reduction in those dreaded self-inflicted wounds.
[su_spacer size="40″] Unfortunately for the Bulldogs, the 2015 season will not be a special one. But it can still be a good one. It starts Saturday with Missouri. This program, who's loyal and passionate fan base is so starved to see do great, needs to flourish in the now, while driving to deliver on the promise of tomorrow.
[su_spacer size="40″]
---
[su_spacer size="40″] Make sure to check out
Bulldawg Illustrated's
latest print edition:
Don't Jump Ship
, digital issue available for free online click
HERE
.
[su_spacer size="80″]