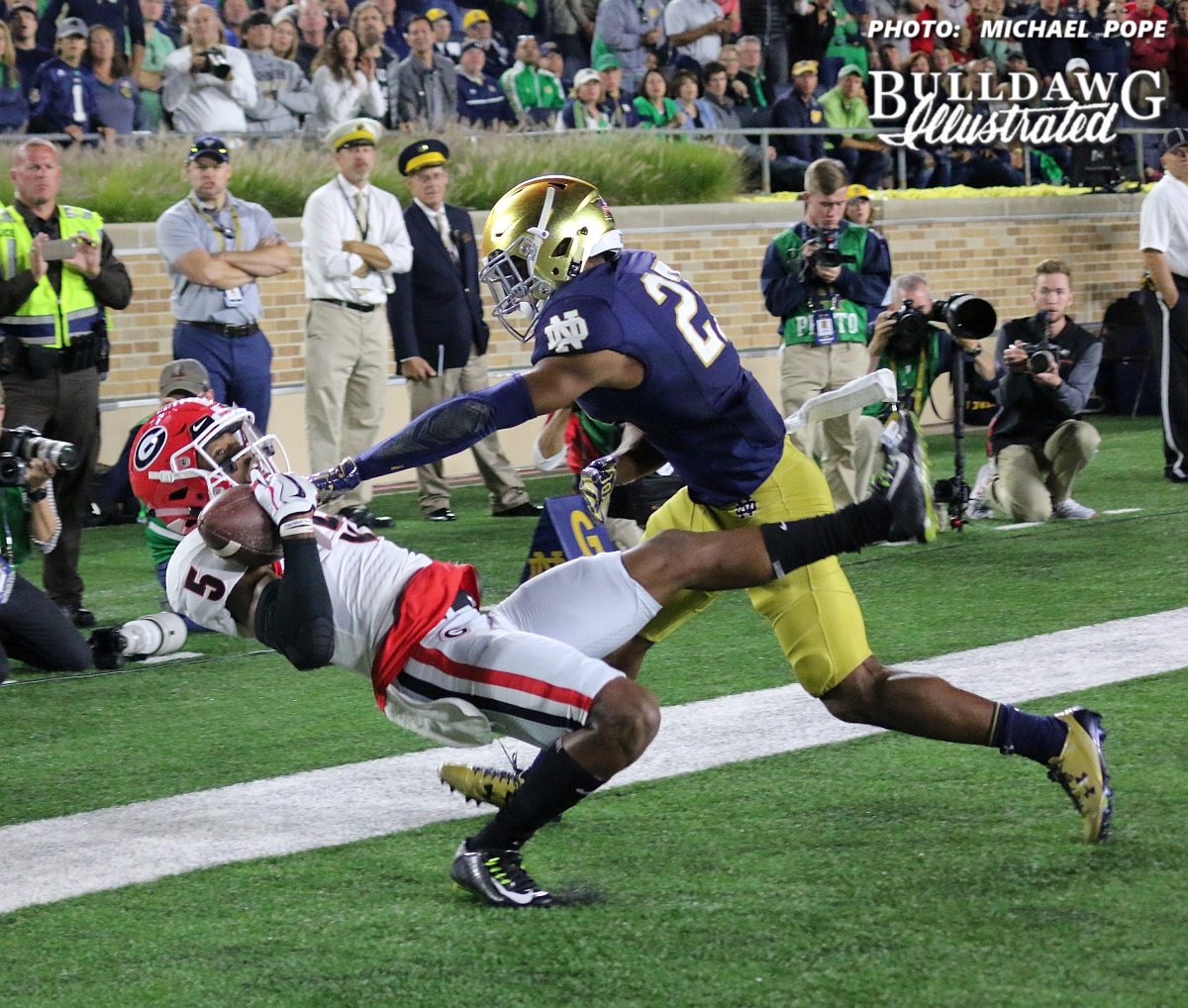 Be honest with yourself – did you pick Notre Dame to be in Georgia's win column before the season started? I sure didn't. In fact, Notre Dame was one of the three games that I predicted the Dawgs to lose during the 2017 regular season. It is hard to overstate the impact of that road victory to the season and the program.


Coming off of a disappointing 2016 season with its 5-star quarterback on crutches, Georgia's chances at night, on national television, on the road, with a second-year head coach proven only as a recruiter – the Bulldogs chances at South Bend appeared bleak. Then a horde of red-clad, barking Dawgs took-over Notre Dame and Chicago, and the rest, as they say, is history.


It is easy to look back now and remember a resounding victory over the Irish, but the Dawgs tried to shoot themselves in all four paws with one 15-yard penalty after another. As BI's Murray Poole recounted at the time:


Folks, it looked for much of the night the Bulldogs were about to experience another frustrating road loss. That's because they stopped themselves more times than not, with 12 penalties for a whopping total of 127 yards. One of the most painful ones came in the first period after the Irish had taken a 3-0 lead on one of Justin Yoon's four field goals on the night. Elijah Holyfield returned the ensuing kickoff down the left sidelines to inside the Irish 5-yard line but, alas, it was nullified by a holding call on Jarvis Wilson and Georgia ended up punting the ball back to Notre Dame.

While elated with the one-point win, Smart said the Georgia players came into the dressing room at game's end, looked at each other and said, "you know, we won this game but we didn't play well."

As for the Bulldogs' offense, Smart said it was hot and cold and, there again, the nagging penalties prevented Georgia from maintaining any degree of consistency throughout the contest.




The fanbase provided the real story of the Notre Dame victory. UGA fans have always traveled well, but that reputation was solidified nationally by the crowds who jammed into Notre Dame Stadium:


UGA fans show out again by lightning up Notre Dame Stadium. Of note: The Bulldogs are on the road. They still left the lights on for their boys heading into the fourth quarter.

Posted by UGA DawgNation – Georgia Bulldogs on Saturday, September 9, 2017


[foogallery id="121043″]