The UGA football team should receive strong production from their defensive line group next season, but it will be interesting to see how they perform under new position coach Tray Scott.


2016 In Review

The Bulldogs went into the 2016 season with their defensive line being a position filled with question marks. The Bulldogs were thin at this position but they brought in four defensive line recruits in the 2016 class to help alleviate this problem with depth. All four freshman saw some playing time last season and they should all remain heavily involved in the defensive line rotation.


The defensive line was led by Trenton Thompson, John Atkins, Daquan Hawkins-Muckle, and Jonathan Ledbetter (after his return). These four players in addition to the freshman from the 2016 recruiting class, which included Michail Carter, Tyler Clark, David Marshall, and Julian Rochester, led to the Bulldogs having an all-around solid rotation during the 2016 season. The defensive line had its ups and downs in, but it showed growth throughout the season and that should point to a promising 2017.


Who will join these players?

The Bulldogs missed out on 5-star defensive tackle Aubrey Solomon, who eventually signed with Michigan, but they still signed two outstanding defensive linemen in Malik Herring and Devonte Wyatt, and I believe both of these players will find a way to eventually crack the defensive line rotation.




Herring is the most notable defensive line signee in the Bulldogs 2017 class as he was ranked as the fourth best strong-side defensive end in the 247sports composite rankings. Herring is the type of player that should fight for playing time immediately and his body type reminds me of current Bulldog David Marshall. Herring should put on some weight once fall camp starts and should be around 6'4″ and 270 lbs once the season begins, which is around the size the coaching staff likes on the line.


Wyatt may not have the big-name status that Herring has, but I believe he may be more ready for college play than people think. Wyatt is 6'3″ and 300 lbs but do not let his size fool you. He is very quick and athletic. I believe Wyatt has that perfect blend of size and speed that will make him very effective in the SEC and he is definitely one to watch in 2017.


New Position Coach: Tray Scott

Scott is an up and coming defensive line coach, who had joined the Ole Miss Rebels staff at the same position only a month prior to joining the Bulldogs. Whenever a coaching change is made on Kirby Smart's staff, the first thing that comes to my mind is the impact that it will have on recruiting. With Scott being a much younger coach than previous Bulldogs' defensive line coach Tracy Rocker, this move should also be viewed as a move to bolster up recruiting efforts on the defensive line.


Scott seems like the type of coach that will have an easier time of reaching out to recruits and missing out on players like Derrick Brown and Aubrey Solomon may have played a role in the move to a younger coach. How well Scott recruits over the next two years will be something to watch, as I believe that was the main reason for the move.


Trenton Thompson

Trenton Thompson recently had to withdraw from classes this semester after he was taken to the hospital due to a serious reaction to medication he was taking for an undisclosed medical condition. This news sent shockwaves throughout the Bulldog nation because it was such a bizarre situation and it has made his future with UGA an unknown for many fans. CLICK HERE to read more on Thompson's health scare.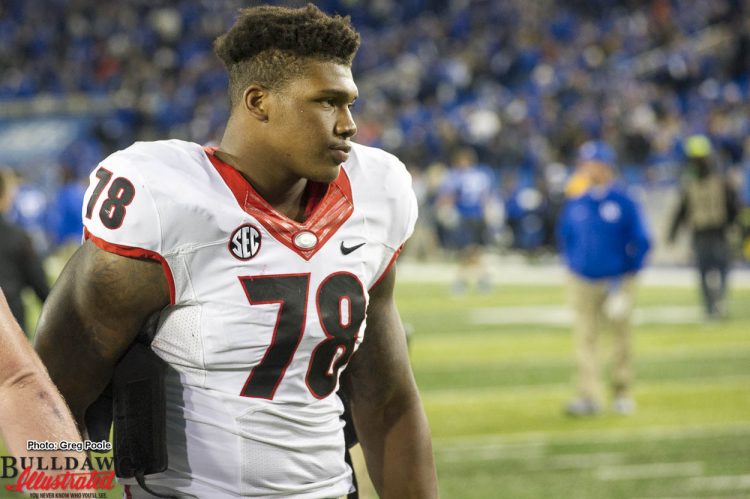 Thompson seems to have improved since the incident and his health is believed to be in a much better state than it was that night. I think his status should not be an issue for the Bulldogs and that he will be back this fall, immediately playing a critical role in the success of the defensive line in 2017.


What to expect in 2017?

I believe that the defensive line will be one of the Bulldogs' strongest positions because of how talented and deep the position is. The competition at this position will be fierce because each and every player is deserving of a spot in not only the rotation but also in a starting role. Having such a talented rotation of players will give the Bulldogs a huge defensive boost because of how important the battle of the trenches is, especially in the SEC.


The starters in this position should come down to the upperclassmen in Thompson, Atkins, Hawkins-Muckle, and Ledbetter, but players like Rochester, Marshall, Clark, and Carter will put up a huge fight as well. Justin Young is another name to watch as he had a solid performance in a game for the Bulldogs last season and he too could find a way to make it into the rotation.


However, cracking the defensive line rotation will be tough because of how many outstanding players the Bulldogs have here, but it could lead to this defensive line group being one of the best in the country. Regardless of who makes the rotation, this should be an exciting group to watch in 2017 and they will play a major role in the Bulldogs' defensive success.


---


Catch up on the other position groups in the 2017 UGA Football Spring Preview series from Bulldawg Illustrated:

2017 UGA Football Spring Preview: Defensive Backs – CLICK HERE

2017 UGA Football Spring Preview: Linebackers – CLICK HERE

2017 UGA Football Spring Preview: Offensive Line – CLICK HERE

2017 UGA Football Spring Preview: Quarterbacks – CLICK HERE

2017 UGA Football Spring Preview: Running Backs – CLICK HERE

2017 UGA Football Spring Preview: Special Teams – CLICK HERE

2017 UGA Football Spring Preview: Tight Ends – CLICK HERE

2017 UGA Football Spring Preview: Wide Receivers – CLICK HERE


---
More from Michael Pope

[pt_view id="b8629e37y8″]