Georgia is returning one of the best linebacker groups in the SEC that include all four starters and three senior leaders. Georgia has a lot of talent at linebacker and that could help Georgia to a SEC East title in 2017.


Returning to Georgia for their final season are Lorenzo Carter and Davin Bellamy. Both outside linebackers decided to stay instead of declaring for the NFL Draft. With these two staying, it gives Georgia two senior leaders on defense. Last year, Bellamy made 51 stops, five sacks, and 17 quarterback hurries. As for L. Carter, he tallied 44 tackles, five sacks and 13 quarterback hurries in 2016.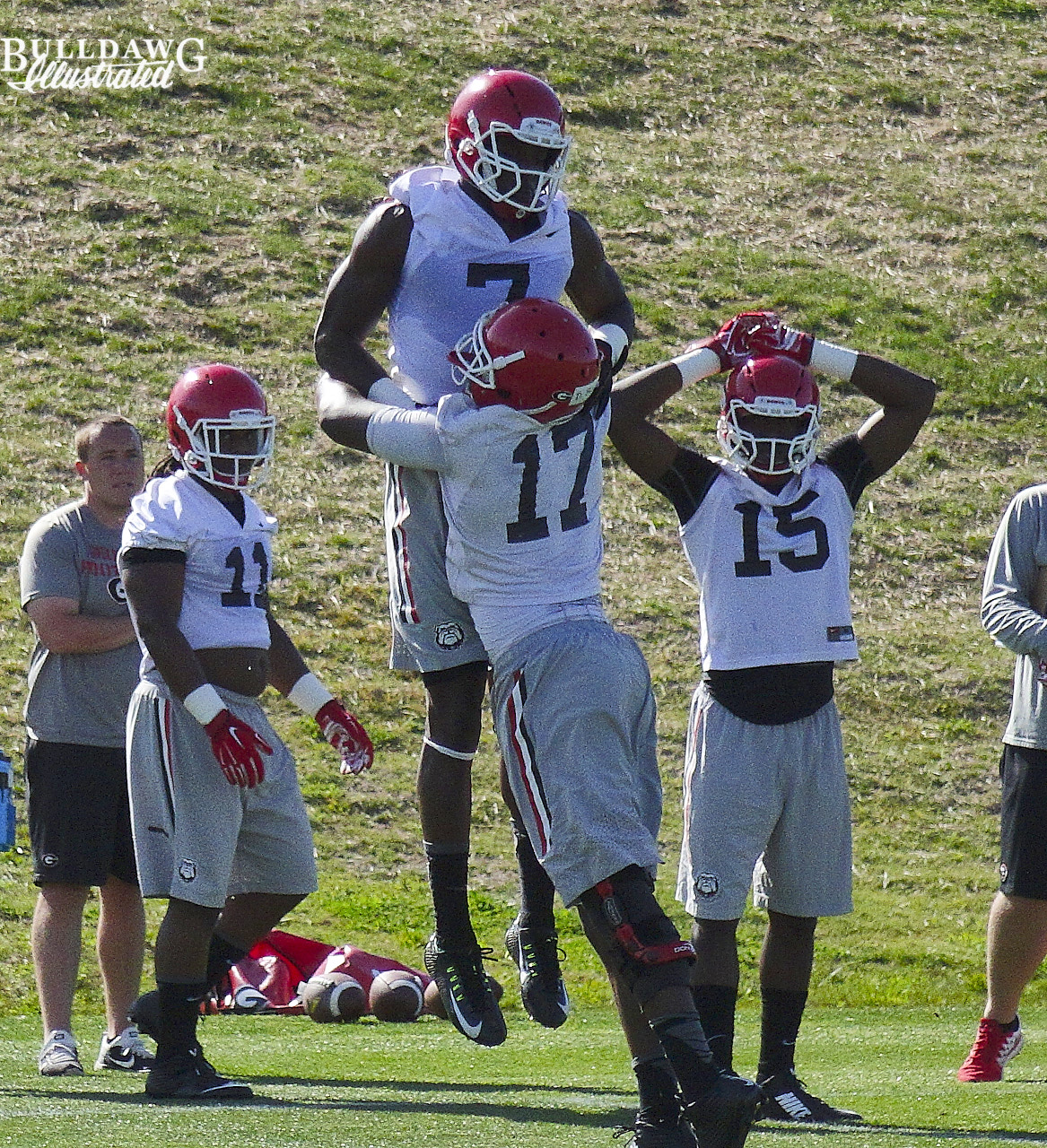 Georgia has two outstanding pash-rushers with these two returning. L. Carter, after struggling to find his place on the team seems to be coming into his own. After improving from 2015, the 2017 season should be the year all cylinders click for L. Carter. He is an NFL caliber linebacker, and with a good season, his draft stock should rise. I think he and Bellamy both will be leaders on the defense in tackling and sacks this upcoming season.




Another player in Georgia's linebacking corps to keep an eye out for is inside linebacker Roquan Smith. He led the team last season in tackles with 95, along with five tackles for a loss and five quarterback hurries. Smith is coming into his own as a part of this defense and should perform to those high standards this upcoming season despite the fact that he will likely miss most of spring practice, recovering from surgery to repair a shoulder injury.


Also at inside linebacker are Natrez Patrick and Reggie Carter. Despite battling the injury bug last season, Natrez Patrick returns for his third season with the Bulldogs having 59 tackles, 4.5 tackles for loss and seven quarterback hurries in 2016. He is another player that delivers for Georgia on the defense and look to hear his name called a lot this upcoming season. Reggie Carter returns for his fifth year, and the senior will see significant playing time after starting 8 of the 11 games in 2016 he appeared in. R. Carter had 45 tackles, 1 sack, and 2 tackles for loss. He along with Patrick and Smith make up a three-headed monster in the middle for the Bulldogs.


Georgia signed four linebackers in the 2017 recruiting class. These four guys will have big shoes to fill, however, in my opinion, will be ready to play. Of the four, one was an early enrollee. Monty Rice will get to practice and start connecting with the rest of the linebackers in spring rather than having to wait till summer, giving him a slight edge. In my opinion, Rice came in underrated as a recruit and has a lot of talent to be an active player in college. With his work ethic and determination, Rice may see the field some this spring and possibly this fall, however, a red shirt may appear to keep the depth there for Georgia. The other three – Walter Grant, Jaden Hunter, and Nate McBride – have the opportunity to come in and learn from the older guys and also contribute this season.




As for the rest of the linebackers on the roster, Georgia has an abundance of talent. Juwan Taylor and D'Andre Walker both made plays in 2016 but have a lot of room to grow. This offseason these two seem to have put a lot of work in and are pushing for spots. I think these two will double their contribution from last season. Walker, in particular, could become that next great pass-rusher Georgia produces. Walker recorded 19 total stops and seven quarterback pressures in 2016 but has the work ethic to double that in 2017.


Rashad Roundtree is another young guy that got some playing time last season but never broke out and performed. Roundtree will hopefully step his game up this spring season and produce.  If he doesn't, then he'll lose his spot by one of the young guns coming in from the 2017 class.


The linebackers at Georgia are deep with talent and the competition should be fierce. As we go from spring football and into the summer, it will be exciting to watch. I don't believe any young guys will take any of the starters' positions. However, I do think that the freshmen will get plenty of reps. If Georgia can stay healthy at this position, this linebacking group could be lethal.


---


Catch up on the other position groups in the 2017 UGA Football Spring Preview series from Bulldawg Illustrated:

2017 UGA Football Spring Preview: Defensive Backs – CLICK HERE

2017 UGA Football Spring Preview: Defensive Line – CLICK HERE

2017 UGA Football Spring Preview: Offensive Line – CLICK HERE

2017 UGA Football Spring Preview: Quarterbacks – CLICK HERE

2017 UGA Football Spring Preview: Running Backs – CLICK HERE

2017 UGA Football Spring Preview: Special Teams – CLICK HERE

2017 UGA Football Spring Preview: Tight Ends – CLICK HERE

2017 UGA Football Spring Preview: Wide Receivers – CLICK HERE


---
Recent Articles by Savannah Richardson


[pt_view id="8722077nva"]