The underlying question this spring season that will be looming on the minds of Dawg fans: Jacob Eason or Jake Fromm? Will the starting job continue to stay with Eason or will freshman sensation Fromm steal the job? In my opinion, Eason will secure his spot early this spring and lead the team this fall.




After an impressive freshman campaign, Eason is coming into the season with a vengeance. Last season he completed 204 of 370 attempts for 2,430 yards. That is a 55.1 percent completion rate. He threw 16 touchdowns to just eight interceptions. Statistically, Eason impressed many, however, on the field, his true freshmen woes showed. This offseason is a test for him to work out the kinks and improve, to improve on his accuracy and build up his overall confidence as a leader. I believe his work ethic has doubled since December and he is working hard. I do not see Georgia looking to give their offense over to a true-freshman again after choosing to do so last season with Eason. This offense is Eason's, and they trust him, it would be an interesting decision by the offensive coordinator, Jim Chaney, and head coach Kirby Smart to start over again.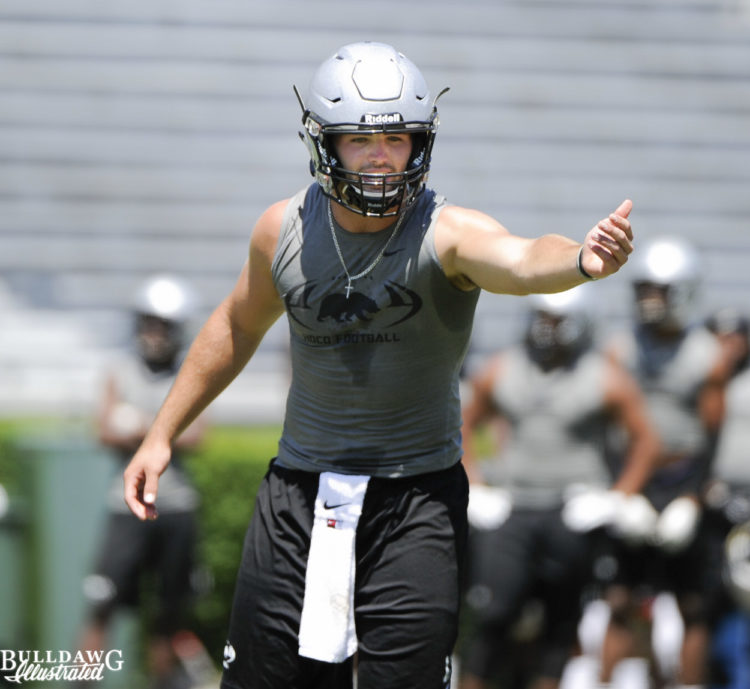 However, Jake Fromm was one of the most sought after quarterbacks during the 2017 recruiting period. Once he committed to Georgia, and eventually signed, the race of who would start was on. Fromm has a very high football IQ and seems to be quickly learning the playbook. All of these things in the eyes of the coaching staff are impressive to see by such a young quarterback. Learning the playbook is great and will help him tremenedously on his road to becoming a starter for Georgia one day, but it is in Fromm's best interest to take this upcoming season and learn as much as he can. Although Fromm is quite talented like Eason, but he isn't quite where Eason is at in his development.


To add to the discussion, last week quarterback and punter, Brice Ramsey announced his decision to transfer from of Georgia after graduating in May at the end of this semester. With his decision to leave, this left Georiga in a tight predicament at quarterback, with only two scholarship players at the position on the roster currently for 2017. There's Eason and Fromm, no one else. With Ramsey at school, there was the opportunity to red-shirt Fromm and save him for next season. However, I am not so sure that can be the case now. Fromm will have to be ready to be the backup just in case there is cause for Eason to leave the game.




Although Georgia is slim at the quarterback position, thre is a lot of talent there. Barring injury, Eason should lead the team this season, and I believe that his accuracy improves over last year. He should add to his touchdown numbers while the number of sacks he takes and interceptions he throws go down slightly. Eason has a year under his belt; it is time to let him get comfortable and run the offense. Fromm needs to learn as much as he can and soak in all in this spring. Knowledge is the key to success, and Fromm can utilize the waiting game to his advantage. Eason had to learn fast this time last year, but he did well. With Fromm hopefully having a full year to learn, when he takes over the reins, success at quarterback will continue for Georgia. The competition between Jake Fromm and Jacob Eason is a good thing and will help to make the Bulldogs solid and successful at quarterback this season. Plus, the competition will be very interesting to watch, especially in Georgia's annual G-Day spring game in April.


---


Catch up on the other position groups in the 2017 UGA Football Spring Preview series from Bulldawg Illustrated:

2017 UGA Football Spring Preview: Defensive Backs – CLICK HERE

2017 UGA Football Spring Preview: Defensive Line – CLICK HERE

2017 UGA Football Spring Preview: Linebackers – CLICK HERE

2017 UGA Football Spring Preview: Offensive Line – CLICK HERE

2017 UGA Football Spring Preview: Running Backs – CLICK HERE

2017 UGA Football Spring Preview: Tight Ends – CLICK HERE

2017 UGA Football Spring Preview: Wide Receivers – CLICK HERE


---
Recent Articles by Savannah Richardson


[pt_view id="8722077nva"]