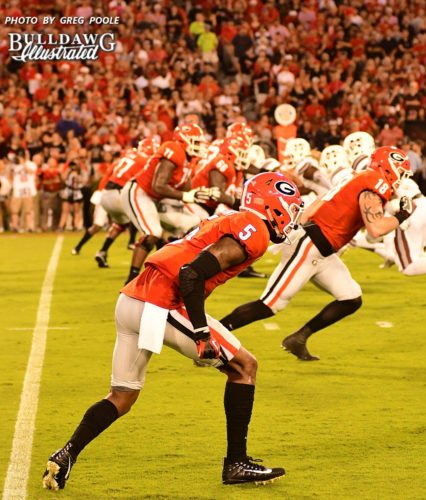 Georgia enters spring practice with a strong group of tight ends and receivers. The Bulldogs lost key members of both position groups to graduation, but the talent is there to pick up right where they left off. 
Tight Ends: Who's There?
Tight ends seemed to be rarely used in 2017. It wasn't because the Bulldogs didn't have the talent there. Jeb Blazevich graduated and will try to make a career in the NFL. Replacing him is the junior tandem of former 5- star Isaac Nauta and Charlie Woerner. Senior Jackson Harris saw a lot of time last season once Woerner fell to injury late in the season. Georgia continues to reload at tight end with Luke Ford and John FitzPatrick, two 4-star tight ends from the 2018 recruiting class.
Tight Ends: What Should We Expect?
I think we could see these guys used a little more in 2018. Georgia has an absolutely loaded position group with a great balance of older guys and new freshmen. Nauta took some criticism over effort concerns last season. However, I expect those concerns to not even come up this season. Nauta has too much talent not to realize his own potential and coach Smart won't allow a player of his caliber to get in his own way. The junior has the potential to be an NFL player one day and I think he could be due for a breakout season. Charlie Woerner will have a solid season as well as he is a physical blocker and showed the ability to run good routes and catch passes last season. This group is in good hands as we begin spring practice.
Wide Receivers: Who's There?
The graduation of Javon Wims hurt. Wims broke out in 2017 and emerged as the true number one receiver. His ability to go up and get the 50/50 balls is something that will be dearly missed. However, the Bulldogs have a lot of talent to replace Wims's production. Led by Terry Godwin, Georgia has a lot of depth at the position. Two juniors broke out last season at different times. Mecole Hardman and Riley Ridley will step into those WR2 and WR3 spots for the Bulldogs. The depth behind them will be in the form of Tyler Simmons, J.J Holloman, and Trey Blount. Georgia nabbed two more wideouts in the 2018 class with the addition of Kearis Jackson and Tommy Bush.
Wide Receivers: What Should We Expect?
Fans should expect the same consistent play out of senior Terry Godwin. He has been here before and knows what it takes to get through a full season and compete for championships. That's one of the good things about this team. The top four guys have a lot of experience and in high-pressure situations. Hardman should continue to be a productive and explosive playmaker. The junior had a huge game during the national championship and that should be a launching pad going into 2018.
My breakout candidate is Riley Ridley. Ridley had a great game in the national championship too. He has a great ability to catch the jump ball and has great hands. The potential and talent have always been there for him and I think if he can build off that last game the sky is the limit for him. Georgia's depth has talent too. Kearis Jackson should be interesting for fans to watch as he's an early enrollee and could have an impact this season.