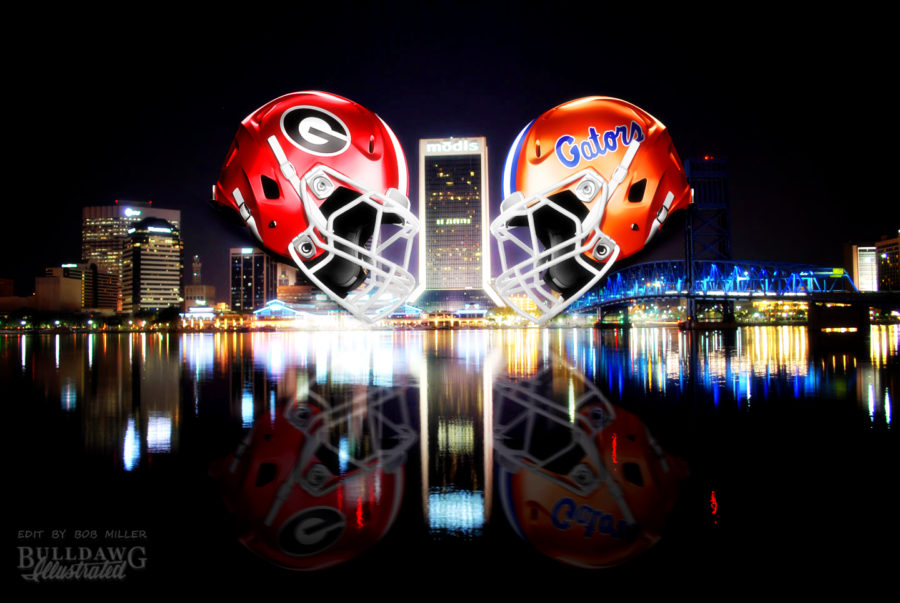 Welcome to Bulldawg Illustrated's Gameday Live Thread for the 98th Georgia-Florida game in Jacksonville, FL aka the WLOCP. Both teams are coming off a bye week, are ranked in the top-10, and the winner has the inside track claiming an SEC Eastern Division title along with a trip to Atlanta to the 2019 SEC Championship game. College football regular-season games don't get much bigger than this. We have your game day info, where to watch or listen to the game, college football scores, live chat, and more!
GAME DAY INFO & TIMELINE
Match-up: (6-1) #7 Georgia vs. (7-1) #6 Florida
Location: TIAA Bank Field, Jacksonville, FL (82,871)
11:30 a.m. ET – Pregame broadcast
01:30 p.m. ET – Dawg Walk
01:30 p.m. ET – Gates open
03:30 p.m. ET – Kickoff
GAME DAY WEATHER FORECAST
Cloudy with a 10% chance a.m. showers
Winds NNW at 10-15 mph
High Temperature: 68°F
Feels like 68°F
Dawg Walk: Cloudy | 10% chance of showers | 64-66°F
Kickoff: Mostly cloudy | 66-68°F
End of the game: Mostly cloudy | 63-65°F
Weather provided by WeatherUnderground.com
T.V. BROADCAST INFO
TV announcers:
Play-by-play: Brad Nessler
Game Analyst: Gary Danielson
Sideline reporter: Jamie Erdahl
BULLDOGS RADIO BROADCAST INFO
BULLDOG NETWORK STATIONS:
WSB AM 750 & WSB FM 95.5 (Atlanta, GA)
WGAU AM 1340 & WNGC FM 106.1 (Athens, GA)
SiriusXM RADIO/Internet: 81/81/81
RADIO ANNOUNCERS:
Play-by-play: Scott Howard
Analyst: Eric Zeier
Sideline reporter: Chuck Dowdle
NATIONAL RADIO – WESTWOOD ONE
RADIO ANNOUNCERS:
Play-by-play: Brandon Gaudin
Analyst: Al Groh
GAME NOTES & ROSTERS
It's our time ‼️#ATD #GoDawgs pic.twitter.com/WTSQ9J9iHL

— Georgia Football (@GeorgiaFootball) November 1, 2019
COLLEGE FOOTBALL SCORES
SOCIAL MEDIA
BD ILLUSTRATED'S YOUTUBE CHANNEL
For the latest videos on Georgia vs. Florida interviews and press conferences with coaches and players…
A grassroots effort to unite the Bulldawg Nation. www.BulldawgIllustrated.com
GAME PREDICTIONS
The Bulldogs are coming off another bye week after defeating the Kentucky Wildcats 21-0 on homecoming. It's week No. 10 of the college football season, and Kirby's Bulldogs are looking for win number eight on the season and three-in-a-row over Florida. The Bulldawg Illustrated staff have your score predictions for the 98th Georgia-Florida game down in Jacksonville.
FOR MORE GAME DAY INFO:
The Florida Gators are the home team and are located on the West side of the stadium. The Georgia Bulldogs are the away team and are located on the East side of the stadium.