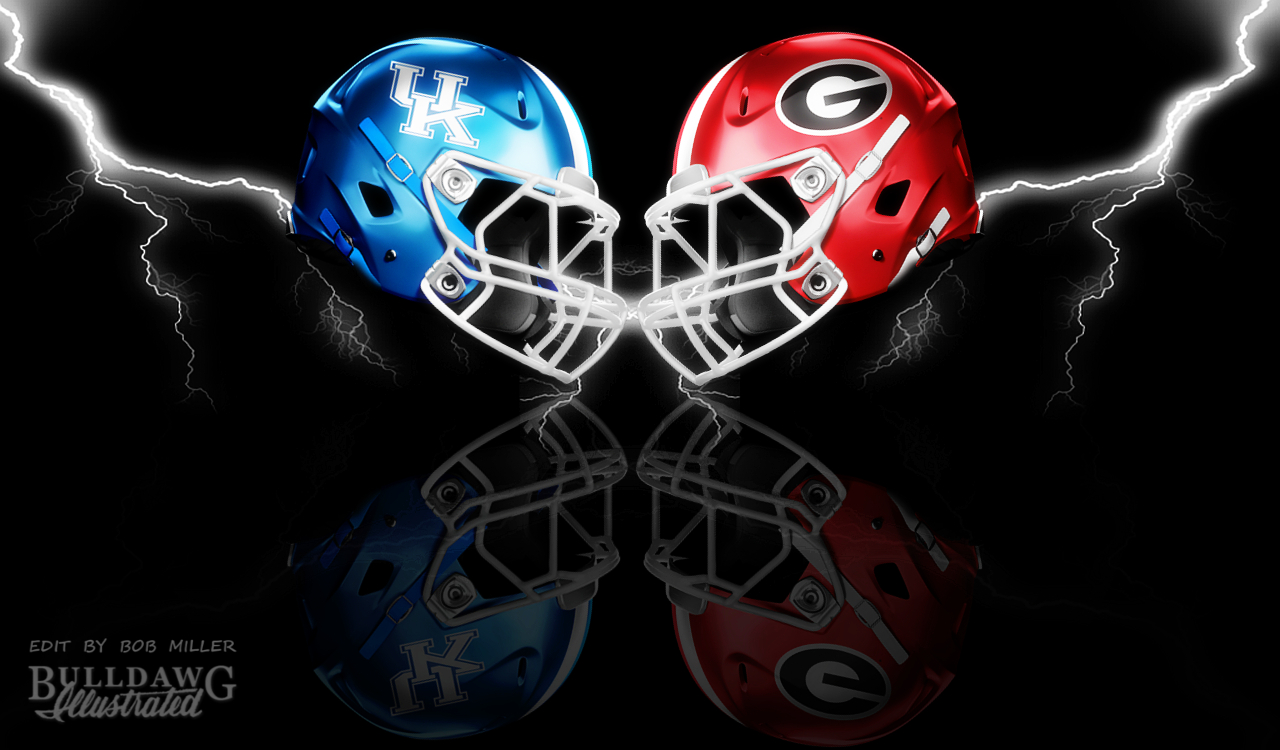 Welcome to Bulldawg Illustrated's Gameday Live Thread for Georgia vs. Kentucky. After stumbling last week at home versus South Carolina and dropping their first game of the season, the No. 10 Bulldogs look to get back on track against the Wildcats, which would be a mighty fine top off to homecoming weekend for UGA. We have your game day info, where to watch or listen to the game, college football scores, live chat, and more!
GAME DAY INFO & TIMELINE
Match-up: (5-1) #10 Georgia vs. (3-3) Kentucky
Location: Dooley Field at Sanford Stadium, Athens, GA (92,746)
02:00 p.m. ET – Pregame broadcast
03:45 p.m. ET – Dawg Walk
04:00 p.m. ET – Gates open
05:35 p.m. ET – Krypton
05:45 p.m. ET – National Anthem
06:01 p.m. ET – Kickoff
GAME DAY WEATHER FORECAST
Cloudy with a 100% chance of rain (estimated 1-1.5 inches)
Windy: 10-15mph NNE wind
High Temperature: 55°F
Feels like 50-52°F
Dawg Walk: Cloudy | 98% rain | 55°F
Kickoff: Cloudy |93% rain | 55°F
End of the game: Cloudy | 90% rain | 54°F
Weather provided by WeatherSTEM
T.V. BROADCAST INFO
TV announcers:
Play-by-play: Jason Benetti
Game Analyst: Rod Gilmore
Sideline reporter: Quint Kessenich
BULLDOGS RADIO BROADCAST INFO
BULLDOG NETWORK STATIONS:
WSB AM 750 & WSB FM 95.5 (Atlanta, GA)
WGAU AM 1340 & WNGC FM 106.1 (Athens, GA)
SiriusXM RADIO/Internet: 135/191/962
RADIO ANNOUNCERS:
Play-by-play: Scott Howard
Analyst: Eric Zeier
Sideline reporter: Chuck Dowdle
NATIONAL TOUCHDOWN RADIO
SiriusXM Radio 84
RADIO ANNOUNCERS:
Play-by-play: Brett Dolan
Analyst: Gino Torretta
GAME NOTES & ROSTERS
COLLEGE FOOTBALL SCORES
SOCIAL MEDIA
BD ILLUSTRATED'S YOUTUBE CHANNEL
For the latest videos on Georgia vs. South Carolina, interviews and press conferences with coaches and players…
A grassroots effort to unite the Bulldawg Nation. www.BulldawgIllustrated.com
GAME PREDICTIONS
To say last weekend was a tough one is an understatement. The unthinkable happened as South Carolina upset the Bulldogs between the hedges on Dooley Field. But it's redemption time. Georgia host Kentucky for homecoming in week 8 of the college football season and the Bulldawg Illustrated staff have your predictions for the Dawgs vs.
FOR MORE GAME DAY INFO:
Gates Open – Gate 1 is student only, please use game 10. Avoid using gate 2, consider using gates 3, 4a, or 4.