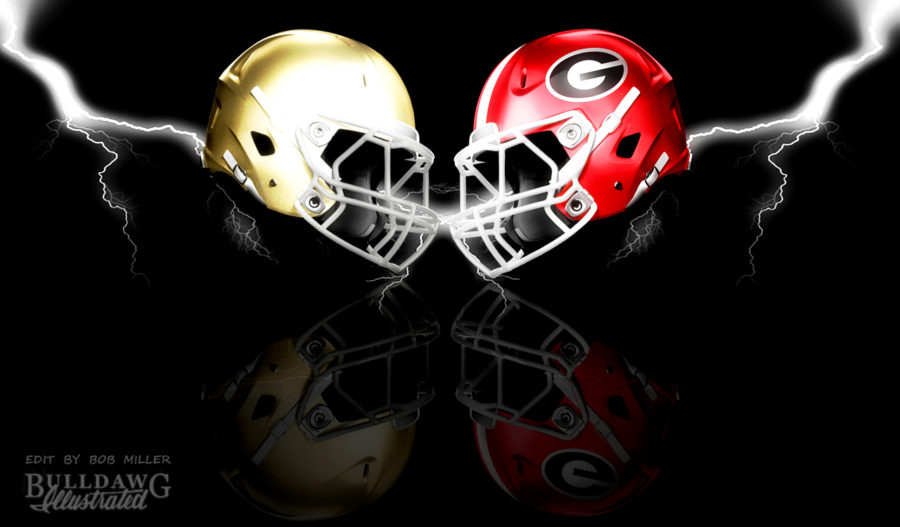 Welcome to Bulldawg Illustrated's 2019 Gameday Live Thread for Georgia vs. Notre Dame. The Bulldogs host the Fighting Irish from South Bend, Indiana between the hedges for an 8 p.m. primetime kickoff on CBS, and we have your game day info, where to watch or listen to the game, college football scores, live chat, and more!
GAME DAY INFO & TIMELINE
Match-up: (3-0) #3 Georgia vs. (2-0) #7 Notre Dame
Location: Dooley Field at Sanford Stadium, Athens, GA (92,746)
07:00 a.m. ET – Parking lots open
09:00 a.m. ET – ESPN College GameDay from Myers Quad
04:00 p.m. ET – Pregame broadcast
05:45 p.m. ET – Dawg Walk
06:00 p.m. ET – Gates open
07:27 p.m. ET – Krypton
07:53 p.m. ET – National Anthem
08:00 p.m. ET – Call the Dawgs
08:03 p.m. ET – Battle Hymn
08:10 p.m. ET – Kickoff
Please note: Gate 1 is for students only for the Notre Dame game. If you are not a University of Georgia student, please use gate 10 instead. Avoid using gate 2 and consider using gates 3, 4a, or 4.
Coming to the game tomorrow and wondering which gate to go in? Here's a map that will help based on where your seats are! #silverdawgs #ugahospitalityteam @NotreDame @NDFootball pic.twitter.com/7SawhDsi0o

— SilverDawgs (@silverdawgs) September 20, 2019
GAME DAY WEATHER FORECAST
Weather for Dawg Walk: Sunny and 83-85°F
Weather for Kickoff: Clear and 73-75°F
Weather for end of the game: Clear and 65-67°F
Weather provided by WeatherSTEM
T.V. BROADCAST INFO
TV announcers:
Play-by-play: Brad Nessler
Game Analyst: Gary Danielson
Sideline reporter: Jamie Erdahl
RADIO BROADCAST INFO
BULLDOG NETWORK STATIONS:
WSB AM 750 & WSB FM 95.5 (Atlanta, GA)
WGAU AM 1340 & WNGC FM 106.1 (Athens, GA)
RADIO ANNOUNCERS:
Play-by-play: Scott Howard
Analyst: Eric Zeier
Sideline reporter: Chuck Dowdle
NATIONAL TOUCHDOWN RADIO:
SiriusXM Radio 84
RADIO ANNOUNCERS:
Play-by-play: Taylor Zarcour
Analyst: Gino Torretta
GAME NOTES & ROSTERS
COLLEGE FOOTBALL SCORES
SOCIAL MEDIA
GEORGIA FOOTBALL CAPTAINS
The Bulldawg Illustrated staff use their best powers of prognostication and foresight to predict the outcome of today's Georgia vs. Notre Dame game. Hamilton Culpepper, UGA 42-17 "Big things coming from the receivers as there will 3 touchdowns through the air.