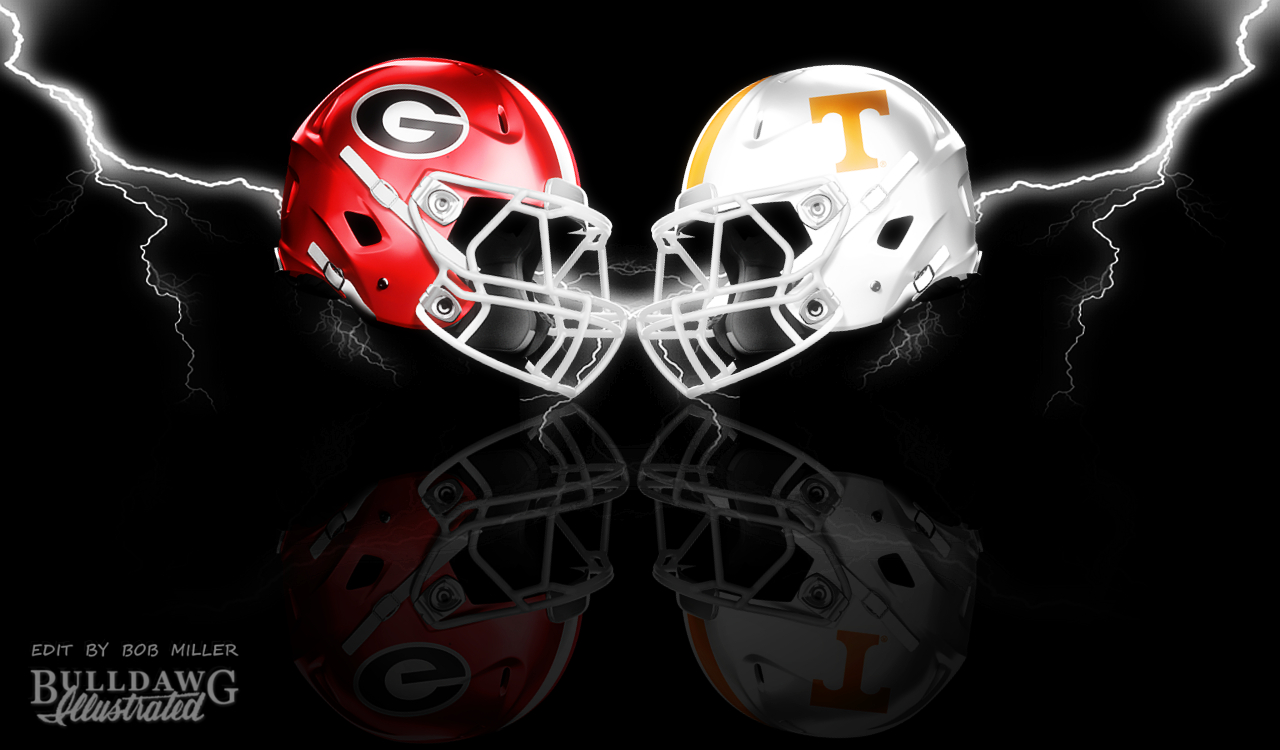 Welcome to Bulldawg Illustrated's Gameday Live Thread for Georgia vs. Tennessee. The 3rd-ranked Bulldogs are up in Knoxville seeking win number five on the season. We have your game day info, where to watch or listen to the game, college football scores, live chat, and more!
GAME DAY INFO & TIMELINE
Match-up: (4-0) #3 Georgia vs. (1-3) Tennessee
Location: Knoxville, TN, Neyland Stadium ( 102,455)
3:00 p.m. ET – Pregame broadcast
4:45 p.m. ET – Approximate time for Dawg Walk
5:00 p.m. ET – Gates open
7:00 p.m. ET – Kickoff
GAME DAY WEATHER FORECAST
Weather for Dawg Walk: Partly Cloudy and 86-88°F
Weather for Kickoff: Partly cloudy with a 23% chance of showers and 80-82°F
Weather for end of the game: Partly Cloudy and 71-73°F
T.V. BROADCAST INFO
TV announcers:
Play-by-play: Sean McDonough
Game Analyst: Todd Blackledge
Sideline reporter: Holly Rowe
BULLDOGS RADIO BROADCAST INFO
BULLDOG NETWORK STATIONS:
WSB AM 750 & WSB FM 95.5 (Atlanta, GA)
WGAU AM 1340 & WNGC FM 106.1 (Athens, GA)
RADIO ANNOUNCERS:
Play-by-play: Scott Howard
Analyst: Eric Zeier
Sideline reporter: Chuck Dowdle
VOLS RADIO BROADCAST INFO
Knoxville: WIVK-FM 107.7 | WNML-FM 99
Nashville: WWTN-FM 99.7
Sirius: Ch. 78 | XM: Ch. 191 |
Internet: Ch. 962
Web: UTSports.com
RADIO ANNOUNCERS:
Play-by-Play: Bob Kesling
Analyst: Tim Priest
Analyst: Brent Hubbs
NATIONAL TOUCHDOWN RADIO
SiriusXM Radio 81
RADIO ANNOUNCERS:
Play-by-play: Taylor Zarcour
Analyst: Gino Torretta
GAME NOTES & ROSTERS
COLLEGE FOOTBALL SCORES
SOCIAL MEDIA
BD ILLUSTRATED'S YOUTUBE CHANNEL
For the latest videos on Georgia vs. Tennessee, interviews and press conferences with coaches and players…
A grassroots effort to unite the Bulldawg Nation. www.BulldawgIllustrated.com
GAME PREDICTIONS
Once again, the Bulldawg Illustrated staff put their heads together, channeling their powers of prognostication and foresight to predict the outcome of today's Georgia vs. Tennessee game. Hamilton Culpepper: Georgia 52- Tennessee 10 "Dawgs on top. Tennessee is better than what they have shown. They have athletes; they're an SEC team, so how could they not.