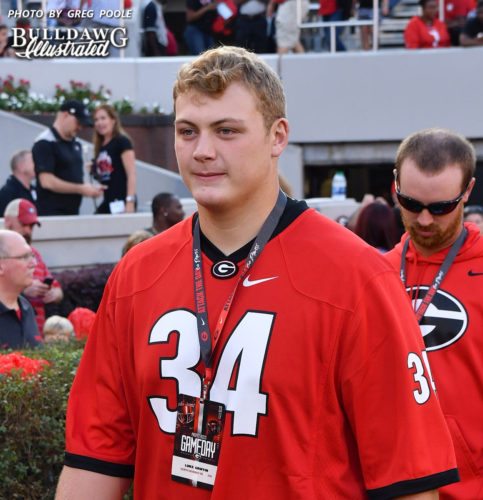 Georgia lost one of its 2019 commits on Sunday, April 8. Longtime commit, Luke Griffin announced that he decided to de-commit from Georgia and reopen his recruitment. The 6-5, 275-pound lineman took to his personal Twitter to make the announcement.
Griffin announces De-commitment through Twitter
The post on his twitter included a brief message with his signature and for fans to respect his decision. Griffin said, "I would like to start off by saying that I am very grateful that the University of Georgia gave me a chance to continue my academic and football career there. After a lot of thought of prayer and long talks with my parents, it is the best for me and my family that I de-commit from the University of Georgia and open back up my recruitment. Thank you for all of the support and Please RESPECT my decision!!"
About Griffin:
Griffin was the first 2019 commit for the Bulldogs. He committed to Georgia on June 11, 2016, the day he received an offer from the Bulldogs. According to 247Sports, the primary recruiter for Griffin was Jim Chaney. Since his initial commitment, Griffin's suffered multiple injuries including the most recent one, an ACL injury in the 2017 season. He told Bulldawg Illustrated that he's not cleared to play yet, and doesn't know when he will be.
As we reported on March 31 in an interview with Griffin, communication between him and Georgia appeared to be obsolete. He said that Georgia wasn't recruiting him hard anymore and they hadn't for a while. Griffin wouldn't answer the question about how solid his commitment to Georgia was, and this announcement explains why.
He plans on signing a letter of intent in February. The Gators and Alabama appear to be the two teams, Griffin likes. However, it appears up in the air as to who leads at this time.
Georgia has seven verbal commits for the 2019 class with the loss of Griffin. The Bulldogs move from No.1 to No.3 in the 247 Sports Composite Team Rankings. However, Georgia still leads in the average ranking per commitment at this time.