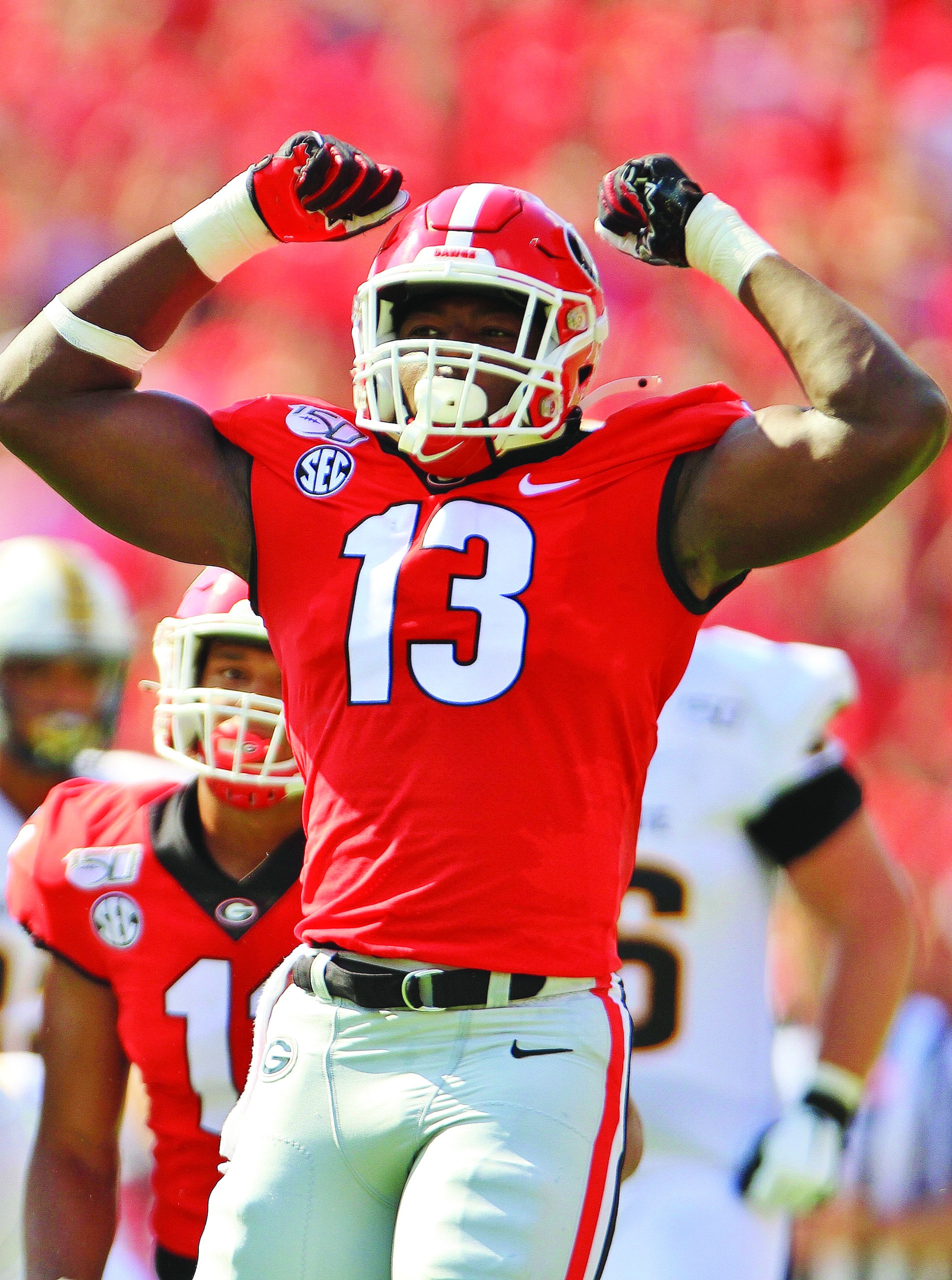 September 7 (Labor Day Night) Virginia  Atlanta (Mercedes-Benz Stadium) 
The season opener matches two teams that played in major bowl games a year ago. Virginia lost the Orange Bowl to Florida after falling to Clemson in the Atlantic Coast Conference Championship Game, finishing the season with a 9-5 record, highlighted by the program's first win over rival Virginia Tech in 15 years. That's quite a leap from a team that went 2-10 in 2016. Bronco Mendenhall is having success at the Virginia helm. The Cavaliers became the seventh different team in seven seasons from the Coastal Division to play in the league title game.
Georgia won the Sugar Bowl to post a 12-2 mark and No. 4 national ranking after coming up short in the Mercedes Benz Stadium to eventual national champion LSU in the Southeastern Conference Championship Game. Playing on a Monday night, even though there's light lifting the upcoming Saturday certainly puts Georgia in a bit of a compacted spot with what looms. Back to the Cavaliers.
Like the Bulldogs, amongst the biggest question marks for Virginia is quarterback, as Jake Fromm and Bryce Perkins leave big shoes to fill. Georgia will most likely start acclaimed Wake Forest graduate transfer Jamie Newman behind center. Virginia will choose between redshirt freshman Brennan Armstrong and Mississippi State grad transfer Keytaon Thompson, who accounted for 18 career touchdowns and made two starts – including the 2017 Taxslayer Bowl win over Lamar Jackson and Louisville.
Both Georgia and Virginia will lean on talented, experienced defenses. The stop units will be especially important early in the season with no spring practices for two teams breaking in new quarterbacks. This could come down to turnovers and special teams. Many games often do. Especially season openers. While Georgia looks for a new kicker, Virginia returns All-ACC (Honorable Mention) selection Brian Delaney. He hit 20 of 24 field goals last year, and was 12 of 16 in 2018. The Cavaliers long snapper Lee Dudley, Jr. grew up a die hard Bulldogs fan, his parents both Georgia graduates.
This will be the first regular season meeting between the Bulldogs and Cavaliers since Georgia topped Virginia 30-22 in the 1987 season opener. The Cavs beat Georgia in the 1995 Peach Bowl. The Bulldogs defeated UVA in the 1998 Peach Bowl (Kirby Smart's final game as a Georgia player) and 2000 Oahu Bowl.
The athletic director at Virginia is Dr. Carla Green-Williams, a standout basketball player for Andy Landers in the 1980s and longtime Deputy A.D. and Senior Women's Administrator at her alma mater, Georgia.
September 12 East Tennessee State Sanford Stadium
Even though East Tennessee State won't have the talent to match up with the Bulldogs, and the Buccaneers will be playing up a division, Georgia will be facing a short week. Being sharp essentially four and a half days after playing Virginia will be a challenge. Alabama looms on deck.
In 2010, Virginia Tech, ranked 13th, lost to No. 3 Boise State in the Allstate Kickoff Classic at the Washington Redskins stadium in Landover, Maryland. Four and a half days later, the Hokies were stunned by Division 1-AA/FCS power James Madison 21-16 in Blacksburg. That Virginia Tech then ripped off 11 straight wins and captured the Atlantic Coast Conference Championship and an Orange Bowl berth.
The greatest week in Georgia football history came in 1982. The Bulldogs, national champions of 1980, defeated the 1981 national champion Clemson Tigers 13-7 on Labor Day night between the hedges. Four and a half days later, Georgia beat Brigham Young and star signal caller Steve Young 17-14 at Sanford Stadium.
This lifting obviously won't be that heavy. But playing two games in essentially under six days is a chore, and then there's what's looming.
September 19 Alabama Bryant-Denny Stadium
Alabama is loaded. Three likely first round draft choices decided to return for their senior seasons, and the Crimson Tide boasts a bevy of top National Football League prospects and all star candidates. Last season, Bama lost by five to LSU and by three to Auburn. It marked only the second time since 2008 that the Tide didn't go 11-1 or 12-0 in the regular season.
This past decade, the Bulldogs suffered three of the most excruciating losses in school history in Atlanta at the hands of the Tide. Georgia led by double digits in the second half in all three games. It's hard to write or say that without a wounded groan and deep shooting pain in the stomach.
Nick Saban's success, of which Kirby Smart was a big part of building, has given the Alabama faithful a resurgence of their 1960s and 1970s glory days under Paul "Bear" Bryant's guidance. Those Bama teams played some memorable games with Southern Cal. This edition of the Crimson Tide opens with USC in Dallas.
For the winner of this one, the early path to the Southeastern Conference Championship Game and College Football Playoff contention opens a bit. For the loser, it is far from over, but there is no margin for error.
A silver lining to Tua Tagaviola's season-ending injury last season for Alabama is the experience in critical games for Mac Jones. He will have an outstanding offensive line, top flight running game and the best duo of wide receivers in college football – DaVonte Smith and Jaylen Waddle.
Linebacker Dylan Moses, who like Smith and left tackle Alex Leatherwood, passed on the pros, is back from injury and captains the defense.
Georgia's defense will have to be at its best, and it may take a short field or one of those game-changing Non Offensive Touchdowns to come out on top. Special teams will also have to shine for the Bulldogs, and whoever the place kicker for Georgia is will have his first true road game in the hostile environment of Bryant-Denny Stadium.
September 26 Louisiana-Monroe Sanford Stadium
If the Bulldogs are going to have a great season, clearly this is a game that shouldn't be too much of a stresser. But where it falls on the schedule, the Warhawks will head to Athens thinking upset.
There is a history for Louisiana Monroe. The highlight of the program was winning the national championship of Division 1-AA in 1987 with Stan Humphries at quarterback. In 1994, the Warhawks moved to Division 1-A and became a frequently scheduled foe for SEC schools. There have been a lot of lopsided losses, but some major upsets as well. That first season in the upper division, Louisiana-Monroe won at Kentucky. The next season, the Warhawks beat Mississippi State. Most notably, ULM pulled out a 21-14 victory at Alabama in Saban's first season in Tuscaloosa in 2007. In 2012, they won at Arkansas in overtime.
Last season, the Warhawks nearly added another victim to the hit list, but lost at Florida State 45-44 in overtime. ULM wound up the season at 5-7 and finished 4-4 in Sun Belt Conference play. The Warhawks were strong on offense last season, averaging 31.6 points per game. ULM must replace standout quarterback Caleb Evans, but the Warhawks have a dandy of a tailback in Josh Johnson, who ran for 1,298 yards, averaging 6.5 per carry, and chalked up 11 touchdowns.
Defense was another story. Seven of Lou Monroe's opponents scored at least 42 points last season.
October 3 Vanderbilt Sanford Stadium
Vanderbilt is striving for a bounce back season in 2020. The Commodores were sound and consistent bowl contenders in the 2010s, making it to the postseason five times between 2011 and 2018. Vandy had gone to four bowl games in its previous history. Defensive guru Derek Mason, the head man at Vandy since 2014, guided the Commodores to the 2016 Independence Bowl and 2018 Texas Bowl. Along the way, Vandy picked off several high profile opponents, including an upset victory over Georgia in 2016. Amongst the program's all time great accomplishments is a three-game winning streak over Tennessee from 2016-2018.
Last season, though, the Commodores slumped to 3-9 and 1-7 in the league, beating only Missouri.
Vandy ranked near the bottom, 125th of 130, of FBS teams in scoring last year and must replace several talented players, including Ke'Shawn Vaughn, Kalija Lipscomb and Jared Pinkney. The key will be quarterback. Vanderbilt just didn't get the production there last year.
Mason's defense figures to be typically tough. Dayo Odeyingbo is one of the top defensive linemen in the SEC, linebacker Dimitri Moore chalked up 44 tackles – fourth best in the SEC, and Allan George is a big play-maker at corner.
The Dogs need to deliver and be at their best. Auburn is on deck. No matter what would have transpired in Tuscaloosa, the Bulldogs must be at least 4-1 to stay in contention for the big dreams and set up a mega-showdown with the ancient rival the next week.
October 10 Auburn Sanford Stadium
This will take some time to get used to, but Georgia and Auburn now play in October. It is part of the changing landscape of college football. As has almost always been the case with the late season November showdowns, the stakes figure to be huge. If the Bulldogs aren't at least 4-1, there will be disappointment in Athens. If Auburn isn't 5-0, the Gus Bus will again have a warm driver's seat. Auburn's toughest challenge before heading to Athens figures to come from North Carolina in Atlanta in the second week of the season.
Gus Malzahn has his quarterback. Sophomore Bo Nix is Auburn through and through. His father Patrick was a standout signal caller for the Tigers in the 1990s, and this chip off the old block quickly etched his name into Auburn lore with the game-winning touchdown to beat Oregon in the season-opener, his first game.
As always, the Tigers will be tough and physical. Yes, they must replace two great defensive linemen, Derrick Brown and Marlon Davidson. But the linebackers are fast and physical, and "Big Kat" Bryant is one of the best defensive ends in the SEC.
Auburn's biggest question is whether it can find the consistent, "go-to" guy at running back. Last season's leading rusher JaTarvious Whitlow transferred. There is a good list of contenders, and Auburn has recruited well at the position, including incoming freshman Tank Bigsby. Nix has a strong cast of receivers, with Seth Williams at the top of the list. As a sophomore last season, he pulled in 59 receptions for 830 yards and eight touchdowns.
Even though the Tigers lost to an outstanding Minnesota team in the Outback Bowl, there is momentum heading into 2020. You may have heard, Auburn won a thrilling Iron Bowl 48-45 over Alabama.
It will feel very strange playing this game in October. Just think, it could be hotter for the Auburn game than when the Bulldogs play South Carolina in Columbia in November.
Georgia will try and keep the mojo against the Tigers going. The Bulldogs have won 12 of the past 15 meetings with Auburn, most notably the 2017 SEC Championship Game. If you would have said that would happen someday back when Auburn won seven of eight meetings with the Bulldogs between 1983 and 1990, costing Georgia three SEC titles and possibly a national championship, it would have been a hard sell, 12 of 15. Here's another one to think about. From 1977-2001, Auburn went 11-2 in Sanford Stadium. Ouch. In the midst of the current string of success against the Tigers, Georgia has won six straight over Auburn between the hedges.
Odds are, if this is going to be a great season, a truly elite one, for either team, this one is an absolute must.
October 17 Missouri  Memorial Stadium
It's a transition time for the Tigers, as Missouri welcomes Eliah Drinkwitz as its new head coach. In his lone season as the head coach at Appalachian State, Drinkwitz led the Mountaineers to one of their greatest ever campaigns. Appalachian State rolled to the Sun Belt Championship, a New Orleans Bowl victory and upset wins at North Carolina and South Carolina en route to a 13-1 record and No. 20 national ranking. He was a hot commodity, and Missouri pounced.
The Tigers got off to a 5-1 start last season, and then lost five in a row, which sealed the fate of Barry Odum.
Mizzou, which joined the SEC in 2012, made an immediate early impression. The Tigers went to back-to-back SEC Championship Games in 2013 and 2014, while posting 12-2 and 11-3 records. One of their most significant early conference wins came in Athens in 2013. Georgia has won six in a row against Missouri since, and the Bulldogs lead the series 8-1. But the Tigers always play Georgia tough. It's just one of those match-ups that is always a grind for Georgia. And this season, the Bulldogs must go to Columbia a week after hosting Auburn, with an open date and then the Gators looming.
Playing in CoMo has a different feel. It's in the midwest, the atmosphere is different than at other SEC superpowers (though it gets loud, with "M-I-Z, Z-O-U) and the winds blow hard.
Drinkwitz is known as a sharp offensive coach, and the Tigers are trying to ramp things up. There was a dropoff with the departure of four year starting quarterback Drew Lock to the NFL. Quarterback is still the big question mark. The Tigers are strong at running back, led by Larry Rountree III. He has 2,748 career yards on the ground and 26 touchdowns. In 2018, with Lock at quarterback, Rountree ran for 1,216 yards and 11 touchdowns, including a score against Georgia.
Missouri is always big and physical up front, and the Tigers have been amongst college football's best at producing NFL defensive linemen.
This one will be tough and physical, a week after THE annual tough and physical game. Big plays and turnovers have keyed the Bulldogs previous four victories over Missouri in Columbia.
October 31 Florida Jacksonville (TIAA Bank Field)
The Gators are the popular pick to win the Southeastern Conference East Division in 2020. Georgia has won the last three, defeating the Gators in 2017, 2018 and 2019, becoming the first East team to appear in three straight SEC Championship Games since Steve Spurrier's powerhouse Florida teams went to the first five from 1992-1996.
Dan Mullen has done an outstanding job getting Florida back to the elite. The Gators went 10-3 in 2018 and then 11-2 last season. Along the way, the Gators posted a Chick-Fil-A Peach Bowl win over Michigan and Orange Bowl title over Virginia.
For Florida to make it to Atlanta to play for the SEC title, the Gators know they have to beat Georgia.
From 1990-2010, the Gators went 18-3 against Georgia. But under Smart, this three game winning streak gave the Bulldogs a 6-4 record against Florida in the decade of the 2010s. That's a big deal. A winning record in the decade, after the previous two of gloom. For longtime Georgia fans who remember the glory days against the Gators of the Vince Dooley era, it was a restoration of order in Jacksonville.
So now Florida is the upstart, elite, but seeking that next rung on the ladder. The Gators have Kyle Trask back at quarterback, while the Bulldogs are replacing their signal caller, who had that 3-0 record against the Gators. Trask, similarly to Jake Fromm in 2017, got a battlefield promotion and delivered. Florida was losing 21-6 at Kentucky, in danger of losing a second straight time to the Wildcats after a three decade-plus winning streak in the series. Starting quarterback Felipe Franks was injured on an ill fated fourth down play, and it was Trask to the rescue.
Mullen has needled the Georgia faithful and has his Gator fan base – plus numerous prognosticators – banking on a win in Jacksonville and return to Atlanta.
As always, Florida has players. The offensive line will be good, the skill personnel fleet and the defense fast and physical. You could say that about virtually every Florida team since the Gators went 0-10-1 in 1979. Every game is important, but it is a good bet that the winner of this one plays for the SEC championship.
November 7 South Carolina Williams-Brice Stadium
Holy moly does this game falls in an awful slot. It's the latest the Bulldogs have ever played in Columbia, and it comes between Jacksonville and the latest ever meeting with Tennessee.
South Carolina pulled off the upset in Athens a year ago. In fact, the Gamecocks had a 5-5 decade against the Dogs.
So while it will be a revenge game for "Kirby's Canines," it could also be a letdown, look ahead. Plus, South Carolina has a chance to be really good. The schedule may not let the record really show it, but the Gamecocks are talented in a lot of spots, including quarterback and defensive line. An unintended consequence of Clemson's incredible success has been the Tigers national recruiting. They just don't take many guys from the state of South Carolina. The Gamecocks have swooped in. They signed seven of the state's top nine prospects for this class. That includes Luke Doty, who will challenge Ryan Hilinski for the quarterback job.
Granted, Javon Kinlaw is off to the NFL, but the Gamecocks still boast a talented and strong defensive line, one that gave Georgia a difficult time last year.
Will Muschamp is a defensive coach, and his teams always figure to be good on that side of the ball. Plus, as is the case with Tennessee's Jeremy Pruitt, they are from the Nick Saban coaching tree, like Smart. So there is a lot of familiarity and not a lot of secrets.
South Carolina also has a new offensive coordinator, Mike Bobo. He oversaw some elite offenses at Georgia and is a terrific quarterbacks coach. Replacing top flight receiver Bryan Edwards will be the Gamecocks biggest offensive challenge. A lot of SEC schools are glad he's gone. Including Georgia. It was Edwards who caught the long one to give the Gamecocks the lead in Athens.
It is always tough playing in Columbia. Smart is 2-0 as Georgia's head coach at Williams-Brice Stadium, highlighted by a 41-17 trouncing of the Gamecocks in 2018. South Carolina had won the previous three against Georgia in Columbia, with all of those coming under the direction of Hall of Fame coach and Bulldog nemesis Steve Spurrier.
The win in Athens over his alma mater was huge for Muschamp's return. It was the highlight of a difficult 4-8 season against an all-time tough schedule. The Gamecocks faithful expect a big jump this year.
While Georgia is in Jacksonville playing the Gators, South Carolina will be at Vanderbilt.
November 14 Tennessee Sanford Stadium
Essentially, the Auburn and Tennessee games have flip-flopped on the schedule. There figures to be a lot on the line for both on what figures to be a Saturday night (remember it's also Masters weekend this year) in Athens. The Bulldogs have eyes on a fourth straight trip to the SEC Championship Game. The Volunteers, emboldened by a strong close to last season, expect to contend this year. Tennessee is also putting together its best recruiting class in several years. Georgia is also putting together an outstanding recruiting class.
It was a disastrous start to the 2019 campaign, as Tennessee lost to Georgia STATE in the opener, and then gave up a deep ball to fall to Brigham Young. Losses to Florida, Georgia and Alabama followed, and there was a lot of talk of Pruitt, in his second season, being on the hot seat. At least a very warm one. This coming in the final year of what was the worst decade in Tennessee football history.
After falling in Tuscaloosa, the Vols ripped off six straight wins, including a victory over South Carolina, breaking a three game losing streak to Vanderbilt, and an improbable Taxslayer Gator Bowl 23-22 comeback win over Indiana.
If ever an 8-5 record signaled a turn around for a fan base, this one did.
Tennessee's biggest strength on offense will be a line that features three former "five star" recruits, including Georgia transfer Cade Mays. Jarrett Guarantano regained the starting job at quarterback and is back for his fifth year. Sophomore Brian Mauer started against the Bulldogs and threw a pair of first half touchdowns last season in Georgia 43-14 victory over the Vols. Tennessee also brings in freshman Harrison Bailey from Marietta.
The Vols will miss receivers Jauan Jennings and Marquez Callaway, and understudies developing will be important for a complete offense. Tennessee should be really good at running back. Ty Chandler is quick and Eric Gray gave the rushing attack a big boost as a freshman last year. This should be Tennessee's best offense since at least 2016 when Alvin Kamara and Josh Dobbs paced the Orange and White attack.
There is also an outstanding kicker.
Brent Cimaglia was Second Team All-SEC last year, hitting on 23 of 27 field goals, including nine of 11 from over 40 yards.
Linebacker Henry To'o To'o was a blue chip recruit out of Sacramento, California and a Freshman All-American last year, racking up 72 tackles, starting 12 games. He's the star of the defense. To'o To'o really emerged in the second half of the season, and had eight tackles in the bowl win over the Hoosiers. He also had seven stops against Georgia.
The Volunteers bring back punch and size. Pruitt is a defensive guy. As we said with Muschamp and the tree, there is a lot of familiarity.
Tennessee hopes to be in contention for a berth in the SEC Championship Game. Whether that plays out or not, a win in Athens would be an enormous step forward for the program and a big feather in the hat of Pruitt, a former Georgia defensive coordinator for Mark Richt and understudy to Smart at Alabama. The Vols always recruit the state of Georgia hard, and they will be all in for this one.
Georgia went 8-2 in the 2010s against Tennessee – the losses were a blown 24-3 lead in Knoxville in 2015 and the Hail Mary of 2016. With that success, Georgia now leads the all time series 24-23-2. Taking the series lead looked bleak in the midst of the nine game losing streak to Tennessee in the Vols heyday of the 1990s.
November 21 Kentucky Commonwealth Stadium
Mark Stoops has gotten the Kentucky program to a very good place. The Wildcats are consistently sound and bowl bound. Big Blue has made four straight postseason appearances after a five year absence. The highlight was 2018 when one of the best teams in program history beat Penn State in the Citrus Bowl to finish 10-3 and No. 12 nationally. One of the losses came in one of Georgia's best wins of that campaign, as the Bulldogs won 34-17 in the Commonwealth with the SEC East on the line. It was the first of two straight spectacular games by D'Andre Swift against the Wildcats. Cat Nation is glad he's gone.
Kentucky lost a lot of talent off that 2018 team, including All-SEC safety Mike Edwards, the program's all-time leading rusher Benny Snell and outside linebacker/defensive end Josh Allen. The seventh pick in the draft by the Jacksonville Jaguars, Allen won the Bednarik and Nagurski Awards, and was the SEC Defensive Player of the Year.
The Wildcats were a pretty easy guess by prognosticators over which college football team would take the hardest fall in 2019.
When the dynamic Lynn Bowden moved to quarterback, the Wildcats took over and Kentucky closed strong with a four game winning streak to cap the season at 8-5. That included a comeback 37-30 Belk Bowl victory over Virginia Tech.
Back to back bowl wins over Penn State and Virginia Tech, well done Wildcats.
Bowden leaves enormous shoes to fill. But Terry Wilson is back at quarterback. He was the starter in 2018, but injured early last season. He will operate behind one of the SEC's best offensive lines.
The Wildcats defense should be very good. They were solid last year despite losing a great deal of talent and experience – see Allen and Edwards. Plus Stoops is a defensive guy.
This is a dangerous game for the Dogs. The weather in Lexington in late November could be very chilly. And this one is a tweener. If the SEC East has been clinched with Tech looming, look out. If the Dogs are out of the East with Tech looming, look out.
Georgia ran the decade against the Wildcats, winning 10 straight from 2010-2019. Kentucky will have this one circled. But with the ascension of the Smart era, that has become the norm for the Bulldogs. As Georgia's head man says, "pressure is a privilege."
November 28 Tech Sanford Stadium
It's the biggest game of them all to end the regular season. In each of the last three years, Georgia has had the SEC Championship Game with the highest of stakes on the line looming. And all three times, the Bulldogs have delivered, knocking out the Yellow Jackets 38-7, 45-21 and 52-7.
Even the most optimistic of Yellow Jacket fans knew last season was going to be a struggle. Paul Johnson won a lot of games, led Tech to three wins in Athens, two Orange Bowl trips and confounded so many teams with his precise triple option attack.
Smart's Bulldogs solved the puzzle in the dominant victories of 2017 and 2018 and with that, Johnson retired.
Enter Geoff Collins and a roster overhaul.
The Yellow Jackets didn't have much experience or size last season, and it showed in a 3-9 season that was bookended by lopsided losses to Clemson and the Bulldogs. In the third week of the season, Tech lost to The Citadel in overtime.
There were some good moments for the Jackets, including upset wins over Miami and N.C. State.
With the changes offensively, the biggest challenges were beefing up the offensive line and installing a more consistent passing attack.
Tech figures to make significant progress this year, and the school's most highly acclaimed recruiting class since 2007 will give a big lift. It figures to especially show when they come to Athens.
James Graham is back at quarterback, and is the front-runner to win the job and lead an improved offense. The defense had its moments last season, including the first half against Georgia. David Curry will captain the D from middle linebacker. Talented Tobias Oliver, a former quarterback, is now playing in the secondary, and the Jackets welcome Notre Dame transfer Derrick Allen at DB.
Analytics have Tech as one of the most improved teams in the country this season. The year two bump, familiarity with the system and coaches, and a lot of experience could spell bowl flirtation for Tech. The schedule is tough. Clemson, Notre Dame (at Mercedes-Benz Stadium) and Georgia are all consensus preseason top ten picks. The Yellow Jackets also go to North Carolina and Virginia Tech, possibly the second and third best teams in the ACC, in back to back weeks in the first half of the season.
While Georgia is at Kentucky, Tech will be hosting Miami.
Georgia is 16-3 against Tech since 2001, and in all three losses, 2008, 2014 and 2016 they got away.
In Smart's last game as a player between the hedges in 1998, with Georgia aiming for an infamous drought record-tying eighth straight win in the series, a pre-replay fumble call went Tech's way and the Jackets won on a last second field goal. In his first game against the Jackets as the head coach, the Bulldogs had a 27-14 fourth quarter lead (with the ball) slip away in a 28-27 loss. The sorrow and heartbreak of that day led to the decisions of Sony Michel and Nick Chubb to return for their senior seasons.
Great things came out of a bad day.
Launch point.
The fire and passion to defeat "The Enemy," and the pain from those heartbreaks past, runs deep with the head man, a lifelong Georgia fan.
Vince Dooley always called it the biggest game of them all. When he came to Georgia in 1964, the Bulldogs had lost three straight to the Yellow Jackets and 1949-56, the eight in a row, was all too recent. He recognized that winning the state is priority No. 1.
There may be some foes the Georgia faithful would rather beat, but the Tech game is the one that hurts the most to lose.
Now the Bulldogs try and make it four in a row – with the goal of a fourth straight title tilt on deck – and halfway home to eight straight.