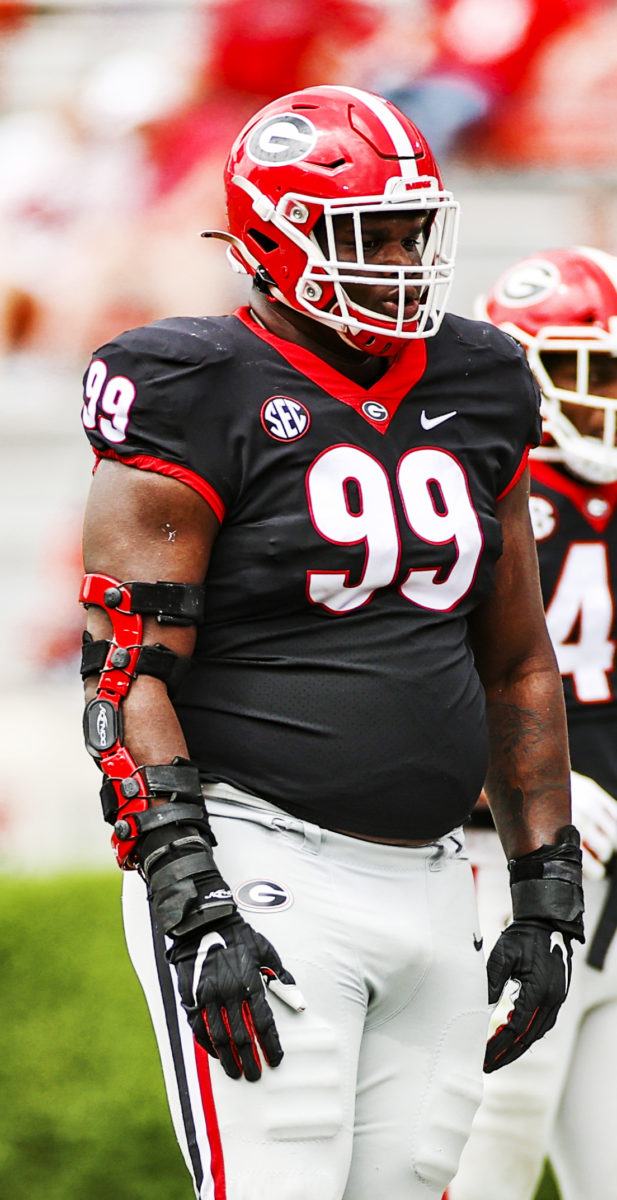 Quarterback
Let's start here. Good to great quarterback play is essential for an outstanding season. Last year, the team, Kirby Smart and his staff did an excellent job, finishing in the top ten and posting a major bowl victory with three different starting quarterbacks. None of whom were Jake Fromm or Jamie Newman. Fromm turned pro following the Bulldogs' Sugar Bowl win over Baylor on New Year's night 2020, and Newman quit after transferring from Wake Forest. Think about how Georgia's quarterback prognosis shifted over the next 11 months from the hopes of Fromm's return to Daniels' debut. That's not a normal recipe for success.
The way things shook out, after the loss to Florida, perhaps the timing is right at quarterback. Due to the 'Covid shuffle," Georgia had a week off after Jacksonville and turned to JT Daniels. The Southern Cal transfer piloted the Bulldogs to a strong finish down the stretch, starting with a sensational debut in a 31-24 victory over Mississippi State in which the Georgia run game was poor. The blend was there the next two Saturdays, as strong rushing and passing attacks were on display, with Daniels excelling, in blowout victories in the two Columbia's over South Carolina and Missouri. Then in the Chick-Fil-A Peach Bowl, a sporadic offense struggled against Cincinnati. But Daniels led a game-winning drive, hitting five of seven passes and setting up Jack Podlesny's triumphant field goal to deliver the victory, an 8-2 record and No. 7 final ranking that sent the Bulldogs smiling into the offseason.
Daniels connected on 80 of 119 passes for 1,231 yards. But here are the big stats, along with Georgia's 4-0 record with him as the starting quarterback. Daniels completed 67.2 percent of his passes, averaged 10.3 yards per attempt and threw 10 touchdowns against two interceptions. He's accurate, throws a very catchable deep ball and is outstanding on check-downs (TD passes to James Cook and George Pickens at Missouri are prime examples). If he could play at that pace again, Georgia's offense should be very good.
There is, of course, room for improvement. Facing those "live bullets" for the first time in over a year, Daniels had a steep reacclimation curve. Getting rid of the ball more quickly (and safely) is one area he figures to step forward. If a play breaks down, can he scamper past the chains for a first down, or into the end zone in the red zone? Pickens was his favorite target, but Georgia's top receiving threat is out with an injured knee (more on the receiving corps later).
The Bulldogs are at their best with a strong running game and then throwing off play action. The win over Mississippi State, when Daniels threw for 401yards and Georgia gained eight, yes eight yards on the ground (sacks are a part of the rushing total and there were three that night), the Bulldogs showed the ability to win while leaning on the pass. Any way you slice the balance or what to lead with, the key is throwing by design, when you want to, not when you have to.
Daniels doesn't need to have a Heisman Trophy caliber season for Georgia to accomplish its goals, but that completion percentage, yards per attempt and TD-INT ratio, those numbers must be strong for the Bulldogs to contend.
Keeping him healthy is of course vital. Hot take. So what happens if he has to come out for a play, a series, a quarter, a game or two? Where would Georgia turn?
There is the veteran overachiever Stetson Bennett, the former walk-on who led the comeback win at Arkansas and was the signal caller for wins over Auburn, Tennessee and Kentucky. And losses to Alabama and Florida – he was injured on a TD pass to Marcus Rosemy-Jacksaint, who was also injured on the play.
If it's early, that would seem to make the most sense.
There is a lot of talent at the position, and that includes redshirt freshman Carson Beck and true freshman Brock Vandagriff. The competition was intense in the spring and it certainly will be in preseason camp. Who's the backup? And would that decision apply equally if it were for a brief stint, or a long haul. Hopefully that's not a problem the Bulldogs will have to deal with.
Best case, the backups get snaps in big margin victories, as Daniels stays healthy and QBs the Bulldogs to a dream season. If that were to happen, and Daniels were to leave for the NFL, there may be a front-runner, but not an incumbent for 2022, when Georgia will also welcome in blue-chip Rabun County senior Gunner Stockton.
Running Back
It was a huge lift for the Bulldogs to get Zamir White and James Cook back for their fourth seasons in Athens. The depth at the position is outstanding, with these two veterans, junior Kenny McIntosh and sophomores Kendall Milton and Daijun Edwards. Run Game Coordinator Dell McGee has a talented stable.
On the cusp of returning to 100 percent and form that made him the top prep tailback in America before a pair of knee injuries, the inspirational White is a strong, powerful runner with a nose for the end zone. He posted 11 touchdowns last season and scored in eight of Georgia's ten games, while leading the team with 779 yards on the ground. Cook is a shifty play-maker who was niftily utilized last season. He averaged 14.1 yards per reception and 6.7 yards per carry, tallying five total touchdowns. McIntosh is also a dual threat. A strong runner with wheels, he had three receptions on the drive that set up the winning kick against Cincinnati. As for the sophomores, Milton, before an injury, showed flashes that he could be a difference maker. A Nick Chubb-like run against Tennessee ignited the Bulldogs offense in a comeback win over the Vols. Edwards was able to deliver the knockout blows down the stretch against South Carolina and Missouri, moving the chains with power and fresh legs.
When lining up under center, the Dogs need a fullback. How about Jalen Carter and the jumbo formation that had Jordan Davis at tight end? Carter had a touchdown catch against Tennessee. Or maybe a walk-on, like Kurt Knisely, could emerge. But in that traditional "I," it's a must to have that fullback to clean out the hole and/or make that kick-out block.
It's a long season. The Bulldogs plan on playing in 15 games, and winning that last one (winning the one before would also be a must). Georgia's depth at running back, having fresh legs, but also a variety of backs who have the ability to be workhorses could make the difference.
Wide Receiver
George Pickens knee injury this spring was a devastating blow. Yes Georgia is deep and talented at receiver, but Pickens is one of the most talented and dangerous threats in college football. The Bulldogs' other receivers were more effective with Pickens on the field, drawing the attention of the opposition. He made those eye-opening plays and could turn first downs into touchdowns.
Unfortunately dealing with injuries isn't limited to Pickens situation at the position. Almost all of Georgia's frontline receivers are coming back from injuries, ranging from sprains season-ending torn ACL's or fractures.
Sophomores Jermaine Burton, speedy Arian Smith and Marcus Rosemy-Jacksaint are the nucleus of the group, and they are all very good. Burton shined against Mississippi State, flirting with the Bulldogs single game receiving yardage record. Rosemy-Jacksaint struck paydirt in Jacksonville, but suffered a horrible injury on the play. Smith, healthy, stepped up late and showed off his world class speed on long balls against South Carolina and Cincinnati. The All-American track sprinter has the Georgia faithful hoping another Mecole Hardman is on the scene in Athens.
Redshirt junior Kearis Jackson emerged last season, shining against Auburn and Tennessee. He's the veteran of the group, and can go after the catch.
Dominick Blaylock was terrific as a freshman, posting touchdowns against Florida, Auburn and Tech. How many players have done that for Georgia in a single season, much less as a freshman. He's suffered two knee injuries since and is fighting his way back as a redshirt sophomore.
As for newcomers, there is true freshman Adonai "A.D." Mitchell, who was impressive in the spring game, redshirt freshman Justin Robinson and transfer Arik Gilbert, a highly touted prospect who had a fine freshman year at LSU last season. Gilbert looks like a tight end, but is more of a split end/hybrid talent.
There are lots of very good players with lots of potential. Will a great player, or two emerge at the position?
Tight End
Big "Number Zero" Darnell Washington from Las Vegas showed flashes as a freshman that he could be an all-timer. Washington is 6-7, 266-pound. He has excellent hands and is a devastating blocker. Against Missouri and Cincinnati, Washington rounded into form. Getting him the ball with greater frequency this season is a top priority for offensive coordinator Todd Monken's unit. Washington and Gilbert on the field together could pose problems for opposing defenses.
John Fitzpatrick is the top backup. He played a lot of big snaps last year. Along with Brett Seither and Ryland Goede, these are three other big bodies in Todd Hartley's stable. Keep an eye on California freshman Brock Bowers. The Bulldogs are very good at this position.
Offensive Line
When Smart got his dream job, he made a grand slam hire in Sam Pittman to coach and recruit the offensive line. When Pittman left for Arkansas prior to the 2020 Sugar Bowl, Smart did it again, bringing in Matt Luke. A protege of the great Hugh Nall, Luke has assembled a deep and talented group. The recruiting classes of 2020 and 2021 could potentially rival the hauls of 2017 and 2018. There are a lot of talented first and second year players, but the key to the offensive line's success is their development along with the play of the veteran nucleus up front.
Here are some questions:
Will the starting five, and where Georgia's best offensive lineman Jamaree Salyer plays against Clemson be the same when the Bulldogs play Auburn in game six and Tech in the finale? Salyer is a natural inside, but was clearly Georgia's best left tackle last season. Does he start against Clemson at left tackle and stay there all year? If the plan is for Salyer to move inside, does Georgia go ahead and do that, and get the new left tackle his first start against Clemson's tremendous defensive front?
All these scenarios are being bantered about inside the walls of Georgia's football complex.
Redshirt sophomore Warren McClendon, with his great Georgia bloodlines, starts at right tackle. When he came in against Arkansas, it gave the Bulldogs a big lift and he locked down the spot the rest of the year. If Salyer starts at left tackle, that gives Georgia a talented, experienced pair.
Super senior Justin Shaffer is back for a fifth season, and the frontrunner to start at one of the guard spots, likely on the right side. Tate Ratledge, a sophomore, could grab the other spot. Then there is Warren Ericson, who took over at center late last season. He could stay at center, or move to guard and have sophomore Sedric Van Pran take over the vital snapping duties. If Salyer does go inside, there are a slew of talented young tackles, highlighted by true freshmen Amarius Mims and Micah Morris, and redshirt freshman Broderick Jones. All were elite recruits, all have bright futures. The same goes for a pair of true freshmen at guard, Dylan Fairchild and Jared Wilson.
Redshirt sophomore Xavier Truss got his first start at left tackle in the win over Cincinnati. It was the only game in which Salyer started inside. Georgia's offensive line didn't have its best day.
With Clemson and then a slew of SEC foes boasting talented defensive lines, the progress of Georgia's offensive front is one of the most important factors for the Bulldogs hopes of 2021.
Defensive Line
When it comes to frontline talent and depth, this is the defensive line Georgia has been waiting on for a long time. The decision of massive nose tackle Jordan Davis to return for this senior season gave the Bulldogs a big lift, and sets the front coached by Tray Scott to be one of Georgia's best in a long time. Davis is a dominator in the middle. Massive at 6-6, 340-pound, he collapses the pocket and demands a double team. He made his first start against Florida in 2018. His performance against the Gators as a freshman in that game and then again in 2019 keyed outstanding defensive performances in vital Bulldog Jacksonville victories. Davis was injured for the Florida game last year and didn't play. It showed. When he returned last season. It showed.
Along with Davis, the Bulldogs have supremely talented junior Trayvon Walker and elite sophomore Jalen Carter. Both are extremely strong and athletic. Walker's game-winning sack as a freshman at Auburn in 2019 is an all-timer. Carter's aforementioned TD catch as a fullback against Tennessee last season offered a glimpse of his ability and potential. All three have first round, All-American talent. The return of super seniors Julian Rochester and Devonte Wyatt gives the front a wealth of experience and depth. These first five, fully healthy, could be special.
Filling in as reserves, and looking ahead to the future, there is Zion Logue, Warren Brinson, Nazir Stackhouse, Tymon Mitchell, Tramel Walthour and Bill Norton. The Bulldogs welcome in a trio of true freshman defensive linemen – Marlin Dean, Jonathan Jefferson and Tyrion Ingram-Dawkins. Hot take, all have potential, or Georgia wouldn't have signed them. This should be a great position of strength this season, but there will be some big shoes to fill next year. There is a lot of talent in the state and on the recruiting radar for the Bulldogs, including verbal commit Tyre West of Tifton.
Linebacker
Starting on the inside, Nakobe Dean has the potential to be a great player. He has the skill, instincts, speed, size and smarts to be a great one. And for the defense to be great, that play-making LB has to be there. With this defensive line in front, the path to a huge season is there for Dean. Seniors Quay Walker and Channing Tindall have played well and made their marks primarily in reserve roles, but now they are stepping into front line spots. This trio, if they stay healthy, could be one of the SEC's best.
Walker can also play on the outside. That versatility is big.
Adam Anderson is back at the "Sam" position. An athletic pass-rusher, he emerged last season. With no Azeez Ojulari, arguably the SEC's best pass-rusher, there is a void at that DE/OLB. Will Anderson play there, as he did so often last year opposite Ojulari? Or will he be more of the star/rover? Not necessarily lining up as a defensive back, but in random spots to bring different looks. He too is a difference maker.
Nolan Smith has been good. Can the junior, one of the country's top prep prospects in 2019, be great? Georgia needs it. The depth isn't quite what it has been the last two years at the position. And that's fine, provided Georgia stays healthy. The Bulldogs need for their guys to be guys and play lots of snaps. M.J. Sherman was the lone linebacker Georgia signed last year. He'll be one of the top reserves. Rian Davis, Trezmen Marshall and Robert Beal give Georgia good depth and all should help on special teams. The next wave are a quartet of true freshmen: Xavian Sorey, Jamon Dumas-Johnson, Chaz Chambliss and Smael Mondon.
Georgia's defensive front should be a great strength this season. There are a slew of highly touted veterans ready to step into starring roles.
For the Bulldogs to be great, this front must absolutely stymie the run, and be able to disrupt the quarterback without getting too tricky … i.e. blitzing more often than Defensive Coordinator Dan Lanning and Smart would like.
Secondary
It's the biggest question mark on the team. Georgia was crushed by attrition at the position. Memorable players who made a lot of huge plays are now in the NFL.
Smart doesn't always like to use the traditional terminology for all the secondary spots. Versatility and flexibility are especially important in the Bulldogs scheme. For the sake of the piece, we'll go corner, corner, strong safety, free safety and star/nickel.
Hit man Lewis Cine, who has all star potential is back at strong safety and will be the captain of the secondary. He's great on run support and very good with the ball in the air. Can he become great there? If so, Cine could be an All-American. Chris Smith started the second half of the season when Richard LeCounte was injured. That experience is enormous. He doesn't have LeCounte's ball skills (few do), but he's solid in coverage and very good in run support.
Blue chip cornerback Kelee Ringo redshirted last season with an injured shoulder, but is being eyed as a starter at cornerback. He was an elite prospect, and the Bulldogs are counting on him being an elite player early. Eric Stokes and Tyson Campbell are gone to the pros. Other defections pressed the situation even more. Jalen Kimber got his feet wet as a freshman and is in the mix. So is senior Ameer Speed.
Latavious Brini was playing well on special teams. He then capitalized on his first start in the Chick-Fil-A Peach Bowl and played great, including two critical tackles for loss. Is Brini a possibility at corner, or more the "Star" or safety role. Brini, who worked hard, and was prepared when his time was called, staying in the program, not quitting and leaving, could be a key piece this season.
Then there are the transfers.
Jahmile Addae is the new secondary coach, coming to Athens from West Virginia. One of his best players with the Mountaineers, Tykee Smith transferred to Georgia. An All-Big XII selection, Smith gives the inexperienced secondary talent and experience. Where exactly he lines up will be determined in camp. But he will be hard to keep off the field.
As will Derion Kendrick. The Clemson transfer was first team All-ACC last season. He figures to be right in the mix at cornerback.
If Smith and Kendrick gel with their teammates and play to their potential, their additions could be essential to Georgia's success in the secondary.
There could be some help from promising true freshmen David Daniel and Nyland Green, who are potential future starters at safety and corner.
Special Teams
Jake and Jack lead the way.
Jake Camarda is back for his senior season. One of the nation's top punters, the avid Star Wars fan has Jedi like prowess for "hangin' 'em high" and knocking them down inside the 10. He is also a weapon on kickoffs. Not to be forgotten, a pair of beauties after celebration penalties forced Georgia to kick off from the 20 against Tennessee and Cincinnati. Camarda put the Bearcats on their own two yard line. The final play was a safety. Not a Hail Mary.
Jack Podlesny won the job as a walk-on sophomore and had a stellar season, capped by the game-winner in Atlanta. His accuracy was essential to Georgia's success. And that must be maintained this year. No one is expecting a slew of 50-plus yard field goals, but from 40 and in, those are the must makes, plus the PAT's.
This has the potential to be one of the best kicking combinations in the country. And to do something really special, the Jake and Jack duo must deliver again.
As for the return game, there are plenty of candidates. Ball security is the top priority. Then, can someone make that move, make that play? Like Mecole Hardman?
Kearis Jackson and Dominick Blaylock have returned punts and had success. Redshirt freshman receiver Ladd McConkey could also be an option. On kickoffs, McIntosh was great last year. Cook could also be a weapon. The return game is an area that Georgia could further exploit. But again, catch the punt, protect the ball, and no penalties!
As for coverage and protection, this is where Georgia's depth from the tremendous recruiting in the Smart era should show.
Starters shine on special teams, as do hungry young players looking to make their mark.