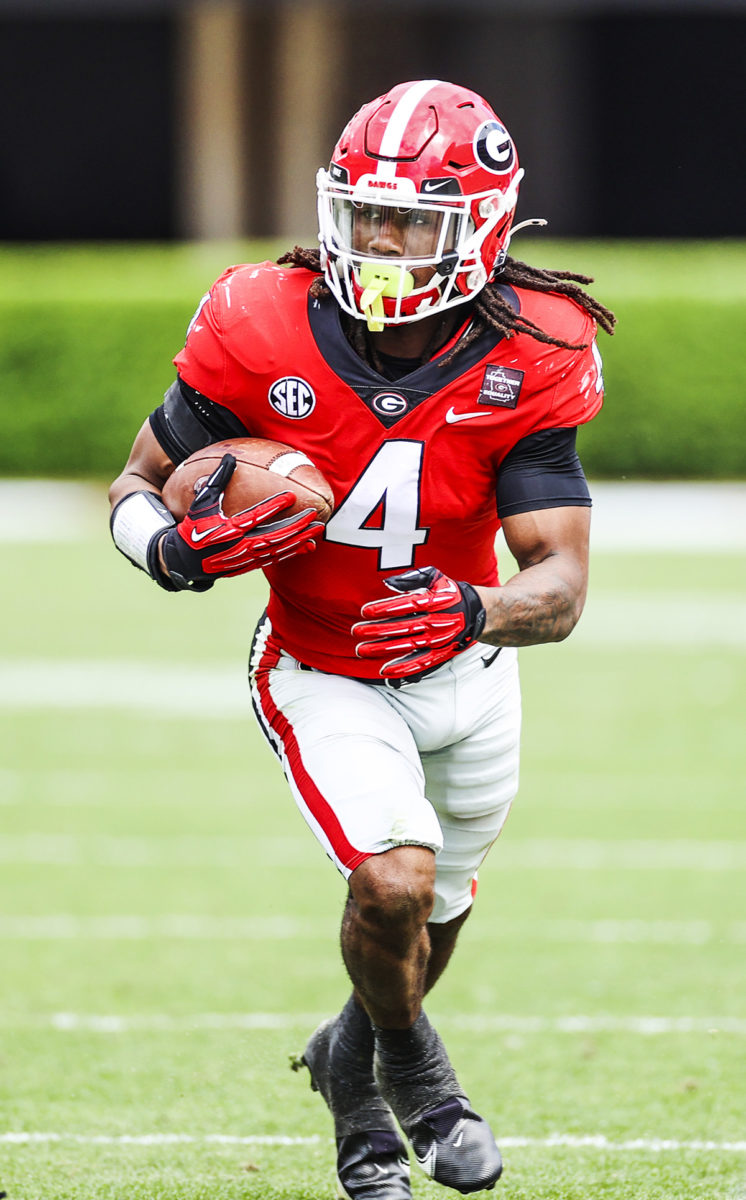 The COVID-19 pandemic made it difficult for freshmen to make an immediate impact in 2020. The inability to meet in person with coaches, limited workout groups and uncertain practice schedules stacked the deck against newcomers. Now, as the 2021 season rapidly approaches, Georgia has numerous portal additions, true freshmen and redshirt freshmen ready to make an immediate impact in their first meaningful action. Below are the new Dawgs ready to contribute early and often.
ARIK GILBERT – WIDE RECEIVER The addition of Arik Gilbert on June 1 caused an earthquake in Athens and sent shockwaves across the rest of the SEC. Gilbert is an incredibly rare talent in the mold of Kyle Pitts, and is capable of being impossible to cover. He will line up all over the field and immediately provides the security blanket JT Daniels needs with the absence of injured George Pickens. Gilbert has the potential to be an All-American in his first season in the Red & Black.
TYKEE SMITH – DEFENSIVE BACK It is not often that an All-American transfers from one Power-5 school to another, but that is exactly what Tykee Smith did. Smith is coming off a fantastic season at West Virginia and can play both safety and star in Athens. He is excellent in coverage, a willing tackler and dynamic pass rusher from the star position. His familiarity with DB's coach, Jahmile Addae and ability to excel at a position of need makes him an immediate impact player.
DERION KENDRICK – DEFENSIVE BACK The former Clemson Tiger comes to Athens for one reason and one reason only, to start at cornerback from day one and compete for a national championship. Kendrick has been a solid performer at Clemson for the past two seasons, but had a rough showing in his last outing against the Ohio State Buckeyes. There is no doubt that last outing has stuck with him, so he will be ready to perform at a high level immediately and provide stability to a young secondary.
AMARIUS MIMS – OFFENSIVE LINEMAN You don't often see offensive tackles in high school that pass the eye-test the way Mims does. At 6-7, 330 pound with a 7'1 wingspan he has the prototypical frame for a starting SEC left tackle. His combination of length and nimble feet give him the chance to start when the Dawgs face off against Clemson in Charlotte. This offseason is all about hard work in the weight room and studying the playbook so he can hit the ground running in fall practice.
MJ SHERMAN – LINEBACKER In 2021, the Dawgs will be restocking the cupboard at outside linebacker after the departure of Azeez Ojulari and Jermaine Johnson. The depth chart after Nolan Smith and Adam Anderson is wide open. The former top prospect from Washington, D.C. is in the perfect position to earn snaps. He has an excellent first step, great instincts and is able to drop in coverage. All he needs to do is stay healthy and he will make an impact on the field in 2021.
BROCK BOWERS – TIGHT END The Bulldogs have a wealth of experience and talent at tight end with Darnell Washington, John Fitzpatrick and Ryland Goede, but the coaches are enamored with Bowers. He brings something to the table the other three don't possess — speed. Bowers provides the ability to stretch the field from the tight end position and put pressure on opposing linebackers and safeties. His speed will allow him to be part of the rotation early and often.
KELEE RINGO – DEFENSIVE BACK A graduate transfer out of Miami, it seems like forever ago Kelee Ringo was the No. 1 rated cornerback prospect in the country. After an incredibly difficult year for him (in 2020) physically and personally, he is ready to burst onto the scene in 2021. He is a sensational athlete with rare fluidity for an individual of his size. For Kelee it is all about gaining confidence in the playbook so that he can let his athleticism take over. Once he is able to do that, nobody will be able to keep him off the field.
ADONAI MITCHELL – WIDE RECEIVER Nobody shined brighter at G-Day than true freshmen receiver Adonai Mitchell. The 3-star recruit was JT Daniels favorite target and made a number of outstanding plays. At 6'4 he towers over opposing defensive backs and attacks the football in the air similar to George Pickens. This summer he spent a significant amount of time with Daniels building the rapport needed to be ready to make an impact on Saturdays.
Soft Hand/Hard Hand: Four Scenarios for Georgia to make the College Football Playoff
In the game of Blackjack, whenever a player has an ace in their hand that can be counted as eleven, thus they have what is called a soft hand. These hands are considered to be very beneficial since you can adjust their total, depending on your current situation. If you have a soft hand, this means that you cannot go bust by hitting because you can always change the value of the ace at any time. Knowing that you cannot surpass twenty-one and lose instantly is one of the reasons why many players hope for these types of hands.
For the Bulldogs 2021 season, the ultimate goal for both the team and the rabid Bulldog Nation fan base is nothing but ACES and FACES in each and every game … 21 Blackjack! However, if that doesn't occur each time out, Kirby and Co. can still navigate themselves into the College Footbal Playoff, be it the hard hand route. Here are four scenarios for the 2021 season.
Soft Hand Scenario 1:
For the first time in years, Georgia will come out of the gates with a challenge. This year, Clemson will likely be one of the top-ranked teams in the country when the Bulldogs face them on September 4 at Bank of America Stadium in Charlotte. Although it will likely be a matchup between two top-five teams, it is hard to argue that it is the most important game on Georgia's schedule.
First, let's analyze what it would mean for Georgia to come out with a win over Clemson. For sure, this would be considered an ACE. For starters Georgia would start the season with a 1-0 record for the eighth year in a row. Not to mention they would most likely catapult to the top-ranked spot in the country. Additionally, it would show that Georgia's defense can hang with one of the top offenses in the country.
All offseason long, pundits have talked about the offensive expectations for the Bulldogs, but if Georgia is going to beat Clemson, its defense will need to force a few turnovers against talented Clemson quarterback D.J. Uiagalelei.
Luckily for Georgia, the initial test against Clemson should be by far the toughest of the whole season. In this scenario, we'll say Georgia dominates the SEC East in what could be a down-year for the division aside from the Bulldogs. Seriously, Kentucky or Missouri might finish second in the SEC East this upcoming year, plus take care of Arkansas and Auburn out of the West.
If the Bulldogs can finish the regular season 12-0 (Blackjack), a mark that has not been accomplished yet in Kirby Smart's tenure, they should be a playoff team regardless of what happens in the SEC Championship (barring an ugly blowout). Alabama is likely to win the SEC West again and would pose a tough matchup for Georgia, but Texas A&M could be a dark horse in the SEC West.
If Georgia wins the SEC Championship, they head into the playoff at 13-0 and will be the No. 1 team in the country. If they lose that final game, UGA should still project as the No. 3 or 4 seed. In this case, Clemson would have a loss to Georgia already so that would give the Bulldogs a lot of leverage.
Soft Hand – Scenario 2:
In this scenario, let's say Georgia loses the opener to Clemson. The Tigers are already early favorites, so it will not come as a surprise to Vegas if this happens. You will hear the "Kirby Smart can't win the big game" takes all week after the game. But this game really does not impact Georgia's season as much as some may think.
If Georgia uses that loss to get better as a team, like what happened in 2017 after the Auburn loss, then the Bulldogs still control their own destiny. In this scenario, they go undefeated in the SEC (which certainly would be considered an ACE) with the toughest challenge coming at Auburn. Georgia would have to win the SEC championship, but they would also enter the game as winners of 11-straight games. Hopefully, that momentum helps carry them over the top.
If they win the SEC Championship, expect the Bulldogs to finish as the No. 2 or 3 seed.
Hard Hand Scenario 1:
In this case, Georgia loses to Clemson and drops an SEC game, finishing the regular season 10-2. This is certainly not the desired hand for the 2021 season. However, still getting to the College Football Playoff is very possible. If Georgia is to lose an SEC game this season, it would most likely come against Auburn, but as we saw in 2019 against South Carolina … the SEC conference is tough from top to bottom.
If Georgia's only SEC loss comes to Auburn that means Georgia will have gone undefeated against the SEC East and would give the Bulldogs an appearance in the SEC Championship. The Bulldogs would have a chance to make a statement against a team that is most likely ranked higher than them, probably Alabama. Win that game and past history shows the SEC Champion makes it to the CFP.
Hard Hand – Scenario 2:
In this scenario, Georgia beats Clemson in the opener, but inexplicably loses two SEC games. In Blackjack, this would be the equivalent of holding a 15 or 16, versus the dealers' 20. However, luck shines on the Dawgs and they still make it to Atlanta to play an undefeated or one loss SEC West foe. Winning the SEC Championship is a must in this hardest of hands for the Bulldogs. If that happens, they would need help from some other conferences, but could still make an appearance in the playoffs as a two-loss SEC Champion, which would be greatly enhanced by the opening victory over highly-ranked Clemson.