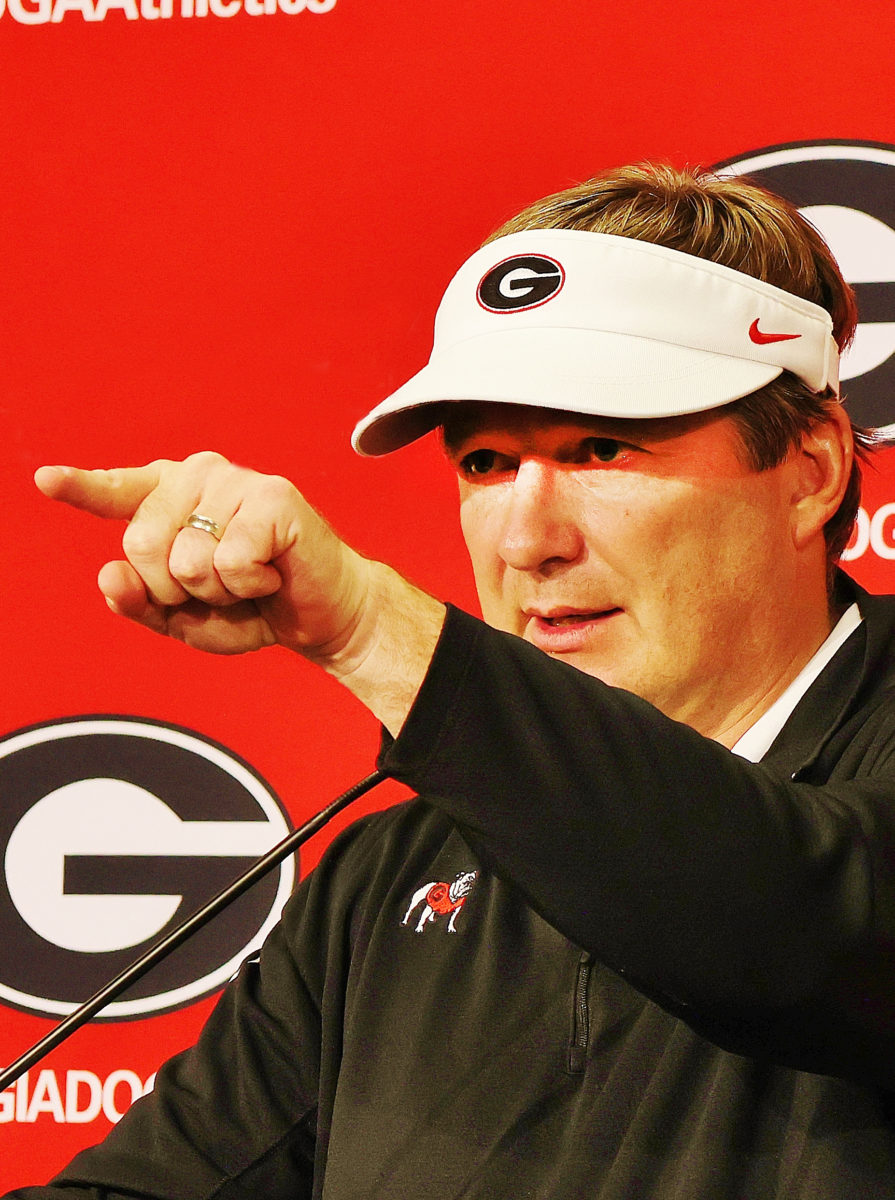 "GEORGIA … ON THE MOUNTAINTOP!" These words were heard as Nolan Smith sacked Bryce Young on the last play of the 2021 College Football Playoff National Championship. January 10, 2022, will go down in Georgia's history as the day the Georgia Bulldogs conquered the Crimson Tide and the day that Kirby Smart and his 2021 team cemented themselves as one of the great college teams of all time.
The view from the top has been great, but when the Dawgs face Dan Lanning and the Oregon Ducks on September 3 in Atlanta, Bulldog Nation must turn the page. The football team already has. A new set of fresh faces are establishing themselves and emerging leaders are preparing for whatever the realm of college football throws at their team. The 2022 Dawgs have come a long way since the National Champions celebration in Athens and will be ready to show the world their progress once they hit the field in Atlanta.
No doubt about it, the 2022 season presents the opportunity for these Georgia Bulldogs to earn their way back to the College Football Playoff — so here are 22 reasons why it's attainable:
1 – Kirby Smart – Money doesn't lie, and neither does Kirby Smart. When he first came to Athens, he talked about competing for national championships. Now having played in two and winning one, he's earned the hefty extension contract coming his way and aligned himself amongst the best coaches in college football. He is a difference-maker.
2 Todd Monken – The offense was overshadowed by the defense last year, but the Dawgs were still top 5 in scoring. Like the players he coaches, Monken's talents are also sought by the NFL. 2022's production should show why.
3 Defensive Coach Cohesion – Muschamp is a heavily decorated defensive coach at different levels of college coaching – from grad assistant at Auburn to head coach at the University of South Carolina in 2020. Schumann, on the other hand, is an up-and-coming name in the coaching world having served eight years at Alabama before becoming the inside linebackers coach at Georgia and overseeing the development of names like Roquan Smith, Tae Crowder, Monty Rice, and Nakobe Dean. Together, with their great contrast in experience, they offer an infinite amount of possibilities as co-defensive coordinators of this 2022 Georgia defense.
4 Josh Brooks – Athletic Director Brooks is a facilitator. He's been on top of navigating the uncharted territory that is the new NIL area of college football, and you can tell with Georgia's elite recruiting. He's also overseen additions to Sanford Stadium that'll add more seating, concessions, and restrooms for fans, and upgrades to the football team's practice facility; Brooks has been a big part of turning Smart's vision for facilities into reality. Additionally, Brooks and his team recently rolled out the "Commit to the G Campaign," which should keep all of Georgia athletics at the top for years to come.
5 Manageable Schedule – Notable matchups include: Oregon, Auburn, and Florida. Oregon seems the most worrisome of the three because of their unpredictability and the fact their new head coach is Dan Lanning. Auburn and Florida have their own set of internal issues regarding coaching. Other SEC East teams like South Carolina and Tennessee are still finding their sea legs trying to build themselves up as formidable forces in the East division. The Dawgs need to be careful towards the back end of the schedule facing Mississippi State and Kentucky. Mike Leach with a three-year QB starter and Kentucky being led by projected first-round draft pick, Will Levis, shouldn't be taken lightly.
6 Bulldog Nation – Especially after winning the Natty, Sanford Stadium should be a scary place for opposing teams for a very long time. And even though Mercedes Benz Stadium has provided a ton of bitterness, you can bet Dawgs fans will have the ATL rocking with the opener versus the Ducks.
7 Stetson Bennett – Good execution is the product of good preparation. After an offseason practicing with the ones, I'd say Bennett will be better prepared for this upcoming season given he wasn't even seeing second-string reps in practice last year. And look for Stetson to only use his lack of respect as an incredible motivator.
8 Nolan Smith – Smith's return for his senior campaign bodes well for him and his team. His decision to stay gives the defense some continuity from last year and presents Smith with the leadership role in Athens. The senior possesses an electric personality and an equally electric skill set at the linebacker position. Standing at 6-3, 235-pound, Smith put up 31 tackles while being deployed mostly at the line of scrimmage and looks to do much more with a bigger role in with half of the starting defense drafted, a large weight of the defense will be shifted onto NolanSmith's shoulders and he's up to the challenge. Smith is already a projected first-round NFL Draft pick for 2023.
9 Jalen Carter – Carter's talent boggles the mind. The only reason he's not on the forefront of conversation right now is that he was playing behind the likes of Jordan Davis, Devonte Wyatt, and Travon Walker. Now they're gone, Carter will be a premier feature of this defensive line. The entire position group should revolve around him and his talents, giving him better opportunities to make bigger plays than he has in the past. In addition to his immense role on the defensive side of the ball, Jalen Carter does not shy away from offensive opportunities. As a freshman, he scored a receiving touchdown against Tennessee, and his sophomore year he had a strong showing at fullback against Arkansas blocking three defenders at once. If he was to be drafted in 2022, many say he would have gone before Jordan Davis, and we haven't even seen all that he can do! Already the consensus No.1 interior defensive lineman in the 2023 draft class, this elite pass rusher will be in the nightmares of college linemen across America until next April.
10 Kelee Ringo – There's been a theme with the past two seasons, and it won't stop here.Ringo, also projected to be drafted, in the first round, boasts ELITE speed, great ball skills, and impressive leadership. Look for him to add to his Pick-six legacy.
11 Brock Bowers – This guy isn't going first round quite yet, but he's certainly on his way there. He is legitimately an NFL tight end in a 19-year-old's body. Bowers is an electric receiver that should give fans plenty to be excited about on the offensive side of the ball.
12 Chris Smith – With renowned coverage skills, Smith brings a veteran presence to the defense. With so many on the defense leaving, Smith staying is one less thing that the team doesn't have to replace or worry about.
13 Arik Gilbert – Gilbert may surprise casual fans, but not the die-hards. The die-hards know he came in, sat out, and is now on his way to ball out this season (especially after his G-Day performance), but others may be left wondering … Where did we find this guy???
14 Warren McClendon – When it comes to the O-line, all the glitz and glamor has been surrounding Armarius Mims and the transfer portal. People have been looking over the established two-year starter the Dawgs have in McClendon, who will surely be even stronger with the NFL scouts having their sights on him.
15 Kearis Jackson – A selfless veteran who wants to contribute in any way he can. Whether it's cheering on the sidelines or playing on the field, he wants to be there for his teammates. A healthy Kearis in 2022 is something to celebrate unless you're opposing teams.
16 Ladd McConkey – McConkey's success was a surprise to say the least. His ability to step up when called up in 2021 will earn him a respectable role in 2022. He offers speed and versatility,
which may be featured in more gadget plays.
17 Next Generation of RBU – Gracing Georgia's 2022 backfield, fans should expect to see a three-headed monster consisting of McIntosh, Milton, and Edwards. With their unique set of skills, UGA should see no drop-off in RBU as long as the threesome steps up to do the little things, like those before them.
18 AD Mitchell – This guy should fill the role Pickens left. He was already doing it even with Pickens on the field! What exactly? Winning contested catches and making BIG plays. The biggest of which was his catch on 2nd and 18 in the fourth quarter of the National Championship. Mitchell has ingrained himself into the minds of every Georgia fan after that play, and last year was just the beginning of his tenure at UGA. Similar to Jalen Carter and Nolan Smith's situations where older players exit gives way for bigger opportunities. Mitchell brings great size to the table. Standing at 6'4 he has the height advantage over most corners he'll face.
That advantage is evident in his contested catch ability making 50/50 balls just a little less risky. If you want a play, look his way. There is no question that AD Mitchell will be The Guy in Georgia's receiver room for the next two years.
19 Zion Logue – Logue's story is one of the more inspiring on the team. He's dealt with maturity issues and grown from that, and now sits as a leader in the locker room. He's said to be a combination of Jordan Davis and Devonte Wyatt and just needs game time to prove it.
20 Jack Podlesny – Having Pod in the special teams room after losing Camarda is great. He'll be a fine mentor to the younger bucks, particularly Dawg's new Aussie star, Brett Thorson. He also
just so happens to be a reliable kicker too!
21 Sedrick Van Pran – After starting his entire true sophomore year, Van Pran is already an established talent on this team. He replaces the experience and leadership lost by Salyer and Shaffer's advancement to the NFL.
22 Bama drought has been lifted – As much as fans hate to admit it, the inability to beat Alabama hung over Georgia's head until January 10, 2022. Finally, in Indy, the mighty elephant was slain by Kirby's canines. Also, Georgia fans aren't wrong when believing Coach Saban and his squad will eventually get what's coming to them on the first Saturday in December in Atlanta.