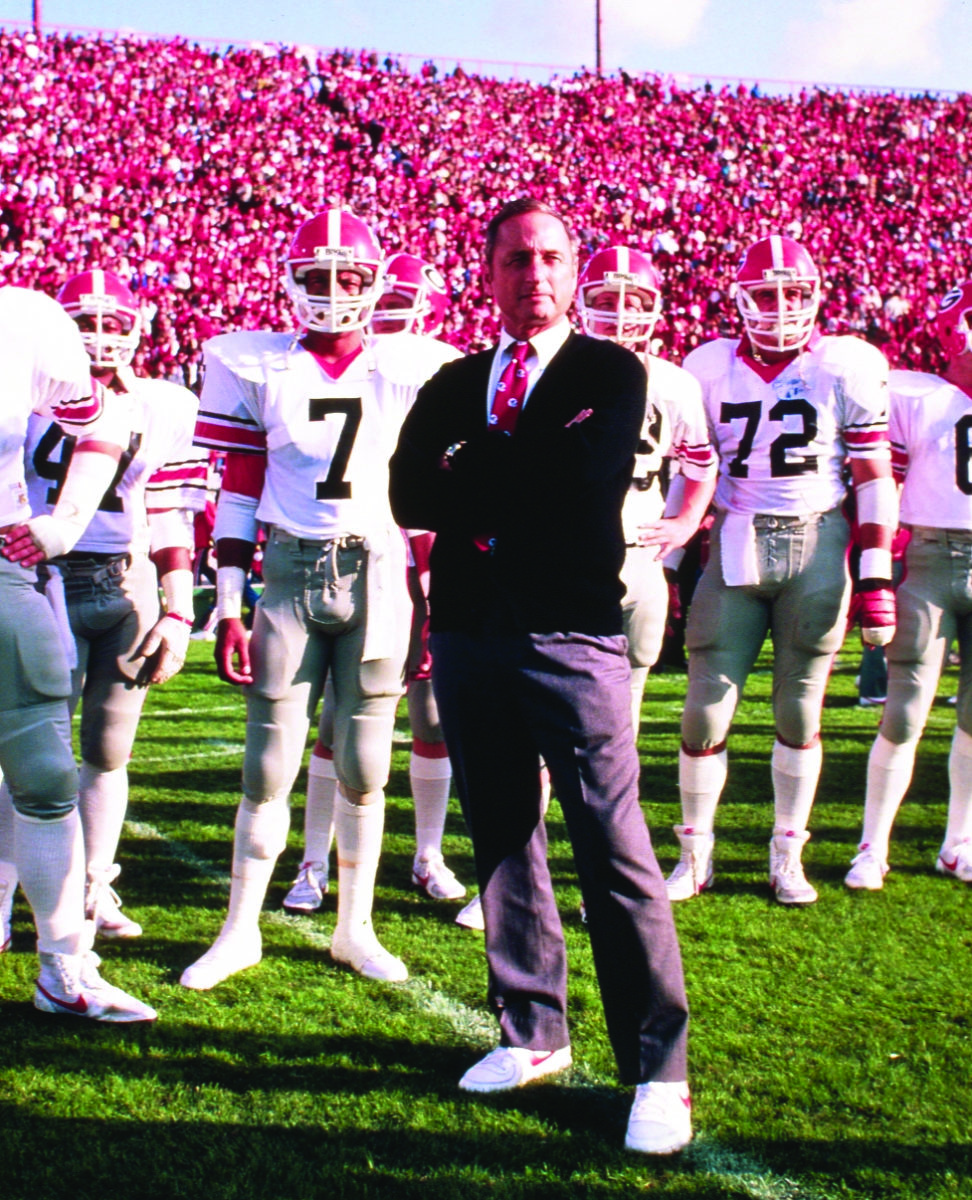 November 28, 1964 – Georgia tops Tech 7-0 between the hedges and earns a berth in the Sun Bowl. The Bulldogs beat Texas Tech by an identical 7-0 score to finish 7-3-1 in Dooley's first season in Athens. The win over the Jackets broke a three-game losing streak to Tech, and Georgia's win over Florida snapped a string of eight Gator wins over the previous nine seasons.
September 18, 1965 – Highlighted by the "flea flicker" Moore to Hodgson to Taylor, Georgia upset defending and eventual national champion Alabama 18-17 on national television in Athens, setting the stage for soon to come glory days. Two weeks later, the Bulldogs upset Michigan in Ann Arbor. These two wins helped catapult "Dooley's Dogs" onto college football's big stage.
November 26, 1966 – In Bobby Dodd's final regular season game as Tech's head coach, 8-1 Georgia beat the undefeated Yellow Jackets 23-14 between the hedges. The win gave Dooley a 3-0 mark vs. Dodd. Georgia would go on to defeat SMU 24-9 in the Cotton Bowl to finish 10-1, No. 4 in the final national polls and hoist the Southeastern Conference championship banner.
November 25, 1971 – In one of the most thrilling victories in Georgia history, Andy Johnson led a last-minute drive and Jimmy Poulos went over the top for the winning touchdown, as the Bulldogs came back to top Tech 28-24 in Atlanta. Georgia went on to defeat North Carolina and brother Bill Dooley 7-3 in the Gator Bowl to cap the campaign with an 11-1 record.
November 6, 1976 – Trailing Florida 27-13 at intermission, Georgia dominated the second half, with Erk Russell's Junkyard Dawgs defense and quarterback Ray Goff shining in a 41-27 triumph. Johnny Henderson had the big stop on Florida's "fourth-and-dumb," swinging the momentum the Bulldogs way. A win at Auburn the next week clinched the SEC title.
December 2, 1978 – Down 20-0 to Tech in Athens, Georgia turned the tables and delivered a stirring 29-28 victory over the Jackets. Scott Woerner's punt return, Buck Belue's connection to Amp Arnold, the subsequent two-pointer and David Archer's clinching interception on his lone play of the day highlighted the heroics. The Wonderdogs finished the regular season at 9-1-1.
November 1, 1980 – Billed as a showdown between senior George Rogers and freshman Herschel Walker, Georgia beat South Carolina 13-10 on national television. Walker's electrifying 76-yard touchdown, Robinson's 57-yard field goal and Chris Welton's fumble recovery were the biggest plays, and the freshman outshined the eventual Heisman Trophy winner.
November 8, 1980 – The biggest play in Georgia football history delivered an incredible 26-21 victory over Florida, as Buck Belue hit Lindsay Scott for a 93-yard touchdown on third-and-11 with the clock winding down. It was the magical moment a great team needed. The Bulldogs, with help from Tech's 3-3 tie with Notre Dame, then ascended to No. 1 in the national polls.
November 29, 1980 – On the heels of a the SEC clinching 31-21 win at Auburn, the Dogs turned back Tech 38-20 to finish 11-0 and set up a Sugar Bowl national championship date with Notre Dame. Herschel broke loose for a 67-yard TD to put the game, breaking the NCAA freshman rushing record with 1,616 yards. The All-American would finish third in the Heisman voting.
January 1, 1981 – Georgia won the undisputed national championship with a 17-10 Sugar Bowl triumph over Notre Dame. Walker amassed 150 yards, Woerner had a pair of interceptions, and fellow senior defensive backs Welton, Bob Kelly and Mike Fisher all came up with critical turnovers. This would be the great Erk Russell's final game as Georgia's defensive coordinator.
November 5, 1966 – Once-beaten Georgia bests undefeated Florida and eventual Heisman winning quarterback Steve Spurrier 27-10 in Jacksonville. The pivotal victory helped pave the way to the first of Dooley's six Southeastern Conference championships, clinched the following week at Auburn. The Bulldog defense held Florida to zero second half first downs.
November 16, 1968 – Georgia wins 17-3 at Auburn to clinch the Bulldogs second SEC title in a three year period. The victory on the plains came on the heels of a 51-0 rout of Florida, and was followed by a 47-8 pounding of Tech in Athens. The Bulldogs would finish the regular season 8-0-2, and All-American defensive tackle Bill Stanfill won the Outland Trophy.
November 8, 1975 – Richard Appleby to Gene Washington on the end around pass, and Larry Munson's iconic call made Georgia's 10-7 upset win over Florida unforgettable. The Bulldogs would then beat Auburn in Athens and roll Tech in Atlanta to finish the regular season with a 9-2 record and earn a berth in the Cotton Bowl. The Dogs came up just short of the SEC title.
October 2, 1976 – Before one of the most frenzied atmospheres in Sanford Stadium and Athens history, Georgia took down five time defending SEC Champion Alabama 21-0. The railroad tracks were filled by Thursday and Milledge Avenue had to be shut down after the game due to the raucous celebration, which featured rampant streaking. This was an epic happening.
September 6, 1980 – Wearing red pants on the boiling Knoxville turf, the Bulldogs trailed Tennessee 15-0 in the third quarter. A national championship seemed utter fantasy. But Herschel Walker was introduced to the college football world, and Larry Munson was at his absolute best, as the Bulldogs came back to win 16-15. Something special was happening.
September 20, 1980 – All-American Scott Woerner had his greatest day, scoring on a 67-yard punt return and setting up Georgia's other touchdown with a 98-yard interception return in the Bulldogs knee-knocking 20-16 win over Clemson. All-American Rex Robinson booted two field goals, Captain Frank Ros tipped a pass, and All-American Jeff Hipp picked it off to seal the win.
November 7, 1981 – It was 26-21 Part II, as the Bulldogs beat Florida by an identical score as the year before. Herschel was incredible with 47 carries for 192 yards on the ground, and four touchdowns, two rushing and two through the air from Belue. The following week, Georgia defeated Auburn 24-13 between the hedges to clinch a second straight SEC championship.
December 5, 1981 – One Play and Call it a Day. Belue and Scott connected for an 80-yard touchdown, and the Dogs terminated Tech 44-7 to go 10-1. Walker and freshman phenom Kevin Butler both capped record-setting seasons. Herschel had 225 yards rushing and four TDs, and Butler kicked three field goals. Georgia's defense gave up just 98 points on the season.
September 11, 1982 – Just four and a half days after beating Clemson, the Dogs beat BYU 17-14 in Athens. Kevin Butler kicked the game-winning field goal in the rain, and the Bulldogs intercepted Steve Young six times. Walker, with his hand in a cast due to a broken thumb, was primarily a decoy against Clemson. He ran for 124 yards against the Cougars.
December 9, 1982 – The Greatest College Football Player Ever was awarded the game's biggest individual prize, as Herschel Walker won the Heisman Trophy. With Uga IV on site in a tux, "The Goal Line Stalker,' who finished third in 1980 and second in 1981, beat out Stanford's John Elway and Eric Dickerson of SMU to join Frank Sinkwich as Bulldog Heisman winners.
January 2, 1984 – Seventh-ranked, 9-1-1 Georgia upset undefeated second-ranked Texas 10-9 in the Cotton Bowl for a fourth straight double-digit win season and No. 4 ranking. The Bulldogs recovered a Longhorn fumbled punt. Then on third-and-four, Lastinger, running behind All-American Guy McIntryre, dashed 17 yards for the touchdown, followed by Butler's PAT.
November 9, 1985 – Behind three long touchdown runs from freshmen Keith Henderson and Tim Worley, Georgia upset top-ranked Florida 24-3 in Jacksonville. Keith Henderson scored on 76 and 32 yard fullback trap dashes. Leading 17-3, Georgia got on a Florida fumble, then Tim Worley tied the school record with an 89-yard touchdown run that put the Gators away.
January 1, 1989 – Jacksonville's Gator Bowl, site of so much success for Dooley's Dogs, would be the site of his last game on the Georgia sideline. The Bulldogs would take down Michigan State 34-27, with Wayne Johnson and Rodney Hampton shining. Dooley would end his career with the 1980 national title, six Southeastern Conference championships and 201 victories.
September 6, 1982 – In the most highly anticipated opener in Georgia history, the 1980 national champion Bulldogs beat the 1981 national champion Clemson Tigers 13-7 on Labor Day Night between the hedges. The blocked punt, two Butler field goals and stellar defensive play, led by All-American Terry Hoage delivered an unforgettable victory in the start of an amazing week.
November 13, 1982 – The Mighty Munson was at his very best, as the Dogs hunkered down one more time! Georgia held off Auburn 19-14 for a third straight SEC championship, and Sugar was falling from the sky. Walker's 47-yard TD gave the Bulldogs the lead, and Ronnie Harris and Jeff Sanchez broke up the Tigers final pass. The Dogs then beat Tech 38-18 to go 11-0.
November 5, 1983 – Georgia chalked up a sixth straight win over Florida, edging the Gators 10-9 in Jacksonville. The defense held Florida to three field goals on six trips inside the Georgia 20. Darryl Jones intercepted Wayne Peace on the one, then John Lastinger led a 99-yard touchdown drive capped by Barry Young's touchdown. That 10-9 score … a special one.
September 22, 1984 – The Butler Did It. in one of the most electrifying moments in Sanford Stadium history, the All-American, with Paul Messer snapping and Jimmy Harrell holding, drilled true a 60-yard field goal with 11 seconds as Georgia beat second-ranked Clemson 26-23. The Tigers had a nifty kick return following the kick, but thankfully the clock had struck 0:00.
November 26, 1988 – In his final game as the Bulldogs head coach between the hedges, Dooley became just the ninth coach in college football history to collect 200 wins at one school, as the Bulldogs beat Tech 24-3. Wycliffe Lovelace's interception return for a touchdown put the Jackets away. Soon after, Dooley announced his retirement as Georgia football coach.