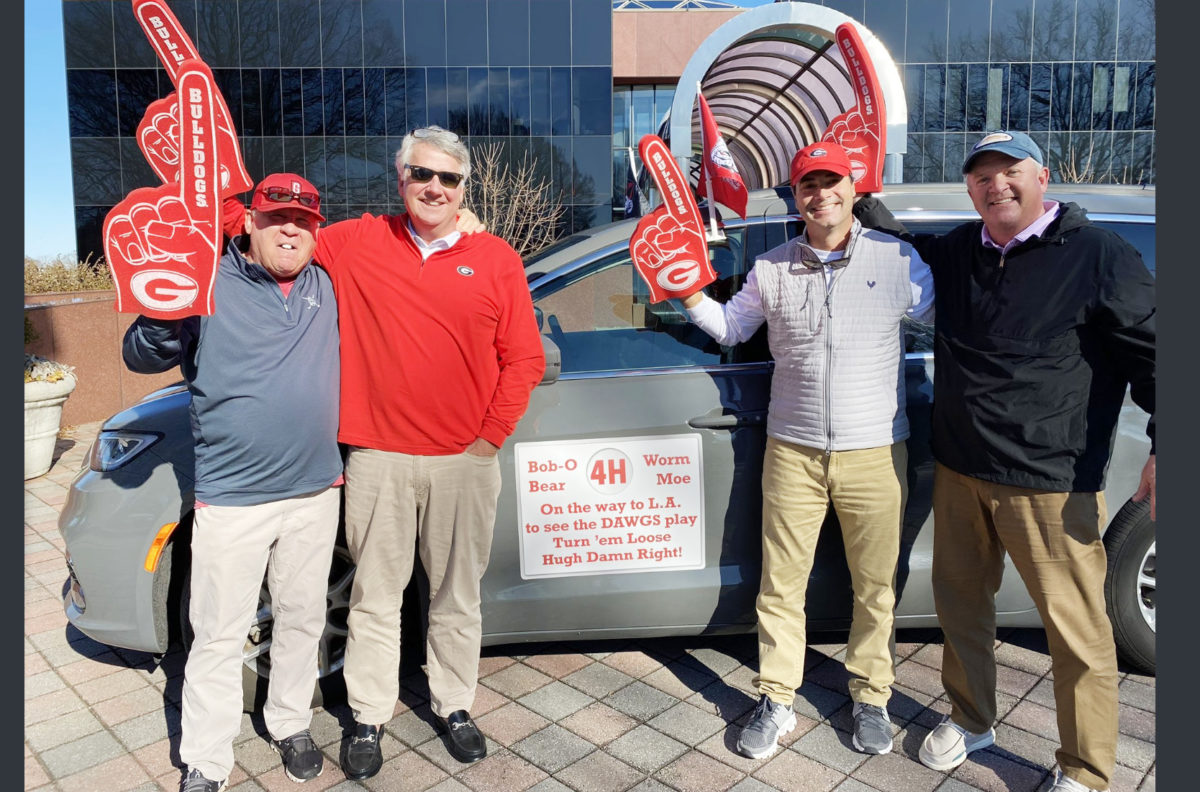 Not only was there a special bonding and trust within the ranks of the Georgia players and coaching staff this past football season, one of the key ingredients that enabled Kirby Smart's Bulldogs to become the first team of the College Football Playoff era to win back- to-back national championships, as well as an SEC title, but the Georgia fanbase has a special connection of its own. Both with its football team and with fellow Bulldog fans as well.
Said UGA president Jere Morehead when speaking at the recent national championship celebration at Sanford Stadium/Dooley Field: "And to our incredible fans, our fans are the best fans in college football, period! You are loyal, you are loud and the passion that you bring gives our team a home field advantage everywhere they go … every weekend no matter where they play! Thank you so much!"
Smart also praised the Georgia faithful while pointing out his team has earned the rabid support of the Bulldog Nation.
"These fans, they turn out all the time," Smart said. "They travel all over the country. But you don't inherit that. You work for it, you earn it. And that's what this team did over the last year. They earned every single victory over the last year. It was hard and it was tough."
And the Georgia fans certainly took over opposing stadiums all season, to watch the Bulldogs click to the program's first-ever 15-0 record and the CFP championship. Three times this past fall, they packed Atlanta's Mercedes-Benz Stadium, watching the Bulldogs smack Oregon in the season opener, beat down LSU in the SEC Championship game and then capture the dynamic 42-41 win over Ohio State in the Peach Bowl CFP semifinals.
And once the victory over the Buckeyes had been secured, the Georgia fanbase set its sights on the National Championship game, set for January 9 at SoFi Stadium in Los Angeles.
By plane, train, automobile and boat – well, maybe not boat – the Red and Black contingent descended on the Left Coast and the City of Angels. And many took very unique approaches to get to LA. Here, we present three different ways some Bulldogs fans found their way to the championship game.
The Longest LA Road Trip – 4 Horseman (Athens to LA in a mini-van)
As soon as Ohio State's 50-yard field goal attempt sailed wide left at the stroke of midnight on New Year's Eve in Mercedes-Benz Stadium, thus preserving Georgia's comeback CFP semifinal win over the Buckeyes, the Bulldogs' fanbase, as mentioned, began looking toward Los Angeles and the national championship game against TCU.
In the case of four Athens buddies – Craig Meeks, Clay McElroy, Bob Kenerly and Marcus Simmons – they knew they would be at SoFi Stadium for the January 9 game but moments after the Peach Bowl semifinal ended, they weren't quite certain on the best way to get to LA. The first morning of 2023, though, the four came up with a plan.
"We were at a party on New Year's Eve, and then the next day we woke up and went to a buddy's in Athens, sitting at a bar in his house," Meeks said, "and we all just started saying 'what if we drove cross-country?'"
Thus, the "Road Trip to the 'Ship" was about to become a reality. The following Friday, the group rented a minivan while posing with it in front of UGA's Butts-Mehre Heritage Hall. Then off Meeks, McElroy, Kenerly and Simmons went, beginning their approximately 2,267-mile, 80-hour cross-the-U.S. trip to Los Angeles.
But this wasn't simply a long ride for a football game – big as the game was – but a chance to make pit stops at, well, some of the more interesting venues this country has to offer. That first day Friday they traveled from Athens to Tunica, Mississippi, making that their first casino stop.
"We have not had a plan the whole way," Meeks told the Athens Banner-Herald on Sunday as they traveled on I-40 through Gallup, New Mexico. "Our only plan we made was to stop in Tunica. After that it's just been whatever."
On Saturday, the Four Horsemen drove some 14 hours from Tunica to Albuquerque, New Mexico, with tweets on their twitter account (@ATH2LA) chronicling stops for catfish in Seminole, Oklahoma, three of the four in deep sleep, a breathtaking sunset and a stop at a gas station in Groom, Texas, where they received a "Go Dawgs" from several station attendants claiming they were TCU fans.
And there were many more memorable stops for the guys enroute, before finally arriving at their destination on Game Day Monday. Here is how the entire excursion went down:
– Depart Athens – Butts-Mehre
– Tallapoosa, Ga. – Lottery Tickets
– Jasper, Ala. – Snack break
– Tupelo, Miss. – More Lottery Tickets
– Tunica, Miss. – Gambling and sleep
– Forest City, Ark – More Lottery Tickets
– Seminole, Ok – Catfish dinner at Catfish
Round-Up
– Cherokee – Casino in Oklahoma
– Groom, TX – snack and Go Dawgs from
TCU fans
– 75 Miles from Albuquerque – awful snacks
– Albuquerque – sleep plus visit to The Pit –
Dawgs '83 Final Four site
– Winslow, Arizona –
– Flagstaff – Lunch
– Lake Havasu City, Arizona
– Palm Springs – sleep
– Finally LA on Monday for the game
Instead of making the drive back to Athens after the Bulldogs' 65-7 rout of the Horned Frogs, the four decided to fly home.
"Originally, we were going to do a full round trip, but now we're going to drive to Phoenix and fly back and drop this van off in Phoenix," Meeks said as they headed west. "We started looking at the shape of our bodies and decided we'll ride back to Phoenix and fly from there."
Kenerly said the favorite person he met on the trip was "our waitress at the Catfish Round Up in Oklahoma. She wanted out of her two- bit town badly! Our favorite stop, I would have to say our detour through Winslow, Arizona. That song came out when I was probably a 9th or 10th grader and I always loved it, so it was fun to sing it in the very town."
"I have to say the best part of the trip was we had no reservations to any hotel except Tunica," said McElroy. "We will leave Tunica comments out but let's just say we wreaked when we left there on Saturday. When we rolled into LA at noon on Monday, we had no hotel reservation. We ran into some Athens people at a hotel which had no rooms available," McElroy added.
"Lo and behold, Katherine Culpepper took over and found us two rooms 10-15 minutes from the stadium four hours before kickoff. That is how we rolled the whole trip!"
"My favorite part of the trip," said Simmons, "was not knowing where we would stay or knowing very little about the cities we were going to – that made it fun. We had no set plans, no real rush to get anywhere, no agenda except to be in LA in time for the game.
"Most of the time our main goal on the road was to find the next Love's store as we probably visited 10 to 12 on the way for bathroom breaks and varieties of food. McDonald's was key for breakfast."
Simmons didn't hesitate when asked if he would make such a trip again. "Being able to drive cross country and to do it with these guys made for a once in a lifetime trip," he said. "I would do it again in a heartbeat with this crew … Damn Good Dawgs!"
Meeks echoed Simmons' feelings. "Damn worth it! And would do it again," he said. "But Bob-0 (Kenerly), Worm (McElroy), Moe (Simmons) and Bear (Meeks) might hitchhike next time (to next year's national title game in Houston) to make it more interesting.
"Flagstaff was a great stop for us due to the snow and finding an old hotel with a good pub for a brief hiatus," Meeks said. "As the Four Horseman like to say, what the great Charlie Chaplin said, 'A day without laughter, is a day wasted' Or maybe more appropriately, like Forest Gump said, 'stupid is as stupid does!'"
The Athens foursome ended up getting covered in print, radio and TV and they created that twitter account so folks could monitor the trip. They ended up with almost 2,000 followers.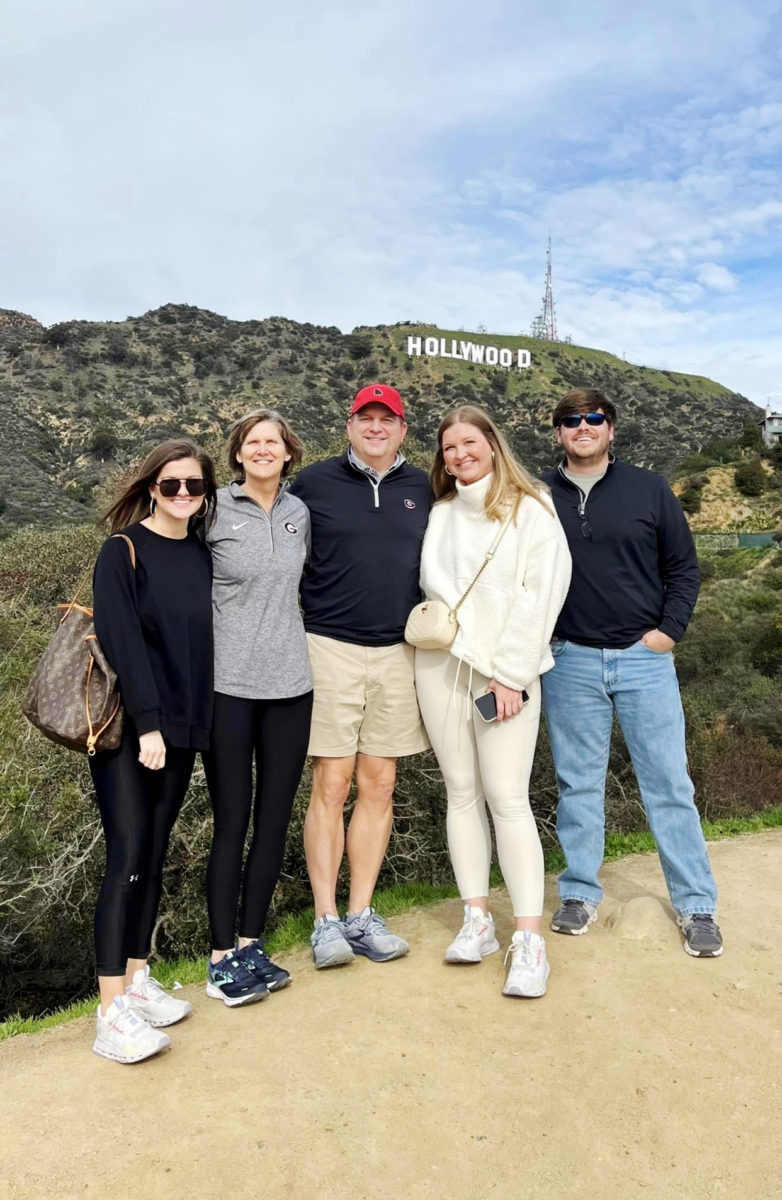 A Traditional LA Road Trip
This is designated as a traditional road trip to the national championship game because it involves a St. Simons Island family that not only follows their beloved Bulldogs everywhere the team plays but, also, enjoys taking in the sights and famous landmarks of another part of America.
Long-time UGA supporter Billy Copelan and his family flew out of the Jacksonville, Florida airport on the Friday night of January 6. Along with Copelan were wife Christie, daughters Carrie and Kendall and Carrie's boyfriend, Jacob Boatright.
"We flew out of Jacksonville Friday evening around 7:30 and didn't get to LA until like 1 a.m. their time and 4 a.m. our time," said Copelan. "Going out we had to go through Washington, D.C. and coming back had to go through JFK in New York. My daughter teaches school and so on Friday we had to get a later flight and get down to Jacksonville and thus we had these connections. It made for a longer trip out there but it all worked out."
Copelan said the family finally checked into their Los Angeles hotel around 2 a.m. California time. "We got a little bit of sleep and got up around 8 Saturday morning. We had to kind of adjust to their time so we wouldn't be off the whole weekend. So, we started Saturday morning with our sightseeing. Saturday and Sunday we were pretty much on the go both days."
Copelan's party was joined by other family members once they reached LA.
"We also met out there my wife's brother, my brother-in-law," Copelan said. "He was out there with a friend of his so we met up with them as well. We also met up with my sister and her husband and a nephew of mine, so we had like 10 people total. But we kind of did our own thing when it came to the sightseeing because we got there at different times. Like my sister didn't get there until Sunday, so they did some of the same things but not with us. So, it was really just the five of us doing the sightseeing but then we all met up with them at the game."
In addition to the game and Georgia's pummeling of TCU, the Copelans did enjoy the city's many attractions.
"We did eat at Spago, which is Wolfgang Puck, the famous chef's, restaurant," said Copelan. "We ate there on Sunday night, which was kind of a cool experience to eat at that restaurant. And, for us, we really loved the Santa Monica area with the pier, that was kind of the best time for us. It was cool to see the Hollywood Walk of Fame and all that stuff but it was kind of like other tourist places — you've got a lot of street hawkers and people trying to sell you stuff and you're just kind of aggravated and bothered the whole time you're walking around. But Santa Monica was so nice. We went on Sunday morning and the weather was pretty good that day. Of course, the roller coaster and the rides, that was fun stuff but just walking around Santa Monica and some of the shops…we ate at a really good restaurant there called Whaler, which I think is kind of famous in Santa Monica. They had good food and a lot of Georgia fans; lot of TCU fans were there.
"We also went up to the Hollywood sign," said Copelan. "We drove up this road that wound around and kind of went up into the mountains and wound up at this plateau place where people were gathering, kind of an overlook park where you can take your picture below the sign. So, that was kind of cool too. So, I would say Santa Monica and the Hollywood sign were our two favorites."
And then there was SoFi Stadium itself on the Monday night of the championship battle. Copelan said the Bulldog Nation had the majority of the fans in attendance but it wasn't exactly a UGA takeover of the stadium … like the Notre Dame game at South Bend in 2017 or the Rose Bowl playoff game with Oklahoma that same season.
"I looked around the stadium and tried to guestimate and if I had to guess eyeballing it, I would say we slightly outnumbered the TCU fans," Copelan said. "But it wasn't 70-30. I would say it was like 55-45 or maybe 60-40. Of course, a lot of the TCU fans left early….
"So, I wouldn't call it a UGA takeover of the stadium but I felt like from where we were sitting, and we were in the end zone so we had both sides of the stadium on either side of us, but I felt like the Georgia fans were much louder. TCU fans obviously didn't have much to cheer about once the game got into the second quarter but they had a lot of fans there – I was a little surprised because I thought it might be a little heavier Georgia crowd than it was. But to be a smaller school, they definitely travel really well. And all the TCU fans we encountered and spoke to, they were all really nice. There didn't seem to be a lot of animosity among the fan bases, at least that we saw."
Copelan said, unlike the heart-wringing win over Ohio State nine days earlier, the Bulldogs making the championship game one that was devoid of suspense was really refreshing to watch for all those fans dressed in Red and Black.
"It was nice to be able to sit back and enjoy the game because at the Peach Bowl during the second half of that game … I wear an Apple watch and it kept giving me notifications that my heart rate was too high for not exercising," Copeland said, chuckling. "So, it was a different vibe this game, being able to enjoy it and soak it all in instead of being nervous about what's going to happen next, like in Atlanta."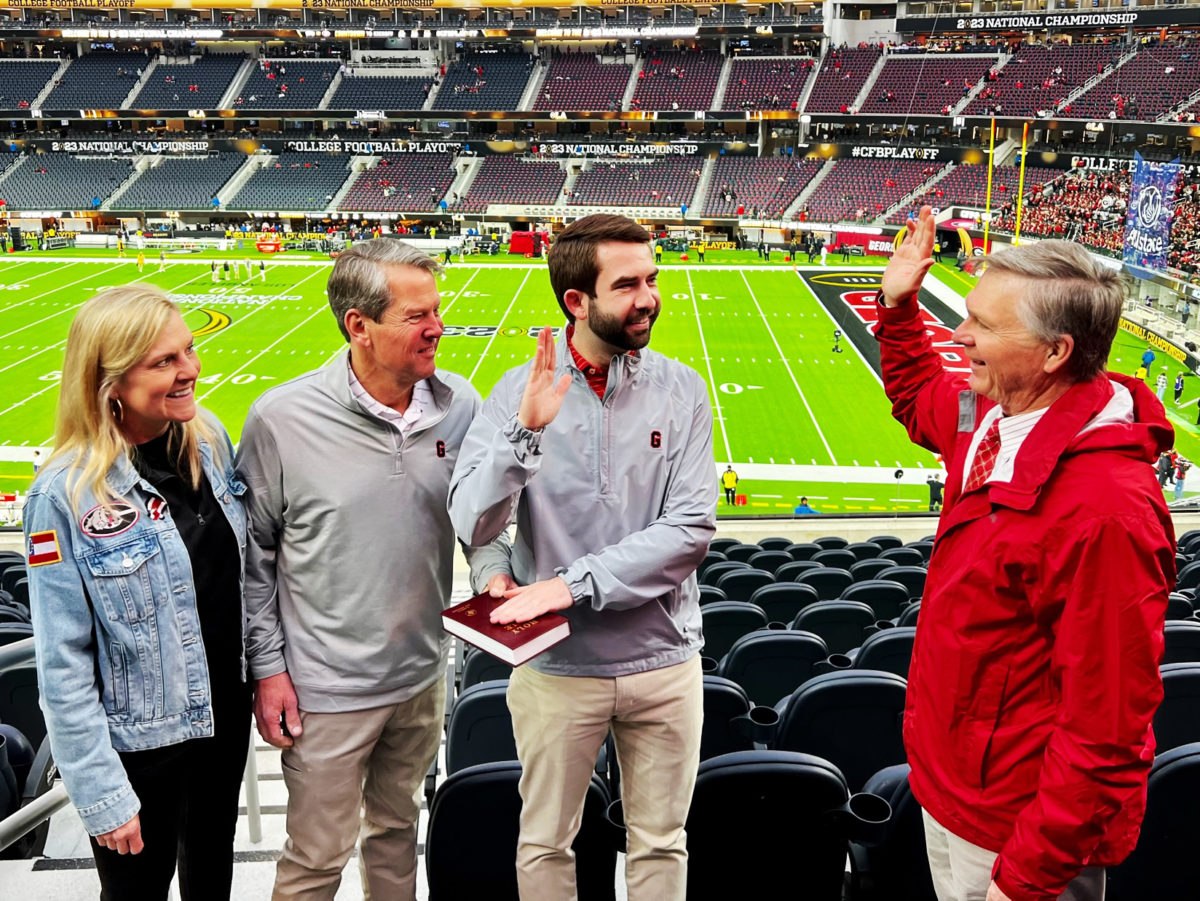 A Working LA Road Trip
When the Georgia Bulldogs are playing for a second consecutive national title, it behooves all fans of the Bulldog Nation to do their best to get there to witness it.
And that includes Georgia senators and members of the House of Representatives … even if they were to be sworn in on January 9, the same day as the football game in Los Angeles.
Thus, Supreme Court of Georgia Judge John Ellington, an avid Bulldog himself, stepped up and said, let's make this thing happen … get these legislators sworn in while not missing a play of the Georgia-TCU battle. Justice Ellington graduated from the University of Georgia with a B.B.A. in Accounting in 1982, and from the UGA School of Law with a J.D. in 1985.
"It's in our constitution that the legislature opens up on the second Monday in January," explained Ellington. "That's when the legislators are sworn in. And because we were playing in LA there were a number of legislators that wanted to go to the game that weren't going to be able to be in Atlanta to be sworn in that day.
"So, I asked some senators and some representatives to contact me because they know I'm a Dawgs fan and I would already be out there going to the game," he said. "And they wanted to know if I would be available to swear them in in Los Angeles. Otherwise, except for the game they would have been sworn in in Atlanta."
Two senators, Bill Cowsert and Frank Ginn, were among the five legislators to be sworn in with the other three being House representatives Houston Gaines, Marcus Wiedower and Trey Rhodes. All five represent Athens and Clarke County as well as surrounding counties.
"And so what happened, to see if I would be at the game, they were contacting me individually and I told them all to get together and we would just do one ceremony at the stadium," Ellington said.
And as it turned out the five legislators taking the oath of office would have a pretty select witnessing party there in the spacious SoFi Stadium.
"So, when I got to the stadium at 2 o'clock, there was a tailgate there inside the stadium … the President's Club tailgate," Ellington recalled. "They had all reported there at 2 o'clock and there was a big crowd to witness me swearing them in. President (Jere) Morehead was there. Attorney General Chris Carr, the governor (Brian Kemp) and the first lady (Marty Kemp). And Barbara Dooley joined in the fun. Anyway, I swore in the House members first and then I swore in the senators. They got the secretary of the senate and the office of legislative counsel here in Atlanta at the Capitol to approve it since we were doing it out in California."
Ellington said Georgia Athletic Director Josh Brooks made arrangements "for us to have a place in the stadium to do it. This was the first time I had sworn people in like this. And I joked that as I was swearing them in, it dawned on me that I was working in California and I needed to write off half of my trip. And then I got mad at myself for not going first class!
"No doubt it was history that we were swearing them in at a football game but it was also history that the Georgia Bulldogs were going back-to-back for a national championship!"
Ellington also noted that on the day of the game, Delta Airlines added a flight that left Atlanta at 12:30 p.m. and there were at least a dozen legislators who were actually sworn in at the Capitol that morning and made the flight to Los Angeles for the game and then back to Atlanta the same day.
"Of course, my five were already out there," he said. "But I was just glad I could swear them in and make it convenient for them and that I could also take in the game."
"It was very special," said Rep. Wiedower. "We get the honor of representing the University of Georgia as part of my district so it was obviously important for me to be out there supporting them and obviously a historic run at back-to-back national championships.
"So if you think, it took 41 years to get one and we're there for our second back-to-back … to be there and be surrounded by the Bulldog faithful, and Gov. Kemp and Marty were holding the Bible," Wiedower said. "And then Barbara Dooley decided she wanted to be part of it and she stood in as a witness. You think about Judge Ellington, the governor and first lady there and then Barbara Dooley, the first lady of Georgia football … I don't think it can get more special than that! It was incredible and I'm just proud of representing UGA and what an incredible time to be doing so!"
"I was glad to be sworn in at the game," said Rep. Gaines. "And Georgia winning made it all worth it and glad the Dawgs got it done. But it was neat to have the governor and the first lady holding the Bible and Justice Ellington swearing us in. And we had Barbara Dooley out there; it was just a great experience."