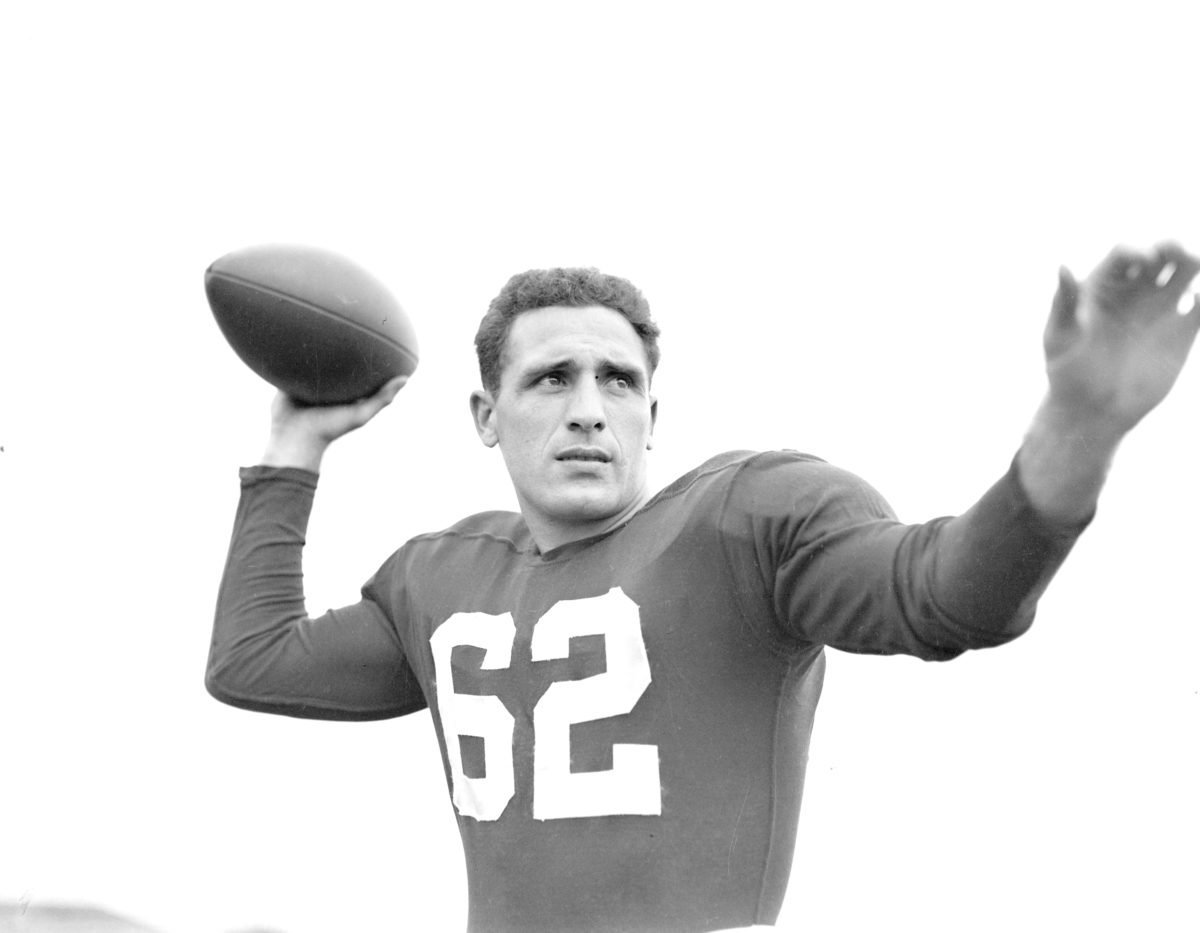 62, Hall of Fame legend, The Scintillating Sicilian … Charley Trippi …
1. A member of the Pro Football Hall of Fame.
2. A member of the College Football Hall of Fame.
3. Jersey Number 62 retired at Georgia.
4. Member of Georgia's Circle of Honor.
5. Member of the NFL's All-Decade Team from the 1940s.
6. Member of Italian American Sports Hall of Fame.
7. MVP of Georgia's 9-0 Rose Bowl win over UCLA 1/1/43.
8. Ran for 130 yards on 25 carries against UCLA in the Rose Bowl.
9. Bulldogs were consensus national champions in 1942.
10. The 1942 SEC title was the first in Georgia history.
11. Backfield teammate with 1942 Heisman winner Frank Sinkwich.
12. MVP of the Bulldogs Oil Bowl win over Tulsa 1/1/46.
13. Batted a record .464 for the 1946 Bulldogs.
14. En to 75-0 rout of Florida in 1942, enjoyed historic day, accounting for four touchdowns.
15. Ran for two TDs, passed for a score and had 60-yard Pick-Six v Gators in '42.
16. Chalked up a school record 239 yards rushing vs. Gators in '42.
17. Single game rushing record stood until Herschel Walker broke it in 1980.
18. Most Outstanding Player of Bulldogs 20-10 Sugar Bowl over North Carolina 1/1/47.
19. Threw a record 67-yard touchdown pass to Dan Edwards in 1947 Sugar Bowl.
20. Won the 1946 Maxwell Award.
21. Runner up for the 1946 Heisman Trophy.
22. Unanimous All-American in 1946.
23. 1946 SEC Player of the Year.
24. Set the Georgia record for touchdowns and scoring.
25. Was a standout runner, passer, pass-catcher, safety and punter.
26. Backfield teammate of College Hall of Fame Quarterback Johnny Rauch.
27. Georgia was the consensus national champion in 1942.
28. The Bulldogs of 1946 were voted No. 1 in the Williamson Poll.
29. Trippi was Captain of the 1946 Bulldogs.
30. The Bulldogs went 11-0 in 1946, winning every game by at least 10 points.
31. The 1946 Bulldogs were SEC champions.
32. NFL's top overall draft choice.
33. Led Southern Association in batting in Summer of 1947.
34. NFL Rookie of the Year in 1947.
35. Led Chicago Cardinals to 1947 NFL Championship.
36. Signed a record $100,000 contract with the Chicago Cardinals.
37. Rookie year, had a game with a rushing TD and 59-yard Pick Six.
38. In a 75-0 blowout of Florida in 1942, scored four touchdowns.
39. Dashed for a record 87-yard touchdown in a 34-0 victory over Tech in 1942.
40. Threw a 64-yard touchdown pass against Tulsa in the Oil Bowl.
41. Returned a punt for a 68-yard touchdown against Tulsa in the Oil Bowl.
42. Made the big play on a punt in a 14-0 victory over Alabama in 1946.
43. Never lost to Florida.
44. Never lost to the Yellow Jackets.
45. HIs Jersey hangs from the rafters at the home of the Cardinals in Glendale, Az.
46. Played in Pro Bowl as both a quarterback and halfback.
47. Was oldest living NFL Hall of Fame member.
48. Was oldest living NFL alumni.
49. Yankees tried to sign him to succeed Joe DiMaggio in Center Field.
50. Scored on 44-yard touchdown run in 1947 NFL Championship Game vs. Eagles.
51. Scored on 75-yard punt return in 1947 NFL Championship Game vs. Eagles.
52. Cardinals franchise didn't win another postseason game until January of 1999.
53. Totaled over 1,000 career yards rushing, passing and receiving.
54. Accounted for NFL touchdowns rushing, receiving, passing, punt returns and pick returns.
55. Punted for a career 40-yard average in NFL.
56. Considered every as great a safety as he was an offensive player.
57. MVP of the 1945 College All-Star Football Game.
58. In 1948, led the NFL in all-purpose yards.
59. In 1948, led the NFL in yards per carry.
60. In 1948, led the NFL in punt returns for touchdowns.
61. Led NFL in all-purpose yards in 1949 and caught six receiving touchdowns.
62. Jim Thorpe called him "the greatest football player I ever saw."