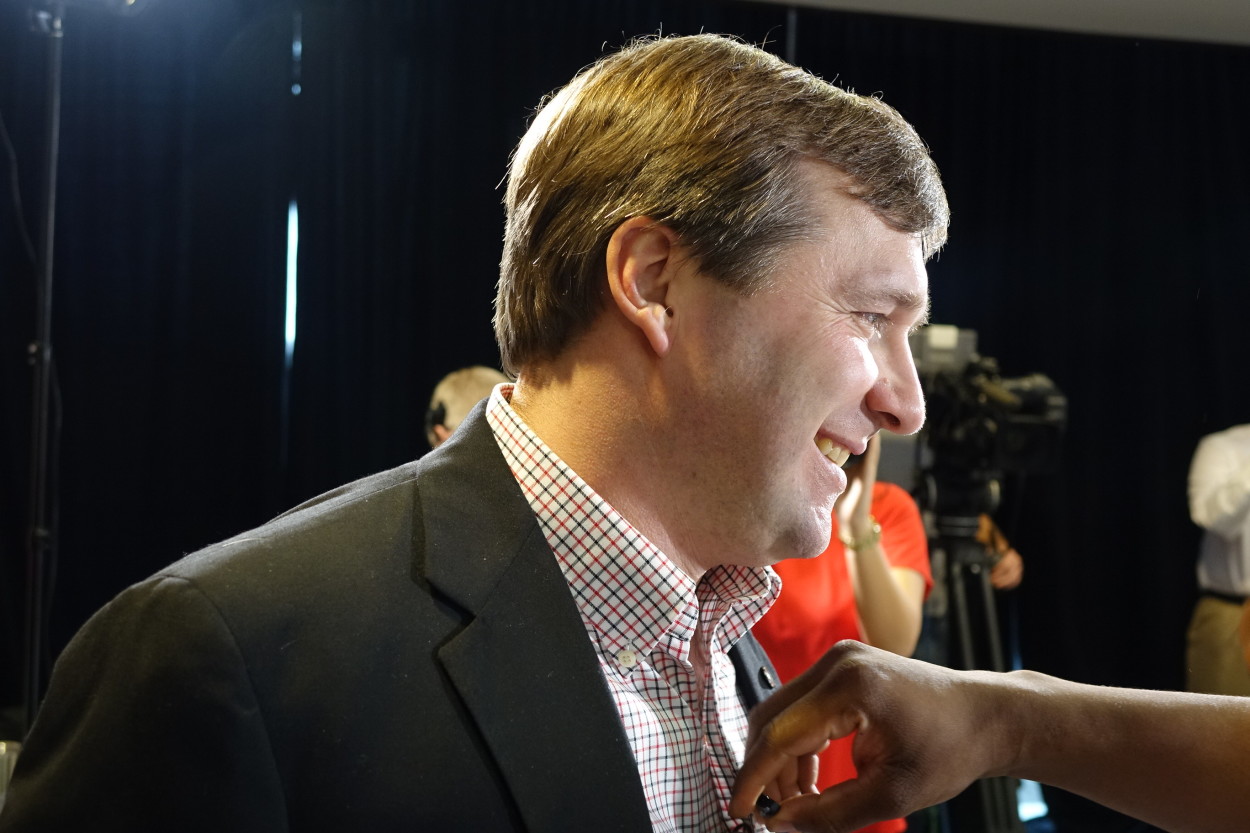 It was the typical scene on National Signing Day at Georgia's Butts-Mehre athletic facility but perhaps, even more so than usual, a real sense of excitement and anticipation permeated through all the Bulldog fans as they watched the UGA recruiting class of 2016 unfold before their collective eyes.
Such was the expected turnout to see what blue-chip prospects would join Kirby Smart's first class, Georgia officials moved out some of the trophy displays on the facility's third floor to accommodate all the barking Dawg fans.
"I'm excited with the ones we've gotten so far," said John Warman of Savannah. "I'm excited but also a little nervous about Kirby. I'm waiting to see if he can get this thing done. We've got some good ones so far. We got a five-star in (Mecole) Hardman. I'm excited about him. I'm looking forward to seeing some new Georgia football."
"This class looks pretty good," exclaimed Gary Pierson of Cumming, Ga., who was making his fifth trip to the signing day festivities in Athens. "I think we're ahead of expectations. We've got some real good looking linemen and we've got a real need for those. We also picked up some really big outside receivers and I'm pleased with that. It looks like the transition to Kirby has been pretty solid. I'm really happy we got Eason (QB Jacob) and a couple of the tight ends are looking good. So I'm pleased, it's a good class."
"I'm really excited so far," said Seth Stowers of Dawsonville. "I've been following recruiting a lot more this year than normal and am really excited about some of the recruits we've especially picked up today that we weren't really anticipating … the five-star athlete (Mecole Hardman) and (receiver) Tyler Simmons as well. Hardman really stands out. Watching him in the Army All-America game on punt returns and at wide receiver … he's just so athletic. But Tyler Simmons I'm also excited to see what he can do. A lot of people say he's a little underrated and might be able to come in and make an impact, too. Maybe not as much as Hardman but you don't always have to be the most athletic to make an impact on the field," Stowers said. "And some of the ones we already have here … tight end Isaac Nauta and quarterback Jacob Eason. I'm real excited to see what we can do next year – I have a feeling a lot of these guys are really going to make an impact coming in this year.
"Yeah, I was actually not too excited about losing Richt. I was a big Richt fan and liked what he did for the program and the kids, making them men out of boys. And when we hired Kirby I was a little skeptical at first but have been really surprised how he has pulled this class together for one, and two, really pulled together the whole Georgia community because when we lost Richt a lot of people were excited for change and some people weren't really ready to see Richt go but at the same time it was awesome to see Kirby out at the basketball game and getting on the floor and really interacting with the kids and everything I've read about him in interviews with the kids and the parents, he wants you to call him Kirby and not Coach Smart – he's a very personable guy. So I'm really excited to see what he can do. They were talking here earlier saying he wants to come in and win the SEC East and the SEC and the national championship and obviously, that's something we haven't done in a while so I'm excited about that."
"I'm very excited about this class," echoed Al Bell, a Knoxville, Tenn. resident who said he spends much of his time in Athens. "The enthusiasm I see and the effort that Kirby and these coaches have done has been outstanding and I'm just very excited about it. Hardman, the wide receiver, though he may play corner here, and some of the linemen, I just think they're doing a very good job.
"We needed the fan base to be unified and Kirby has come in and he's doing a great job of creating enthusiasm, which you can see by the people around here this morning. I just think he's doing a tremendous job. It's hard to say how we will do Kirby's first year because until we get through spring ball and everything and see kind of where we are and if Nick Chubb comes back in good shape … it's a little hard to say right now but he's setting the foundation for a great future."
At 11 a.m., the room was filled to capacity when the Bulldogs' new head coach himself came out for an interview on the university's telecast with hosts Chuck Dowdle and D. J. Shockley, the former Georgia quarterback who guided the Bulldogs to their last SEC title in 2005.
Smart, who along with Georgia's early enrollees was scheduled to meet with the media later in the afternoon, said a number of things which brought applause to the red-and-black clad Bulldog faithful.
__ Smart said he was "fired up" over the players who signed with Georgia this morning and that number, which included the six players already in school, was at 17 as of just past noon today.
__ Smart said those six mid-year enrollees … quarterback Jacob Eason, tight end Isaac Nauta, wide receiver Riley Ridley, defensive lineman Julian Rochester, offensive lineman Ben Cleveland and defensive back Chad Clay … were all instrumental in the recruiting of the incoming players and really helped solidify this class.
__ Smart said now that he's a head coach, there's a little more pressure involved in the recruiting process, that he's now the "point man" but that he just really enjoys being involved in recruiting and "took it like I did as an assistant, staying on top of the players and giving them the attention they like."
__ Smart said in putting his new assistant staff together, he simply got all the support he needed, from UGA president Jere Morehead, athletic director Greg McGarity and just everyone in the UGA athletic department. And with that support plus the facilities at Georgia, it was easy to sell "all that to these kids and the new coaches" he's brought in.
__ Smart said in recruiting, he looks for players who have great integrity and great competitiveness "and it starts in-state first. Obviously, we want to get the best players in this state and there's such good high school football in this state … so competitive."
__ Smart said most of the evaluation process involving this year's recruits "was already done. The last two or three years, we had a relationship with most of these kids so it was more of a targeting in that 'we want to go after these guys, these guys will affect the program next year immediately, let's go after them first and try to get some depth in the offensive and defensive lines.'
__ Smart said with the mid-year enrollees, their chances of playing sooner goes way up since they will have the benefit of 15 spring practice sessions. And that when prospects come to the campus, the early enrollees can "sell to these recruits what our coaching staff is really like. For our current players, that's really tough because we didn't have a relationship with all of them."
__ Smart said his taking helicopters, jet planes and so on in his whirlwind recruiting efforts since he left the Alabama staff was because "time is of the essence and time is money so time spent wasted going slow doesn't work, so we had to get a lot of places in a short amount of time and we want to use every advantage we can to try to get to see as many of the kids that we can. So that was basically the goal there, it wasn't a media stunt but trying to get to see the kids as fast as we could."
__ Smart said he wasn't concerned about how many players the Bulldogs sign in this year's class but concerned with the who. "I'm concerned with the ones you get, not the ones you don't. You get the right kind of kids in this program, the ones who choose to come to the University of Georgia, we're going to develop them, we're going to make them men, we're going to make sure they go to class, have integrity and represent the University of Georgia in the right way." (A comment that brought whoops and hollers from the fan gallery).
__ Smart said he and his staff can't wait to get recruiting behind them and get ready for spring practice, which starts next month. He said to build a successful football team, you've got to first develop strong lines of scrimmage, both on the offensive and defensive side of the ball. And Smart said he and his staff are looking for relentless effort from their players, both in the off-season conditioning program and into spring drills and then fall camp and, of course in the classroom as well.
__ Smart again called for a full stadium of 93,000 when the Bulldogs conduct the G-Day spring game on April 16. "The support you get in your spring game is indicative of your fan base so one of the things that helps in recruiting more than ever – everybody wants to sign kids today – so when we start signing kids and we go out there in the spring game and we've got 93,000, it's a statement to the SEC they had better watch out and that's what Georgia people deserve." (Even more applause and cheers).
In addition to the six early enrollees, new faces inking their UGA letters-of-intent by early afternoon were offensive linemen Chris Barnes and Solomon Kindley, the nation's No. 1 ranked athlete, Mecole Hardman, running back Elijah Holyfield, outside linebacker Chauncey Manac, wide receivers Tyler Simmons and Javon Wims (juco), tight end Charlie Woerner, defensive lineman Michail Carter, defensive back Tyrique McGhee and punter Marshall Long.
One big name the Bulldogs coveted, state of Alabama linebacker Ben Davis, signed with his dad's alma mater, the Alabama Crimson Tide, this morning but another Alabama prize recruit, Lyndell "Mack" Wilson was to pick between the Tide and the Bulldogs this afternoon.