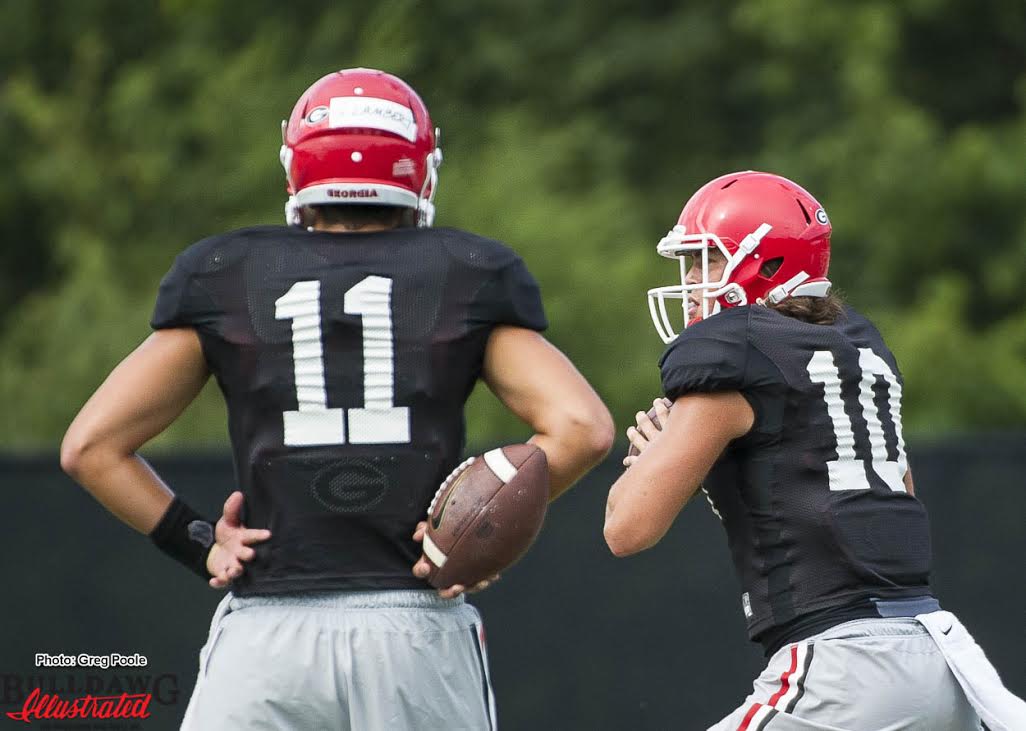 Kirby Smart left Sanford Stadium a little less enthused than he entered it last Saturday. The then 9th ranked Georgia Bulldogs had moments earlier survived a scare from the visiting Nicholls Colonels. This was Smart's official homecoming as he returned to the sidelines in Athens for the 1st time as Georgia's head man. With a scowl on his face and a less than optimistic tone in his voice, Smart begrudgingly obliged the SEC Network sideline reporter with a few moments to answer questions and make his feelings known about his teams' effort in their narrow 26 – 24 victory. "We gotta play a Georgia brand of football! We didn't do it! We wanted to create an identity! We didn't create an identity! We didn't break anybody's will out here! We didn't do anything to affect the other team!"


And as Georgia leaves the "Peach State" for their first true road test, which is an intra-division matchup against SEC East foe Missouri, after two (2) strikingly different efforts, Smart's words echo in the minds of fans who have to be wondering, "what is the Dawgs' identity?"


We know what Kirby Smart wants from the Bulldogs. Run first and a hard-nosed defense with an edge. The Bulldogs have rushed 68% of the time they have possessed the football so far. Further, Nick Chubb's recovery from last year's devastating knee injury has been nothing short of miraculous. In his first action back, Chubb lit up the North Carolina defense carrying the ball 32 times for 222 yards. In fact, an amazing statistic when put in its proper perspective is that 234 of Chubb's combined 304 yards of total rushing in two games came after first contact. This illustrates two important things about the Georgia offense thus far. 1.) Nick Chubb is a beast of a runner with uncanny physical ability. 2.) The offensive line is doing a poor job of getting a strong push upfront and is forcing Chubb to create his own running space.


Most notably, though, Georgia is one of many teams still trying to settle on a "starting quarterback". At this point, neither senior Greyson Lambert nor high school phenom Jacob Eason has separated themselves as the "go-to" guy. Eason, although blessed with loads of talent, lacks experience. He has a strong arm and is a prototypical pro-style quarterback, but his first collegiate start provided evidence that he will be prone to make some freshman mistakes. Lambert, on the other hand, may be less physically gifted than Eason, but the question is whether or not he can rely on his knowledge and feel for the game to guide the Dawgs to victories all while Eason is being groomed for the future.


Another reason Georgia may have chosen to be so run reliant up to this point is they have not shown they have a big wide receiver threat outside the hash marks that can provide mismatches on defensive backs. Dynamic as they may be, Isaiah McKenzie and Terry Godwin are smaller in stature and don't provide the size advantage one would hope to have on the outside. Unless someone like Mike Chigbu, Jayson Stanley, or Javon Wims steps up, offensive coordinator Jim Chaney may be forced to create more favorable situations using his talented group of tight ends. Film study would suggest that some of the perceived failures of the receivers and tight ends has been on their shoulders and some falls squarely on the decision-making process of the signal callers.


Defensively, the Dawgs there too, are a bit of a mixed bag statistically speaking. Georgia is very thin and inexperienced on the defensive front. Trent Thompson will prove himself worthy of all the accolades he had coming into Athens, but he is a true sophomore. In fact, in Georgia's 3 – 4 defensive alignment when looking at their depth chart, of the nine (9) players that rotate upfront, only one is an upperclassman.


The linebacker corps too, is also littered with young pups trying to learn everything that is expected of them. The front seven's lack of depth and inexperience may explain why Georgia ranks 69th in rushing defense giving up almost 5 yards per carry and 66th in scoring defense giving up 24 points per game.


The back end of Georgia's defense is certainly their strength, which begs the question why a team like UNC chose to run the ball only 19 times (8.5 yards per attempt) and throw the ball 40 times (3.9 yards per attempt). Although Georgia did not face a lot of high octane passing offenses last season, they did finish ranked #1 in pass defense; returning the likes of Malkom Parrish and Dominick Sanders, while adding nickel back and graduate transfer Maurice Smith appears to make this a stingy unit. So, as it stands today, Georgia's defense ranks 27th in total "d", but they will surely have their hands full this Saturday.


WHAT TO WATCH:

Nicholls State held Chubb to 9 carries, 17 yards and 1 touchdown in the first half last week and only 80 yards total. They sold out to stop the run and were almost successful at one of the greatest upsets of all time. The Colonels kept 8 & 9 in the box throughout, daring the Dawgs to beat them through the air. Chaney will have to use greater play calling balance and spread the field with varied formations regardless of who is at quarterback and let Chubb have some room to work. Do not be surprised if you see Chubb and Sony Michel on the field at the same time to cause greater matchup difficulties. #97 Josh Augusta, 6'4", 355lb Senior will anchor the line for the Tigers on defense.


The strength versus strength of this matchup will be Georgia's defensive secondary trying to keep pace with Drew Lock and the 9th ranked passing game in the nation. Josh Heupel, former Oklahoma QB, is the offensive coordinator who loves an extremely fast pace. Missouri boasts seven (7) receivers with 4 or more catches so far this season, with an average of 14.9 yards per pass play. Ray Wingo, Chris Black, Jonathan Johnson, and J'Mon Moore will all give the Dawgs' secondary a run for their money. Notably, Georgia will probably find itself in "nickel" defense a great deal of the time and two former Alabama teammates in Chris Black (MO) and Maurice Smith (UGA) may find themselves matched up against each other.


The keys to this game are pretty simple; 3rd down conversions and time of possession. Missouri ran 100 plays against West Virginia, had three takeaways, had the ball for almost 9 minutes less than the Mountaineers and scored only 11 points. Against Eastern Michigan, Missouri ran 78 plays, had 2 takeaways, had the ball 15 minutes less than ECU, but scored 61 points. What's the point of those stats? It is feast or famine for a team that runs an offense at that pace and ranks 121st in time of possession averaging 23 minutes per contest. Georgia will have to hold Missouri's offense from converting 3rd downs (36th nationally), while finding ways to convert 3rd downs of their own, which Georgia found very difficult to do in their recent game. Ball control will be the great equalizer and should be used if Georgia wants to keep its defense fresh throughout the contest. Working the play clock, mixing the run and pass, and spreading the field will be the Dawgs' best recipe for success.


Barry Odom and Kirby Smart are both 1st year head coaches leading their alma maters. Each is fighting to get his first SEC victory and keep pace in the race for the East. Give Odom and the Tigers this; when faced with an inferior opponent at home, they really took care of business, which cannot be said for the Bulldogs coming off a near calamity against an FCS team in Athens.


Both teams are trying to find themselves and both have a lot of growing up to do. For the Bulldogs, this will be their first road game and a great learning experience as many freshmen will get their first taste of an SEC road game. Missouri is coming off a big win at home against Eastern Michigan, while Georgia has been hearing all week about their inferior play from the head man. If Kirby Smart is going to put his coaching stamp on this program, seeing the Dawgs play with a chip on their "collective shoulders" would be a mighty fine sight.