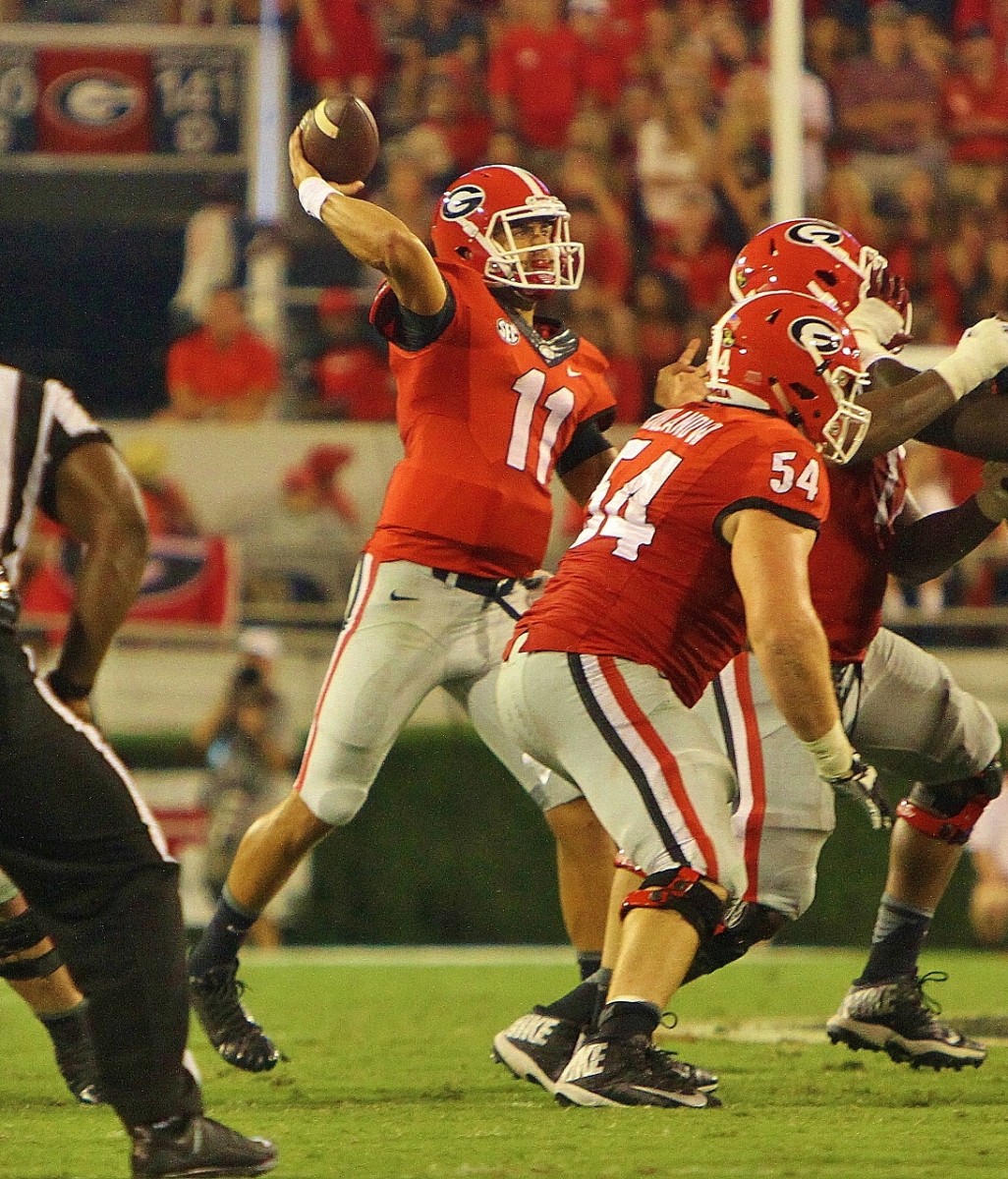 [su_spacer size="20″] Saturday was a good day for Dawg Nation. It's always great to pluck the chickens but sending Steve Spurrier back to Columbia with 52 points tacked to his backside was especially gratifying. I'm sure that most of you remember Steve Spurrier's remarks after his Florida team beat Georgia in 1995. Spurrier said that he wanted to "hang half a hundred" on Georgia and he ended the game with 52 points. Let's hope that Stephen hangs around to get another dose of Dawg vengeance next year in Columbia.
[su_spacer size="20″]
Sanford Stadium was rocking Saturday night. This game was right up there with the last LSU game in Athens for noise and fan involvement. The student section was especially amped for the game and kept up the spirit until the end.
[su_spacer size="40″] Greyson Lambert was on fire:
[su_spacer size="40″] He set an NCAA, SEC and Georgia record for Best Completion Percentage at 96.0% with a mini-mum of 20 completions as he finished 24-for-25 for 330 yards and 3 TDs. The old mark was 95.8% as Tee Martin (UT vs. S.C., 1998) and Geno Smith (West Va. Vs. Kansas, 2012) were 23-for-24 respectively. The previous Georgia mark was 86.9% by David Greene (20×23) against Vanderbilt in 2002.
[su_spacer size="40″] Lambert completed his last 20 in a row, also a Georgia record, which topped Mike Bobo's mark of 19 straight at the 1998 Outback Bowl in a win over Wisconsin. Lambert's three touchdowns matched his career high set against Florida State in 2014 while suiting up for Virginia. On Saturday, he connected with nine different receivers, including senior Malcolm Mitchell who caught eight balls for 122 yards and a touchdown. Mitchell's last 100-yard game came when he had nine catches for 103 yards at Kentucky in 2012.
[su_spacer size="40″] Georgia's Junkyard Dawg defense played without freshman defensive back starter Rico McGraw (minor knee surgery – out 2 weeks) but did an excellent job. South Carolina averaged 4.23 yards per play for the night and held the Gamecocks to 16 first downs.
[su_spacer size="40″] The Bulldog offensive line deserves credit for Lambert's record setting performance. Superior protection for Lambert and grinding run-blocking wore down the South Carolina defense. By the third quarter South Carolina had no spurs left to challenge the Dawgs. Frustration mounted as Georgia's superior depth and conditioning began to blast big holes in the tired Gamecock defense.
[su_spacer size="40″] Georgia was able to get valuable playing time against SEC competition for a lot of younger guys. Here is the participation report (does not include starters):
[su_spacer size="40″] 1B-Juwuan Briscoe, 1-Sony Michel, 1L-Jonathan Ledbetter, 1W-Shaquery Wilson, 2-Jayson Stanley, 3-Roquan Smith, 4-Keith Marshall, 6-Natrez Patrick, 7-Lorenzo Carter, 9-Reggie Wilkerson, 10-Faton Bauta, 12-Brice Ramsey, 13-Marshall Morgan, 15-D'Andre Walker, 16-Isaiah McKenzie, 18-Deandre Baker, 19-Jarvis Wilson 22-Brendan Douglas, 28-Tramel Terry 32-Collin Barber, 33-Kirby Choates, 37-Devin Bowman, 38-Ryne Rankin, 39-Rashad Roundtree 41-Chuks Amaechi, 42-Tim Kimbrough, 44-Juwan Taylor, 46-Glenn Welch, 47-Christian Payne, 48-Quayvon Hicks, 49-Nathan Theus, 53-Lamont Gaillard, 55-Dyshon Sims, 65-Kendall Baker, 66-Hunter Long, 70-Aulden Bynum, 74-Thomas Swilley, 78-Trenton Thompson, 82-Michael Chigbu, 85-Jordan Davis, 86-Kenneth Towns, 87-Jay Rome, 88-Jackson Harris, 89-James DeLoach, 91-Josh Dawson, 96-DaQuan Hawkins.
[su_spacer size="40″] Last, but certainly not least, is the performance of the running back, led again by Nick Chubb. Chubb rushed 21 times for 161 yards with 2 TDs for a 7.6 average per carry. He was followed by Sony Michel with a 6.4 yards per carry average.
[su_spacer size="80″]