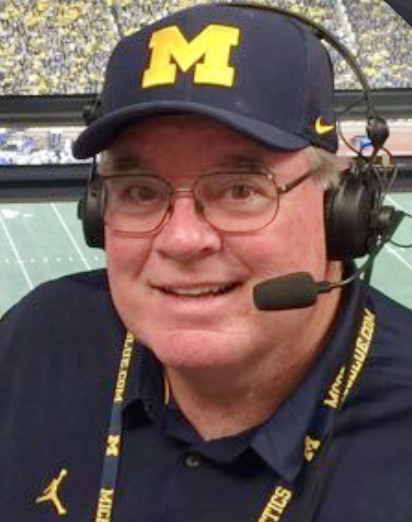 Michigan legend Jim Brandstatter offers his insights into the Wolverines and the Miami, Orange Bowl, College Football Playoff Extravaganza. Brandstatter was a standout offensive lineman for Michigan, and has been a part of the Wolverines broadcast team since 1979. He has been the play-by-play announcer since 2014. Brandstatter and Dan Dierdorf announced that they would be retiring at the end of this season. Jim's father Art Brandstatter was once the head of the Federal Law Enforcement Training Center in Glynco, Georgia.
Can you describe the excitement level for the Wolverines with the Big Ten Championship and College Football Playoff berth in the Orange Bowl?
The excitement level was off the charts for the Michigan faithful, but it was a little slow to come. You see, there was so much focus on beating Ohio State and winning the Big Ten title, that the College Football Playoff and Orange Bowl were really on the back burner until the Wolverines took care of those first two items. Remember it had been 17 years since Michigan won a Big Ten Title, and 8 since they had beaten Ohio State. To use an old adage, most of us were in the "don't count your chickens until they hatch" mode. A day or so after Michigan won the Big Ten Title with the win over Iowa, the focus shifted. Now there is enthusiastic and complete attention on the Orange Bowl and the Playoffs. All Wolverine hands are on deck.
Can you describe the enormity of the victory – and ensuing snowscape scene – over Ohio State?
The victory over Ohio State was epic. The celebration in the snow was also epic. It was historical. It was a release by at least 100 thousand people who were there at Michigan Stadium and hundreds of thousands more who were watching around the country. Imagine having not beaten your rival for 8 years and being subjected to the constant reminder of it by fans of that rival. Imagine not winning the Big Ten Title for 17 years and being reminded of that by every fan or media outlet of every other team in the conference and others from around the country. On that snowy afternoon in Ann Arbor, all of that frustration and heartache was released by a team that physically dominated their rival, and left no doubt in any ones mind which was the better team. It was magical. The snowy scene just added to the joy of the moment. Michigan conquered the weather, Ohio State, and the doubters. Like I said, it was magical…kind of a snow globe still frame moment.
Michigan's offense is putting up incredible numbers, these Wolverines can do it all, so what has been the key to all of it coming together?
The Michigan offense putting it all together has come as a result of a lot of things. First of all, the offensive line has really been a strength. The commitment by OC Josh Gattis, and Head Coach Jim Harbaugh to running the ball has been huge. You can talk about it, but you have to commit to it, and that's what they've done. It created an identity of toughness for them. Add Hassan Haskins, a strong powerful back, and Blake Corum, more of a breakaway speed guy, and Freshman Donovan Edwards as an all purpose run/pass specialist, and you have tremendous diversity in how you can attack a defense. QB Cade McNamara is the perfect guy to run the show too. First of all, Cade takes care of the ball, job 1 for him. Second, he is very cool in tough spots, and gets the team in the right play for the right defense. He manages the game beautifully. And third, when he has to, he can throw the ball with great effectiveness. Whether it's a tight end, running back, or wide receiver…McNamara doesn't care. Everybody out in the route is an option, and the balance between run and pass has made Michigan's offense very tough to defend.
What has made the Wolverines defense and special teams so effective?
The Wolverine special teams are special because of their personnel. Both kicker Jake Moody, and punter Brad Robbins are on the national awards lists. They are good. Moody is automatic, and has a big leg…they both will play on Sunday's. Additionally, Michigan really emphasizes special teams. They've blocked kicks, faked punts for first downs. They game plan and execute their entire package heading into every game. Coach Harbaugh believes in preparing all three phases with equal emphasis. Defensively, first year co-ordinator Mike McDonald has made a huge difference. He came over from the Baltimore Ravens, and his sets are somewhat unorthodox, but, what he has done is put players with great defensive skills in the best positions to excel. A case in point is Heisman finalist Aiden Hutchinson. While Aiden would have been an All American anyway, he's been moved around to take advantage of match ups and make a difference in disrupting the other team's offense. Every player on that defense has bought into the schemes that McDonald has brought to Michigan, and they have gotten better from week to week. They are fast, athletic, and they love to bring pressure. They line up in some different looks, but it all comes together in the end. They are a fun defense to watch. Much like the Georgia Bulldogs.
Are the Michigan fans excited to play Georgia?
The Michigan faithful are thrilled to be playing Georgia. How can you not be thrilled? For a large part of the season this Bull Dog team was rated as the best in the country. I think the fans view this game as another step in proving that this Michigan team is special. Michigan wasn't picked in the pre season to even win their division, let alone the conference title! They weren't even rated in the top 25 to start the year. Playing a team the caliber of Georgia is exactly where this Michigan program wants to be…playing the best for an opportunity to prove themselves again.
What is your take on the Bulldogs?
My take on Georgia is that they are an extremely talented football team. There aren't any weaknesses that I can see despite the SEC Title game against Alabama. Athletic, fast, physical, Georgia plays with an edge. They are all that they are advertised as being up here north of the Mason Dixon line. If you are going to play Georgia, you better bring your Sunday best …that's my take on the Dawgs.
What does Michigan need to do to beat Georgia?
To beat Georgia, as I said in the previous answer, you better bring your best. Some how you have to dent one of the best defenses in the country. You must run the ball effectively to a degree to slow their pass rush a bit. If they are allowed to tee off in long yardage, you could find yourself in trouble. And, if you can control the ball, you keep the Georgia offense off the field and on the sideline, which is where you want them to be if you are their opponent. Their running backs are really hard to bring down too …hard runners who really make you earn a solo tackle. Like most games with really good teams, winning the line of scrimmage will be huge, and he who makes the fewest mistakes has the best chance to win.