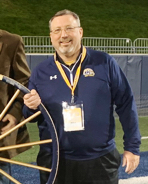 Rob Polinsky does a great job with the Kent State University broadcasting team. He's been on the Kent State football broadcasts since 2008 and has been the Golden Flashes Play by Play man since 2020. Rob has worked in radio and sports for 35 years, and is kind enough to give us his insights into Saturday's game, and on college football in general. His final answer has some particularly insightful thoughts on the game that we love so dearly.
Playing one of the toughest schedules in the country in September (at Washington, Oklahoma and Georgia), do you think Kent State will be primed for MAC play?
First thing it is the toughest non conference schedule they have ever had. Arguably the toughest anyone has ever had, so it will either have them primed for MAC play or if they get physically banged up and aren't healthy it could hurt their season. September will not only take a toll on them physically but it will be difficult mentally. I would like their chances more if they had a bye week before getting into league play. Time will tell, I might have a better answer after the season.
What are the goals of the team this year?
In my opinion the goals are to retain the wagon wheel (Kent State vs. Akron winner) and win the MAC Championship.
Making the MAC Championship Game and playing in a bowl marked an excellent accomplishment last year, do you feel the Golden Flashes are on the rise in the MAC?
I feel the team has been on the rise in the MAC ever since Sean Lewis arrived as head coach for the 2018 season. The last three years they haven't had a losing season and that's the first time that has happened since the early 70s.
What is your take on Georgia?
They are the defending National Champs and they are that until someone knocks them off. My take is after watching some of the Oregon game is that they might even be better than last year. They look like a shoe-in for the CFP this year.
What does Kent State need to do to beat Georgia?
KSU would have to play the perfect game and they would still need a lot of help from Georgia to have any chance. Sometimes in these types of matchups, KSU can hang around for most of the first quarter and even first half, but that's awfully difficult to do for four quarters.
Having already played Washington and Oklahoma, is there excitement around the program visiting Sanford Stadium?
Of course there's excitement to come to Sanford Stadium, it's one of the cathedrals in all of college football. For me it will be my first time, I can check another one off of my bucket list.
College football has undergone such sweeping changes the last few years, what are some things that you would like to see happen in the near future?
Tough question, I would like to see somehow, someway that they cut down how easily players can transfer. Find a way to make NIL clearer and simpler for everybody. I'm not a fan of all of the super conferences and the expansion that seems never-ending. I hope the Bowls can be saved even with the CFP expanding because the Bowls are very important to schools like Kent State and other Group of 5 schools. Actually I would like the group of 5 schools to have their own championship to compete for.