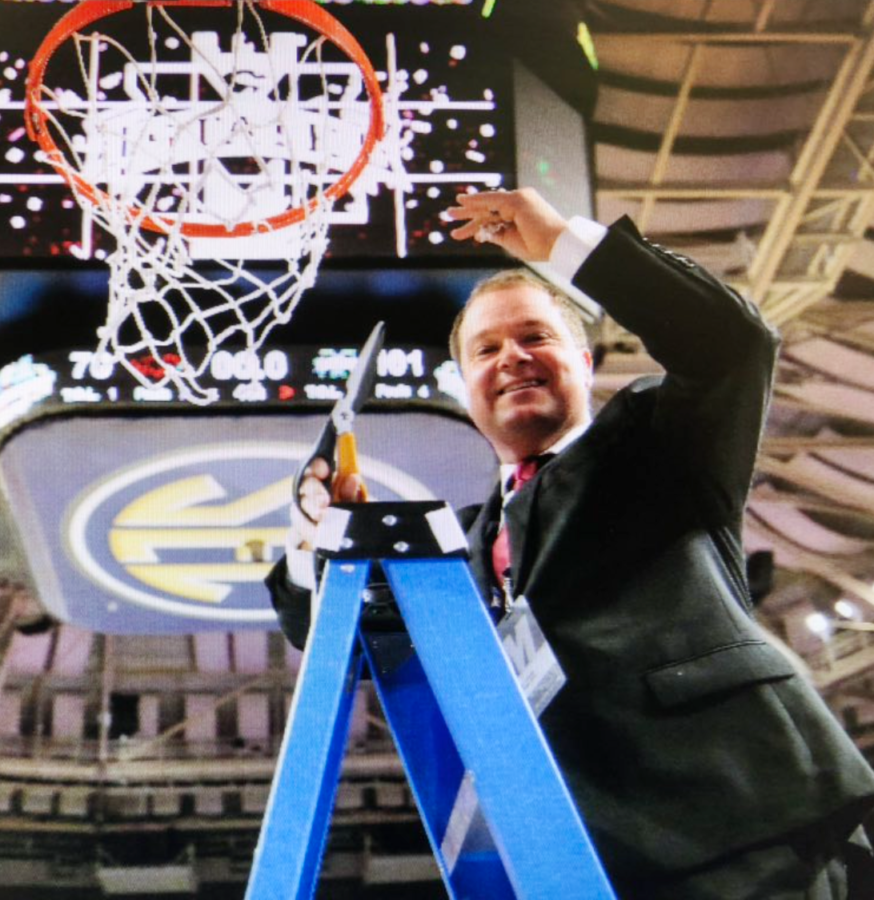 Jason Crowder of the MIssissippi State radio network gives us his insights into Saturday night's "Battle of the Bulldogs." Jason does an excellent job calling MSU women's basketball games and he hosts the football pregame show. Jason got famous for his call of State's Final Four upset of UConn and for being the voice of East Mississippi CC on Last Chance U. I appreciate my friend's time and thoughts on the game and college football.
Can you talk about the excitement Mike Leach brought to Starkville?
Excitement is an understatement. People love Mike Leach as much for his humor and press conference antics as his coaching. But, the thought of the air raid brought excitement, especially for a program that has struggled with the pitch and catch historically. The other factor with the excitement can be attributed to who was hired 91 miles to the north west of Starkville. After Ole Miss made a splash here in Lane Kiffin, John Cohen sorta stole the spotlight when he pulled the trigger on Leach. Having those two doing soundbites in the same state has even gotten the media giggling with excitement.
Is the belief that Coach Leach can get MSU into the top half of the SEC West?
Well, there will always be skeptics in the Magnolia State when it comes to anybody leading State or Ole Miss to the top half because you are always battling LSU, Alabama, Auburn and now Texas A&M with their resources. But, Leach has proven he can win anywhere and compete with the best. You've heard the saying patience is key, well, that's what it's going to take from the cowbell ringers.
What does State need to win to beat Georgia?
That's hard to answer because there are so many areas of concern for State coming into this game. Is it impossible? Well, no, but it is highly unlikely. The Bulldogs are struggling to adapt to Mike Leach's system offensively and they are down to a true freshman QB who is gaining live experience. They lost one of the best running backs in the country when senior Kylin Hill opted out in early October. Now, defensively, the Bulldogs have been surprisingly solid under defensive coordinator Zach Arnette. However, they were a thin unit on that side of the pigskin to begin with and on Thursday, safety Marcus Murphy opted out for the rest of the season. So, to answer your question, I'll use the cop out … win the turnover battle. State has given the ball away at an alarming rate this season. Now, it's more complex than that. The maroon Bulldogs will need to find ways to score away from the offense. Special teams will need to be lights out. Defense will need to flip the field. Offense needs to find a way to even dink the ball down field but hit some explosive plays too. Honestly, they haven't shown lately that they are capable of that.
What is your take on Georgia?
I haven't seen much of the Bulldogs, only in glimpses. But, Georgia is Georgia which means they are extremely talented, one of the more talented teams up and down the roster in the SEC and always will be. Love them defensively. I know they hit a bump in the road against Bama and Florida in the secondary giving up some big plays, but this defensive unit is still fast, physical, and tough and very capable to control a game. Offensively, their struggle has been at QB in the big games and a lack of a consistent running game. Look, I love the story of Stetson Bennett, you root for a guy with that type of commitment to a dream. He is a good quarterback but may not have enough of the Fromm factor to get UGA where they want to be.
What are some changes you'd like to see moving forward with the SEC and college football?
This is a tough one. I have enjoyed the all SEC schedule but I'm realistic and know that this is a special season in that regard. I would like to see more cross divisional teams play more often. For example, State will have played Florida one time in seven seasons. Now, I know most Georgia fans don't like this take because of the Auburn rivalry, and I get that, but it's just a thought. I do wish they would expedite the in game official review process or quit reviewing so many plays. One thing I wouldn't change about college football and that's the amount of bowl games out there. I'm a big bowl game guy. I mean, how can you argue against more football.
What is your opinion on the job Commissioner Sankey did in getting the conference and the season going?
One word to describe it, phenomenal. He is a true leader and a blessing to have leading this conference. He didn't fold when another league tried to dictate how the season would play out. He stayed firm amid criticism from some national media writers who thought it too dangerous to play. He and his team laid out a plan and didn't panic or make knee jerk decisions but just stayed the course and here we are.
Where are your favorite places to hang out in the SEC?
Athens. Not just because this is a Georgia publication, but the town is fantastic. The people are down home, friendly, and have school pride. It's a unique place. I have family ties to UGA and the state. I had a relative who played at Georgia many many moons ago and a cousin is an alumnus. So, I enjoy my trips to Athens. I enjoy all our SEC towns and honestly, I feel like Starkville gets too much hate. Sure it's small, but that's what makes it so great. Everything is centered around the college and you have such school pride. I just love the SEC in general. It just means more.