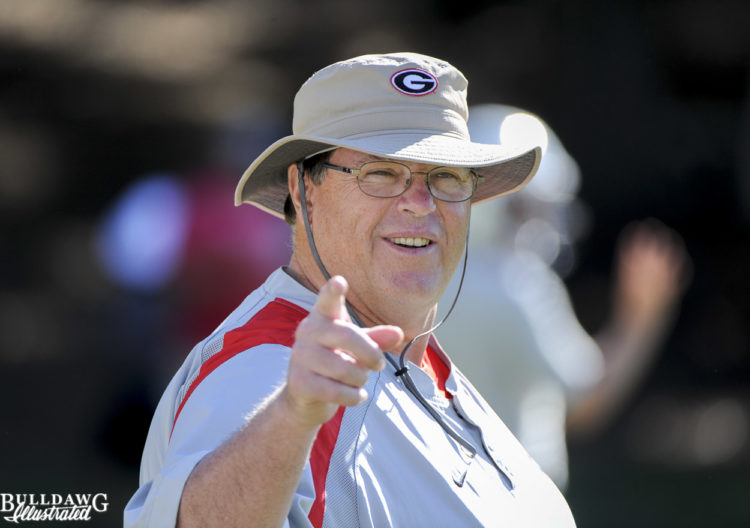 Versatility is the name of the game.  In any part of your life, the more versatile something is, the more useful is it is.
I (attempt to) play golf when I get the chance.  I don't know what club it is for you, but recently I've been hitting my pitching wedge a good bit.  I feel good hitting it off the tee on a short par 3, it is my go to club of choice if I need to (pretty frequently) punch out of the woods, and it is my go-to around the green.
Think about music.  I'm a big fan of the Red Hot Chili Peppers.  Their songs are so versatile; you can go through a whole album and get different sounds.  Nothing against the Dave Matthews Band, I like their stuff too, but it all sounds the same.
Let's talk about shoes.  I have a pair of Cole Haan loafers.  I can wear these things with a navy blue suit, slacks, or jeans.
You get the idea.
For Georgia to have success for the rest of the season, the Dawgs have got to figure out how to be more versatile on offense.
After Saturday's game against Missouri, we are now 1/4 through the regular season.  It pained me to type that sentence.
UGA has played two games against pretty good Power 5 competition, and also against a FCS also ran Nicholls.  Nicholls, in case anyone was wondering, did have a nice victory Saturday, holding on from a furious late game comeback from Incarnate Word.
The meat of the schedule is coming up, as we all know, with Ole Miss and Tennessee, with the Florida game looming ominously in the distance.
I think it is pretty clear for all us now that the future of UGA football is bright.  Jacob Eason had a dazzling performance Saturday in Columbia, West.  Recruiting is picking up to another level.  The team appears to believe it can win, come from behind even.
But the question I hope the coaching staff is asking themselves, if not aloud then at the very least to themselves, is "Do we want to win now or later?"
I think Georgia can, and will, win later.  But if we want to win now, and this starts Saturday in Oxford, Coaches Smart and Chaney need to figure out how to make this offense more versatile.
Namely, how to run the football with an offensive line that is clearly a liability.
Secondly, how to get the ball in Nick Chubb's hands where he is an effective part of the offense.
Thirdly, run blocking be damned, Terry Godwin is the best receiver on the team by a mile and he has got to play more.  He's too good not to.
All three kind of go hand in hand, but let's take quick detour for a second…
What has happened to the screen pass?  Did Mike Bobo take that play call, and the total concept of it, with him to Ft. Collins?  I couldn't tell you the last time we tried to do that, but boy, it sure did used to work pretty well for us.
Anyway, I'm rambling, as I am oft to do.
I understand the kind of brand of football Kirby Smart wants to, for lack of a better word, run.  Aggressive defense.  Running the football.  Using the tight ends.  Look to Tuscaloosa, copy and paste.  Over the past seven seasons, Kirby Smart has witnessed four national championship teams that can impose their will.  All the great Alabama teams had the same formula.
Basically, it was like me playing basketball against my nephews:  sheer size can help you win.
That is a great philosophy that we know works.  But it ain't going to work this season, and I think it's obvious at this point.  Because guys, it ain't getting any easier from here.  Ole Miss, Tennessee, Florida and Auburn all have serious defensive lines that will make what we've encountered up to this point seem like nothing.
Think back to the North Carolina game.  This may be purely anecdotal on my part, but it seems like the times we were successful running the ball against the Tar Heels wasn't when we lined up in the three tight end sets and pounded up the middle.  It was when we broke loose on the edge and went outside.
McKenzie is getting the jet sweeps, but I feel like we're going to go to the well too many times with that.
Kirby indicated they would have to do some things differently.  Jim Chaney has a track record to show willingness to adapt his play calling and philosophy around the talent around him.  Look at the chart below (numbers are rounded and from www.CFBstats.com):

While he was at Tennessee, Jim Chaney's offenses were some of the best passing offenses in the league.  When he moved over to Arkansas, the rushing attack then became the best in the league.  He was a godfather of the spread offense while at Purdue.
The best coaches are the ones who have adapted and are willing to change.  There is no better example of this than what Bobby Petrino has done at Louisville this season with Lamar Jackson. Known for having pro-style QBs and big downhill runners like Michael Bush, Petrino evolved around the talented player.
To take it a step further, Petrino decided to recruit Jackson in the first place, recognizing talent that may be against what he normally looks at.  That is one thing that Mark Richt wasn't that great at:  evaluating talent that was different than what would fit in, and then fully utilizing talent here that was different (examples:  Deshaun Watson and running Carlton Thomas up the middle).
Even Nick Saban has embraced elements of the spread offense with Jalen Hurts at quarterback.
As evidenced by his track record, Chaney clearly has it in him to adapt.  Kirby is smart enough to realize this is necessary, too.
For Georgia to have a chance to win this Saturday, the Saturday after that, and several more Saturdays in the two and half months, the Dawgs are going to have to be imaginative, dynamic and versatile on offense.  Three yards and a cloud of dust isn't going to do it for the Bulldogs.
At least not until 2017.