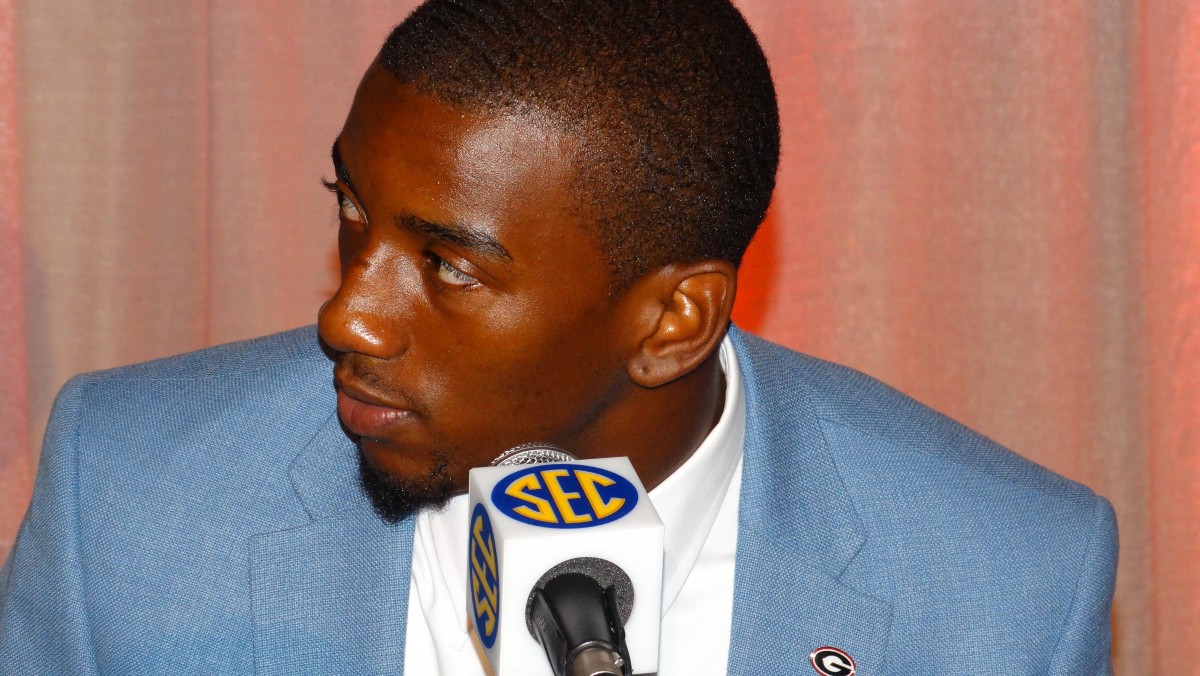 [su_spacer size="20″] HOOVER, Ala. – Malcolm Mitchell's career at the University of Georgia has been plagued by serious injuries – to say the least – but as the talented senior wide receiver from Valdosta zeroes in on his senior season in Athens, the sun seems to be shining on Mitchell once again.
Not only is Mitchell, who missed all of the 2013 season and half of 2014 due to knee surgeries, back to 100 percent physically entering the 2015 season but he's also getting many deserved accolades for his recent endeavor into the world of reading.
Now an outspoken advocate for children's literacy, Mitchell has now become an author. He's been writing a children's book, The Magician's Hat, over the past year and the publication will be available for purchase next month.
"My journey into reading inspired me to start doing some writing of my own," Mitchell said, speaking to the UGA beat media on Thursday during the final day of SEC Media Days. "Working with kids pushed me toward the picture book and children's book route. I started working on it over a year ago. … I've put a lot of work into this to make it as professional as possible."
Mitchell earlier joined a women's book club in Athens, an occurrence that has been well documented since he was never much into reading while growing up in South Georgia.
Now, the 6-1, 195-pound Mitchell is hoping to revert to his 2011-12 playing form, again become one of the most dynamic receivers in the SEC and help his Bulldogs make a run to the SEC Championship game.
"I'm feeling good and excited about our upcoming season," he said. "I count it as a blessing to be able to go through as many (medical) procedures as I did in a small time frame and to still be able to compete at such a high level with such great athletes out there, it's truly a gift."
Mitchell recently put out a video showing a unique pass-catching drill. Lying on his back, Mitchell would reach up and snare footballs one-handed that were being propelled by a machine. No more of that for right now, he said.
"I shut them down," he said. "It was fun but the attention I was getting from it wasn't the main reason I was doing it. It was fun but once I saw it getting beyond that point it was time to make sure everybody was focusing on Georgia football, not Malcolm catching one-handed passes. So I took them down. Maybe I'll put them back up but timing is everything and moving into the season I didn't think it was the time for them to still be out there."
Georgia's new freshman receiving corps has impressed Mitchell thus far this summer.
"I would say all the young guys are talented, probably the most talented as a group that I've seen come through in a while, with a lot of abilities to make plays.  I will leave it up to the coaches to decide which ones are ready to play or not but if you ask me I would say they all have the ability to."
Mitchell said he's already caught some passes from transfer quarterback Greyson Lambert, who arrived on campus this week after getting his degree from the University of Virginia.
"He's working out with the team," said Mitchell. "I catch passes from all the quarterbacks and I think it will be a good competition for them all. Greyson's a great guy, just beyond the football field. He is tall, he definitely is. I didn't realize he was so tall (6-foot-5) until I met him in person. But we're just looking forward to him coming in."
"Malcolm happens to be a heck of a football player," said Georgia head coach Mark Richt, while addressing the media on Thursday. 'But he's got a great story about his love for reading, his love for being in a book club, and he has now written a little children's book and things like that.
"And, no doubt, he's a very explosive player," Richt added. "He's got a lot of experience. He's made big plays in big games. If he's healthy, we'll be a lot better. But that wide receiver position, no matter how good an individual may be, you have to have a group of receivers that can make plays. You have to have a quarterback that can deliver the ball. You've got to have linemen that can protect. You've got to have a run game that people will respect that will allow you to get some coverages that are favorable to throw the football. So there's so many things that go into it, but when you do get the ball in the hands of somebody that can make a guy miss or have the speed to take it to the house, that's very valuable. When you have a guy with some experience to go along with it, it's important. So we want Malcolm to stay healthy. We want everybody to stay healthy. I'm glad he's doing well right now."