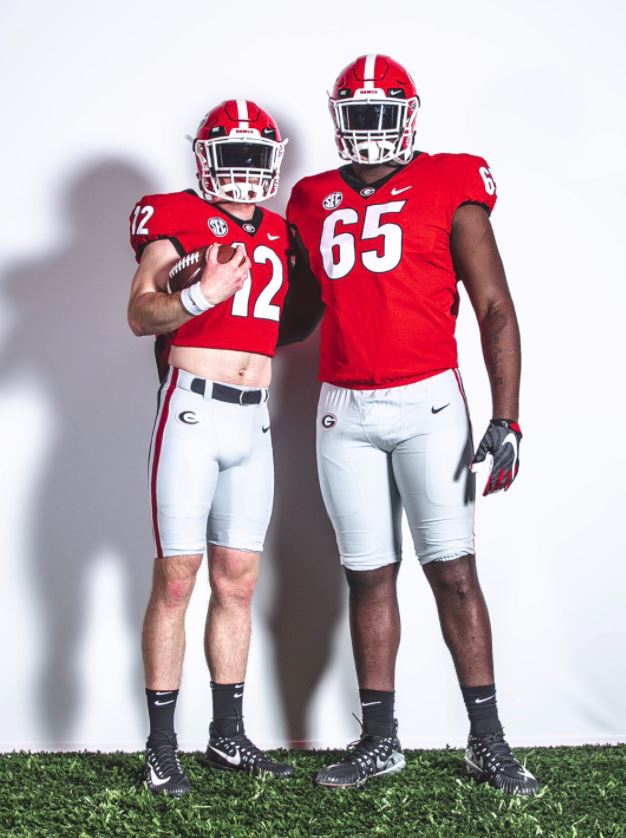 Amarius Mims has announced his commitment to the University of Georgia.
The magnitude of the commitment of Amarius Mims to UGA cannot be overstated. Mims was both literally and figuratively the largest target for the Dawgs in the class of 2021. You simply do not find young men that meaure somewhere between 6'7″ and 6'8″ and weigh in at 325 pounds, let alone ones that move in the fashion that Mims does. A highly respected member of the college football landscape and a reputbable source told me, "Mims is a once in a lifetime prospect. His performance at camp in Athens was the best I've ever seen."
The commitment of Mims has been one of the most coveted in recent memory. Early on it was Alabama that was thought to be the favorite to bring in the Bleckley County High School standout, especially after Sam Pittman left for Arkansas. Matt Luke came in though and immediately established a strong connection with Mims. In talking to Von Lassiter, Mims's high school head coach and the former coach of Jake Fromm and Trey Hill at Houston County, Lassiter told me that, "Matt Luke is a tremendous and relentless recruiter. Nobody recruits Amarius in the way that Georgia does."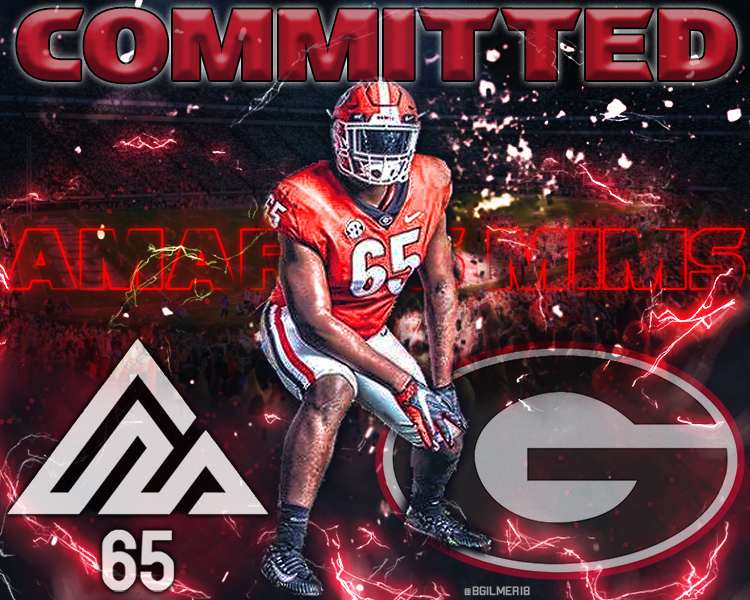 Even as things began to look like a slam dunk for Georgia with Mims and Luke bonding and Mims and UGA quarterback commit Brock Vandagriff spending a lot of time together, another team emerged as a major threat. The Tennessee Volunteers put on the full court press for the monstrous left tackle and had a strong bargaining chip in the close friend of Mims and former Georgia target Cody Brown. In late 2019 and early 2020 Brown and Mims were quite public about wanting to play together at the next level and when UT earned the commitment of Brown, a 4-Star running back from Parkview High School in Lilburn, Georgia, is was a shock to the system.
Ultimately the relationship that Mims has with Kirby Smart, Matt Luke, and fellow commit and fishing buddy Brock Vandagriff proved to be what big Amarius desired most. Mims joins 4-Stars Micah Morris, Dylan Fairchild, and Jared Wilson in this crop of offensive linemen. The commitment of Mims, who is the number 2 overall ranked prospect and a true 5-Star is certain to shoot Georgia up the recruiting rankings, and the Dawgs are nowhere near finished hauling in talent in the 2021 class.