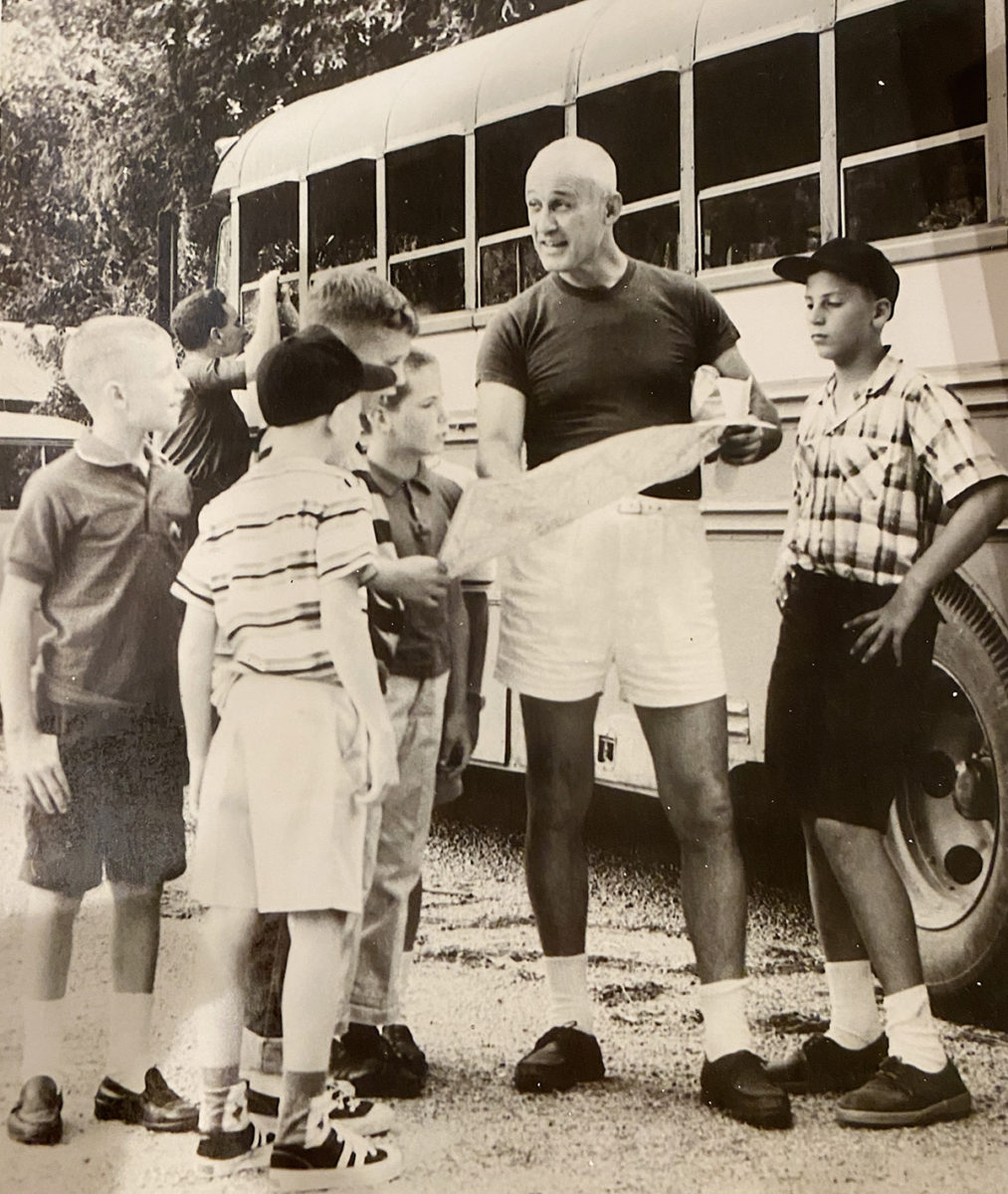 G-Day in Athens is always special as Georgia fans get a sneak preview to see how the upcoming team is shaping up for the new season. However, this past G-Day Friday was extra special for over 100 Athens gentlemen who gathered at the Athens Country Club for a reunion to celebrate their youthful days (of the 40s, 50s, and 60s) at the Athens YMCA under the tutelage of the legendary Cobern F. Kelley. Or rather "Coach Kelley" as the youngsters referred to the man they absolutely adored and respected.
Thanks to an invite by Athens businessman, Mike DeVore, I was treated to the incredible evening (of Kelley's Boys) where grown men's emotions shifted back and forth from thoughtful tears to thunderous roars of laughter.
That evening, while I was a few decades younger than most of the folks in attendance, my 15 years at Athens Y Camp in Tallulah Falls (as both a camper and counselor) certainly gave me a keen understanding of the tough, but always caring leadership of men like Coach Kelley.
The always hilarious Bobby Poss (one of the evening's speakers) in a serious recollection nailed what Coach Kelley meant to everyone in the room by saying, "He taught us … taught us what's right and to do right and you will be right."
Without a doubt, Coach Kelley's teachings provided the bedrock for hundreds, if not thousands, of Athens boys, who today are successful businessmen, judges, doctors, painters, and politicians (including Georgia's current governor, Brian Kemp).
Unfortunately, Coach Kelley's life was cut short with his passing at the age of 55 on April 11, 1968. A day that Coach Kelley's Boys vividly recollected at the special reunion. While Kelley left his boys too soon, it was not without leaving them with lifelong lessons.
Judge Lawton Stephens' (another of the evening's speakers) deep admiration for Coach Kelley was shown when he said, "And if you knew a man that you so loved and respected so much that all he had to do was raise his hand and he would silence 50 screaming boys in a bus. And if you were gathered together the day President Kennedy was assassinated and this man sat with you and calmed your fears and told you what happened on that terrible day in Dallas, then you might be one of his boys, Kelley's boys."
And former Georgia congressman (1st district) Jack Kingston summed up the evening perfectly by saying, "We are all old friends and we are all brothers and I just think about what a wonderful thing it will be when we all do our part to reunite with Kelley (in heaven). And I look forward to that reunion as much as I look forward to us doing this again next year."
Please enjoy my photos from the special evening, plus some photos of memorabilia that was on display. One of those items was the Kelley Good Thoughts notebook, which is a compilation of poems, scripture, and sayings that Cobern Kelley gave to all his boys. On page two, the inscription reads …
My YMCA scrapbook of
Also, on these pages, you will find a few of my favorites from the book. It's no wonder all of Kelley's Boys grew to be such quality men who continue to help shape the Athens community, its terrific YMCA and beyond.
"As one thinketh in his heart, so is he."
"To Get Nations Back on Their Feet, We Must Get Down on Our Knees First"
"A coward flees backward, away from new things. A man of courage flees forward, in the midst of new things." – Jacques Maritain
HOLD UP YOUR CHIN
Pluck brings its reward, 
reverses don't kill, 
If fate hits you hard
strike back with a will. 
Let it do what it can, 
still hold up your chin
for the world loves a man
who never gives in. 

THE DIFFERENCE BETWEEN CHAMP AND CHUMP IS U!
The world is full of people who 
say, "I could have"
the ones who reach the top are the ones
who say "I did."