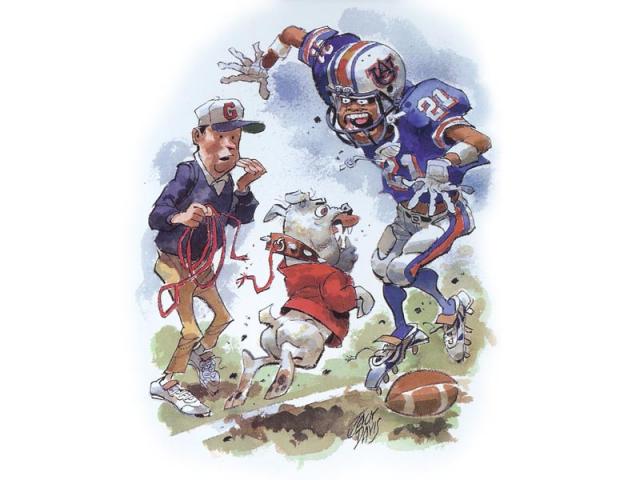 Georgia's 2017 schedule was released yesterday, and I think it's safe to say that it was received with a collective "yawn" by the Bulldawg Nation.  Literally, a yawn because there will be so many noon kickoffs.

One thing that could be done, nay, SHOULD be done to fix it is a simple solution.


Georgia should go back to playing Auburn on the road in even numbered years.


For the 2016 season, Georgia-Auburn should be on the Plains, and if it is follows suit with other games in years that end in a six, it should be a glorious, historic win for Georgia.


1976:  Georgia won en route to the SEC Championship


1986:  Big underdog UGA won and got the water hoses turned on them


1996:  First ever SEC overtime game, AND the legendary picture of Uga V trying to bite Robert Baker


2006:  Having lost 4/5, including a heart breaker in Lexington the week before, UGA went to the Plains big underdogs against an Auburn team in the National Title conversation.    Matthew Stafford went on to have his coming out party. This game not only gave the Dawgs momentum to finish out the 2006 season strong, but also momentum going into 2007.


I was at the 2006 game.  It was one of the best games I have ever attended, home or away, and certainly the best road trip we ever went on while in school.  So many memories from that trip and that game, and ten years later we still tell stories about that trip.  The celebration when we got back to Athens Saturday night was one that involved tequila.  And that's all I remember.


I said after that game on the ride back home, you could book me to be in Auburn in 2016 because you can guarantee magic happens for the Dawgs every ten years.


But that isn't the case this year because for some reason, the SEC allowed Auburn back to back home games in 2012 and 2013.


This is not good for either school.  Our home schedule in odd numbered years now sucks getting Tennessee, Auburn and Tech all on the road.


It is no better for Auburn.  Every other year, in 2/3 weeks, they will have both Georgia and Alabama on the road.  It sucks for the fans, and it sucks from a strategic standpoint.  Auburn would love to have that spread out so they aren't going on the road at the end of season.  Same holds true for Georgia and for the Dawgs having their biggest games so unbalanced home and away year to year.


Imagine Auburn on next year's home schedule.  It would make it a little more appealing, wouldn't it?


I guess it won't happen now, but the powers that be needed to make that amendment to the schedule in 2017.  If not now, then in 2019 Auburn needs to be coming to Athens for consecutive years.