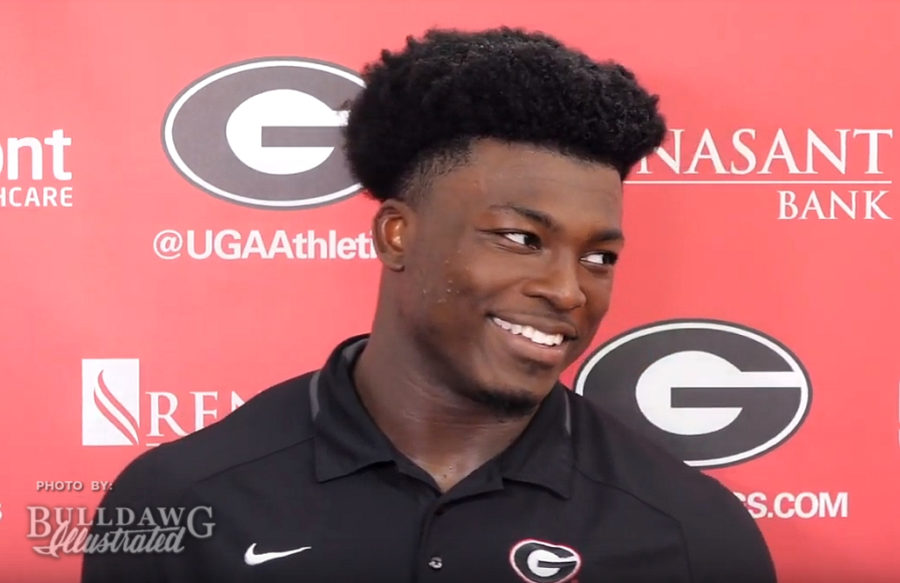 Redshirt freshman Azeez Ojulari gave his first post-practice interview as a Georgia Bulldawg after Thursday's practice. The outside linebacker saw action in three games last year, including the Sugar Bowl, but he is expected to fill a bigger role in 2019.
Ojulari talked about what he's done to grow and improve from when he first stepped on campus back in June of 2018.
"I've just been coming in every day, working hard every day to stay focused," said Azeez Ojulari. "I just keep pushing every day."
He went on to talk about getting bigger and stronger with the help of the UGA strength and conditioning staff which includes Scott Sinclair, Ed Ellis, Rodney Prince, Ben Sowders, and Jamil Walker.
"I've gained like a good 10 to 15 lbs thanks to the strength coach and the strength staff just helping me develop and get bigger and stronger.
Ojulari said he is up to 250 lbs currently. To put that in perspective, his senior year at Marietta High School he was listed at 225 lbs.
As Georgia's 2019 Fall Camp continues, Ojulari will be competing with junior Walter Grant, sophomore Adam Anderson, redshirt sophomore Rober Beal, Jr., redshirt freshman walk-on Matthew Brown, freshman Nolan Smith as well as a junior college transfer from Independence C.C., 6-foot-5 and 240 lbs Jermaine Johnson for playing time.
Ojulari discusses how important junior ILB Monty Rice is to the defense, his fellow outside linebackers, working with former UGA linebacker Jarvis Jones who is now a student assistant on the staff, changing numbers from 38 to 13, and more. You can watch Azeez Ojulari's full post-practice interview from Thursday by clicking on the video below.