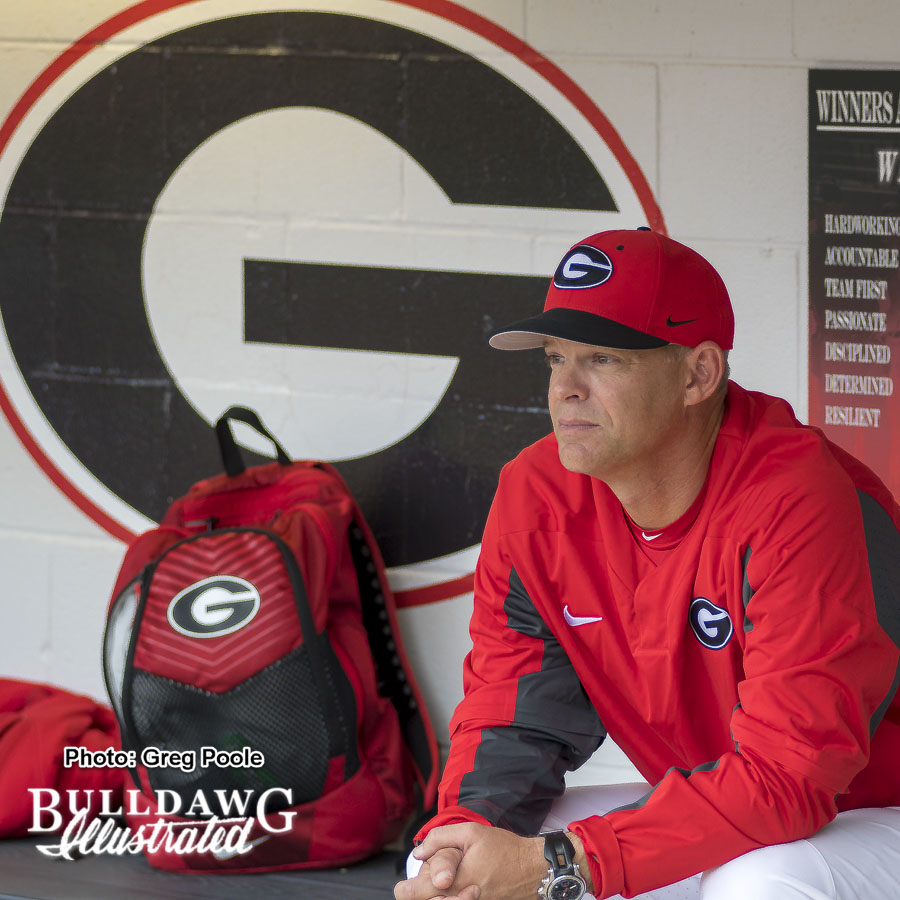 *Due to the threat of inclement weather Sunday, Georgia and Toledo will conclude their series with a doubleheader Saturday starting at Noon. The final game of the series will follow 45 minutes after the conclusion of the first contest.
The series opener with the Rockets at Foley Field is on schedule for a 6 p.m. start today.
All three games of the series will be nine-inning affairs.
Tickets for Saturday's game will be valid for the doubleheader. Fans with tickets for the game that was scheduled for Sunday, March 11 may exchange those for general admission tickets to any remaining home baseball game during the 2018 season, pending availability.
ATHENS—- Georgia returns to Foley Field Friday night for the start of a three-game series with the Toledo Rockets. First pitch will be at 6:02 p.m. and be available on SEC Network+ and the Bulldog Sports Network from IMG.
The Bulldogs (8-5), under the direction of Ike Cousins head baseball coach Scott Stricklin, are averaging 7.3 runs a game while batting .293 with a 4.20 ERA and a .967 FLDG%. Offensively, Georgia's aims to get senior outfielder Keegan McGovern (.375-6-15), junior DH Michael Curry (.333-1-12) and sophomore shortstop Cam Shepherd (.292-1-10) back on track as they form the heart of the order. In the Charleston swing, they combined to hit just .178 (10-for-56) with four RBI.
Georgia's leading hitters on the Charleston trip were sophomore third baseman Aaron Schunk, junior first baseman Adam Sasser and sophomore right fielder Tucker Bradley. Schunk hit .378 (7-for-18, 2 RBI), Sasser batted .353 (6-for-17, 6 RBI) while Bradley hit .333 (7-for-21). Schunk is riding an eight-game hitting streak while Sasser has six RBI in his last two games. On Tuesday, redshirt freshman catcher Mason Meadows made his first career home run a memorable one as it was a Grand Slam. He is the second Bulldog with a grand slam this year, joining Curry who smacked one against Georgia Southern in the season opener.
Georgia's weekend rotation for the first three series featured junior Kevin Smith (2-1, 7.20), freshman Emerson Hancock (0-1, 5.06) and senior Chase Adkins (1-0, 2.93). For the Toledo series, the Bulldogs will move Adkins to Friday, keep Hancock on Saturday and give freshman Ryan Webb (0-1, 4.00) his first career start Sunday. Smith will be available out of the bullpen where he has had success in his career. Smith earned a victory this past Monday against The Citadel, providing 2.1 innings of relief and registering five strikeouts. In his career as a reliever, Smith is 3-1 with a 2.42 ERA and two saves in 15 appearances. After his mound debut Monday, Aaron Schunk should see more action too. He pitched the final 2.2 innings against The Citadel and did not allow a hit and struck out four.
Game two of the series is slated for Saturday at 2 p.m. while Sunday's contest begins at Noon.
Pitching Matchups: UGA vs. Toledo
Friday: #23 Chase Adkins (1-0, 2.93), RHP, Sr. vs. #33 Michael Jacob (0-2, 6.23), LHP, Jr.
Saturday: #17 Emerson Hancock (0-1, 5.06), RHP, Fr. vs. #3 Layne Schnitz-Paxton (0-1, 5.93), RHP, So.
Sunday: #55 Ryan Webb (0-1, 4.00), RHP, Sr. vs. #4 Sam Shutes (2-0, 6.14), RHP, RSr.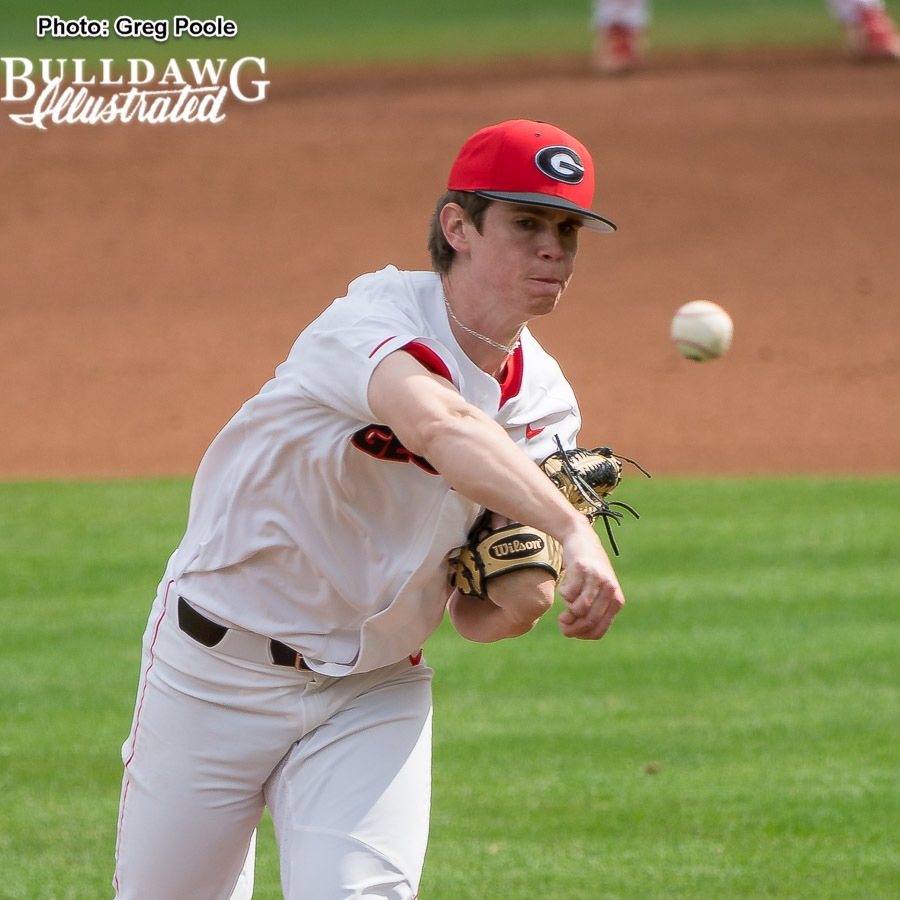 Television/Radio
TV: SEC Network+ (Fri.: Chris Gilmore & Jason Jacobs; Sat.-Simulcast; Sun.: Matt Stewart & Jason Jacobs)
Friday at 6 pm: http://gado.gs/8ng
Saturday at 2 pm: http://gado.gs/8nh
Sunday at Noon: http://gado.gs/8ni
Radio: Georgia Bulldog Sports Network from IMG College (David Johnston & Jeff Dantzler)
Stations: 960 AM-WRFC and selected affiliates (check your local listings), also via the Georgia Bulldogs app and TuneIn app.
Additional Coverage on Twitter: @BaseballUGA
Tickets/Promotions/Reminder Clear Bag Policy
-Foley Field – Gates/Ticket Booth open 2 hours before first pitch.
-Reserved Seat Tickets: $8; General Admission Tickets:  $5
-Order online or by calling 1-877-542-1231
-UGA Student Tickets: Free Admission with valid UGA Student ID Card
-UGA Student Gate is located off Rutherford Street
Promotions
Friday: National Meatball Day; Saturday: If a Bulldog hits a grand slam in the 4th inning, one lucky fan wins $5,000
Sunday Pregame: Anthem Buddies: Kids can stand on the field with the Bulldogs during the national anthem
Sunday Postgame: Kids Run The Bases, Play Catch In The Outfield
Foley Field Follows SEC's Clear Bag Policy
In order to enhance safety and expedite fan entry at Georgia athletic events, UGA follows the SEC's Clear Bag Policy at Foley Field and all other athletic facilities. Only one clear bag no larger than 12 inches by 6 inches by 12 inches (gallon size) per person is permitted. Fans are also allowed a small clutch purse not exceeding 4.5 inches by 6.5 inches. Also, Seat cushions/backs should be no bigger than 16 inches and have no arms or pockets.