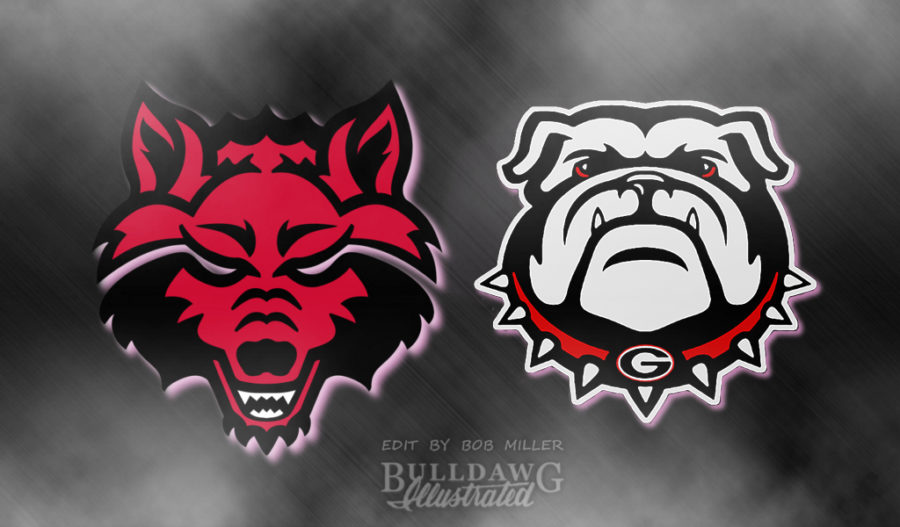 Georgia has two wins notched on their Dawg collar for the 2019 college football season so far, and the Bulldogs will look to make it number three versus the tenacious Red Wolves of Arkansas State on Saturday at high noon on Dooley Field. Saturday's game will be the second of a three-game homestand for UGA.
The History
This will be the third meeting of the Dawgs and Wolves in each program's respective histories. The first time these two teams met on the football field was back in 1997 when the Bulldogs opened their season at home versus Arkansas State on August 30th. Georgia came out on top in that contest 38-7.
The second time the Bulldogs and Red Wolves tangled was in 2001 on September 1st. It was another home opener for Georgia who came out victorious on the day, 45-17.
BB2's Keys to the Game
Defense
Last week, Murray State made UGA pay for a long touchdown reception on a busted coverage assignment in the first quarter, something the Bulldogs cannot do Saturday. Arkansas State is going to be one of the better offensive teams that Georgia will come up against this season. The Red Wolves have a trio of outstanding receivers in Omar Bayless, Brandon Bowling, and Kirk Merritt that will keep the Bulldog secondary on its toes, and slinging the ball their way is quarterback Logan Bonner who is averaging 304 yards passing per game with a 62.1% completion percentage through two games.
We've heard head coach Kirby Smart and the players talk about "havoc" during Fall Camp and the last three weeks. We've seen "havoc" on display in the first two games where the opposing quarterback had little time to get comfortable in the pocket. This is a game where the pressure applied by the front seven will be key in helping the Dawgs secondary. If Bonner has time to be comfortable, he will have time to find Bayless, Bowling, Merritt, or one of the other Red Wolves receivers.
Offense
When facing a team that has the potential to put up yards and points, it is key for the offense to help its defense out by sustaining drives and capitalizing on scoring opportunities in the red zone. We've seen penalties and turnovers kill Georgia drives leading to either a slow start like last week versus Murray State or a stagnant finish as in the season opener versus Vanderbilt. It would be nice to see some consistency from the start of the first quarter to the end of the fourth quarter in this contest.
Special Teams
I'm going to sound like a broken record here, but again. Fielding punts and kicks as well as making good decisions with the ball is the key on special teams. Don't give an offense like Arkansas State a short field for an easy score.
Prognostications & What Not…
Georgia is expected to win this game and by a large margin. I could be wrong, but I think Arkansas State will test this Bulldog defense; so, this game might be closer than expected. The Red Wolves are going to put up some points, but as in the first two games, the Dawgs are just too deep and too talented.
Bulldogs over the Red Wolves 51-27.
Bulldogs Battling Breast Cancer has been encouraging fans to wear at least one item of pink for Saturday's game with Arkansas State. It is to honor Wendy Anderson, wife of Arkansas State Head Coach Blake Anderson. Wendy passed away on August 19th after a two-year-long battle with breast cancer.
🚨 PLEASE RETWEET🚨DawgNation let's get behind this on Saturday. 🐶🎗💖 It's bigger than a football game. #WearPinkForWendy pic.twitter.com/lcazvSHPYG

— Bulldogs Battling Breast Cancer 🐶🎗 (@bbbc_athens) September 10, 2019
Here is your game day timeline for Georgia vs. Arkansas State.
GAME DAY INFO & TIMELINE
Match-up: (2-0) #3 Georgia vs. (1-1) Arkansas State
Location: Sanford Stadium, Athens, GA (92,746)
08:00 a.m. ET – Pregame broadcast
09:45 a.m. ET – Dawg Walk
10:00 a.m. ET – Gates open
12:00 p.m. ET – Kickoff
GAME DAY WEATHER FORECAST
The weather for Saturday's game will be a little cooler than last week's late afternoon affair with Murray State, around 10 to 15 degrees cooler. Here is the weather forecast for the Dawg Walk, kickoff, and end of the game.
Weather for Dawg Walk: Mostly cloudy and 74-76°F
Weather for Kickoff: Mostly cloudy and 81-83°F
Weather for end of the game: Mostly cloudy and 85-87°F
Weather provided by WeatherSTEM
T.V. BROADCAST INFO
The Georgia-Arkansas State game is scheduled to be broadcast on ESPN2 with play-by-play by Roy Philpott and game analysis by Kelly Stouffer in the booth along with Lauren Sisler on the sideline.
The local radio broadcast for the game will be on the Georgia Bulldogs Sports Network with the regular crew of Scott Howard (play-by-blay) and Eric Zeier (analysis) along with Chuck Dowdle on the sideline.
Televised on ESPN2
TV announcers:
Play-by-play: Roy Philpott
Game Analyst: Kelly Stouffer
Sideline reporter: Lauren Sisler
AT&T U-verse Ch. 606 (SD) | Ch. 1606 (HD)
DIRECTV Ch. 209 | Alt. Ch. 209-2
DISH Ch. 143 | Alt. Ch. 146
Google Fiber Ch. 214
Spectrum TV Ch. 33
Verizon FiOS Ch. 74 (SD) | Ch. 574 (HD)
RADIO BROADCAST INFO
BULLDOG NETWORK STATIONS:
WSB AM 750 & WSB FM 95.5 (Atlanta, GA)
WGAU AM 1340 & WNGC FM 106.1 (Athens, GA)
RADIO ANNOUNCERS:
Play-by-play: Scott Howard
Analyst: Eric Zeier
Sideline reporter: Chuck Dowdle
NATIONAL TOUCHDOWN RADIO:
SiriusXM Radio 137 and 191
Internet 962
RADIO ANNOUNCERS:
Play-by-play: Taylor Zarcour
Analyst: Gino Torretta