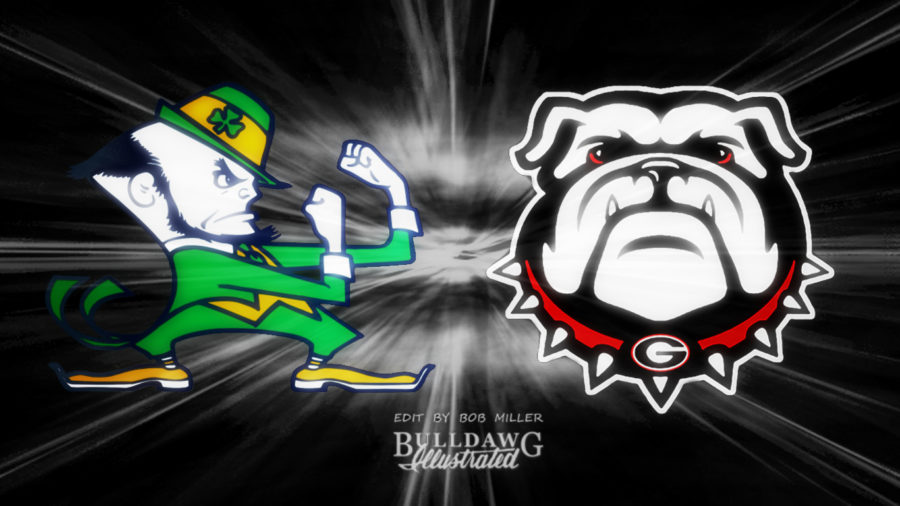 Georgia heads into week number four of the 2019 college football season with three wins and zero losses on their Dawg collar, carrying a No. 3 ranking. And a 7th-ranked Notre Dame Fighting Irish team is looking to come into Athens and upset the Bulldogs at home on Dooley Field in Sanford Stadium tonight just after the clock strikes 8:00 p.m. ET.
The History
For two nationally prominent programs such as Notre Dame's and Georgia's, both with storied histories, it is surprising to find that the two schools' football teams have only faced each other a grand total of two times. The first being the 1981 Sugar Bowl where the Dawgs defeated the Irish 17-10 on January 1st to cap off a perfect 12-0 season and a National Championship. The second contest was 36 years in the making.
Just two years ago, the Bulldogs and Dawg Nation faithful trekked up to Indiana and played a regular-season game for the ages on September 9, 2017. Georgia would prevail 20-19 with a true freshman QB, Jake Fromm, at the helm and on a game-winning field goal by placekicker Rodrigo Blankenship.
Will UGA stay perfect against Notre Dame and notch win number three?
BB2's Keys to the Game
Defense
Can the Dawgs' defense contain Irish QB Ian Book (12)?
Georgia's defense has 12 sacks compared to just one last year in their first three games. The Bulldogs also have 21 tackles for loss in those first 3 games compared to just 11 last year. But the Dawgs may not find it as easy to get Notre Dame's Ian Book down on the ground.
Book is a gifted athlete who can extend plays with his legs and if no receiver is open, tuck the ball and run. For Georgia, it will be key for the defensive ends and outside linebackers to play with discipline and not lose contain. I'm curious to see whether or not Kirby Smart and Dan Lanning decide to spy Book with a linebacker, like Adam Anderson or Tae Crowder, or a STAR, like Mark Webb, Jr.?
Can Georgia's secondary keep 6-foot-4 and 229-pound senior Notre Dame wide receiver Chase Claypool (83) in check?
So far this season, the Bulldogs defensive secondary has done an outstanding job and for the most part, kept everything in front of them. As a unit, the secondary only allows 5.2 yards per pass attempt, which is tied for 12th best in the nation. But they face their toughest task of the season yet with the likes of Chad Claypool, Javon McKinley, and company. Claypool has 9 catches for 190 yards and a touchdown for the Irish in just two games and McKinley has 3 for 96 yards and two touchdowns. That is an average of 21.11 yards per catch and 32.0 respectively.
And with the status of UGA sophomore CB Tyson Campbell questionable for today's game after sustaining a lower leg injury last Saturday versus Arkansas State, it will be key for the secondary to not let Claypool and McKinley get behind them. Lapses in judgment that result in blown coverage assignments against these types of receivers can result in chunks of yardage given up in a hurry or a big score.
Offense
RTDB (Run The Darn Ball)
Georgia running backs James Cook (4), Brian Herrien (35), Kenny McIntosh (6), D'Andre Swift (7), and Zamir White (3) have amassed 783 yards and 10 touchdowns on 92 carries in three games as a group. They are averaging 8.51 YPC and a TD every 9.2 touches.
Meanwhile, Notre Dame has given up over 200 yards on the ground in each of their first two games and is allowing opponents to run for 4.96 yards per carry.
Even if the Irish stuff the box with 8 and 9, will they be able to stop or ven hinder Georgia's ground game? And for how long? This one is a no brainer.
Will Georgia's offensive tackles be able to protect quarterback Jake Fromm against Notre Dame's athletic and fast defensive ends like No. 42 Julian Okwara?
We've seen the Dawgs offensive line play well in their three games this season, but this group of pass rushers they face this evening are some of the more talented on the schedule. If the Irish stack the box and challenge Georgia to pass the ball, Andrew Thomas and the great red and black wall will need to be on their toes to keep Fromm's jersey clean.
If they can, Fromm should be able to find freshman phenom wide receivers Dominick Blaylock and George Pickens for some big plays down the field.
Special Teams
The Fighting Irish are struggling on third down. The Notre Dame offense is 121st out of 130 FBS and has only been able to convert 6 of 22 third-downs (27.27%).
When the opponent is having a tough time converting third-downs on offense, make them drive the length of the field. Placekicker Rodrigo Blankenship has done of a great job on kickoffs and punter Jake Camarda equally so when he has been called upon to punt.
Prognostications & What Not…
Georgia is the more talented team on paper and after going through the numbers, the ye 'ole crystal ball says the Bulldogs should win this by a couple of touchdowns going away. However, football games are not played on paper and Notre Dame is a talented team in their own right. As this game draws closer, my inner Larry Munson is coming out, and this one just has the makings of a four-quarter fight. However, in the end, the Bulldogs' depth and talent will prevail. A closer game than expected, though.
Dawgs over the Irish 31-28.
GAME DAY INFO & TIMELINE
Match-up: (3-0) #3 Georgia vs. (2-0) #7 Notre Dame
Location: Dooley Field at Sanford Stadium, Athens, GA (92,746)
07:00 a.m. ET – Parking lots open
09:00 a.m. ET – ESPN College GameDay from Myers Quad
04:00 p.m. ET – Pregame broadcast
05:45 p.m. ET – Dawg Walk
06:00 p.m. ET – Gates open
07:27 p.m. ET – Krypton
07:53 p.m. ET – National Anthem
08:00 p.m. ET – Call the Dawgs
08:03 p.m. ET – Battle Hymn
08:10 p.m. ET – Kickoff
Please note: Gate 1 is for students only for the Notre Dame game. If you are not a University of Georgia student, please use gate 10 instead. Avoid using gate 2 and consider using gates 3, 4a, or 4.
Coming to the game tomorrow and wondering which gate to go in? Here's a map that will help based on where your seats are! #silverdawgs #ugahospitalityteam @NotreDame @NDFootball pic.twitter.com/7SawhDsi0o

— SilverDawgs (@silverdawgs) September 20, 2019
GAME DAY WEATHER FORECAST
Weather for Dawg Walk: Sunny and 83-85°F
Weather for Kickoff: Clear and 73-75°F
Weather for end of the game: Clear and 65-67°F
Weather provided by WeatherSTEM
GAME DAY PARKING & MORE INFO
Not sure where to park on Saturday?

Reminder that parking lots will open at 7am.

🚘: https://t.co/eV6zRhThZZ pic.twitter.com/DTwvJ7ufZ0

— Georgia Bulldogs (@UGAAthletics) September 20, 2019