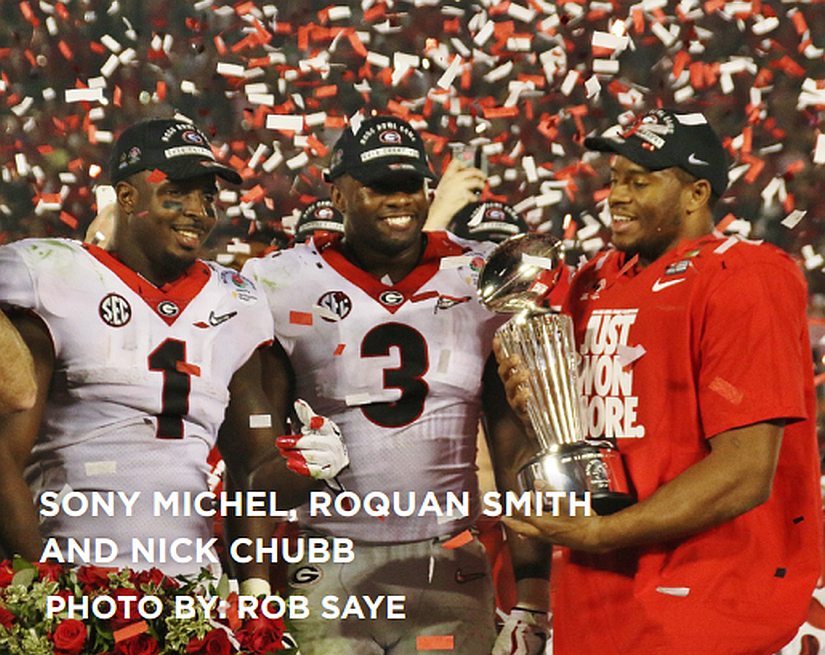 What a memorable season it was for Georgia. My final Blawg of the 2017 college football season is a DAILY DOUBLE for Thursday, as BIG HAIRY BLAWG by Han Vance has been brought to you here at Bulldawg Illustrated every week on Tuesdays and Thursdays throughout this college football season. Before calling it a wrap on this epic season, I wanted to write in summation about this team's place in history.

The winners of the Southeastern Conference for 2017, Georgia earned the SEC crown for the 13th time in school history by representing the SEC East division in a win over the Auburn Tigers in the first league championship game played in the new Mercedes-Benz Stadium in Atlanta, avenging their only regular-season defeat.
2017 Georgia Football matched the most wins in school history at 13, equaling the win mark set in 2002 by Mark Richt's second team in Athens. Georgia would fall to Alabama in overtime to end Kirby's second year as a head coach on a bad note. This was the best two-loss team in school history and leaves a winning legacy intact.
In the final national Top Ten, Georgia finished ranked second, which matched the high water final ranking for the team, reached only once prior, in 2007, since the lone consensus national championship season of 1980. The final rankings are as follows – 1. Bama, 2. Georgia, 3. Oklahoma, 4. Ohio State, 5. Wisconsin, 6. Penn State, 7. Clemson, 8. UCF, 9. Auburn, 10. Notre Dame. Georgia beat #3 and #9 in neutral site games and #10 on the road, losing to #1 at a neutral site and to #9 on the road. Remember, only the final rankings really matter in history. Totaled up, UGA was 3-2 versus the Top Ten in the 2017 football season, 2-1 in neutral site contests and 1-1 on the road. We lost only to the SEC West champions and the national champions.
Georgia went undefeated in Sanford Stadium and won in the annual big neutral site game in Florida. Georgia defeated its top five primary rivals in 2017: Florida, Tech, Auburn, Tennessee, South Carolina, beating each significantly but going 1-1 against old sister school Auburn. One big loss and one overtime loss apiece on the season, Georgia looks to re-establish a legitimate rivalry with old league foe Alabama moving forward and has the five current rivals I listed on the schedule in 2018.
Georgia earned its first-ever College Football Playoff victory in the Rose Bowl on 1/1, after receiving the first CFP entry in school history. Georgia is the only SEC school other than Alabama to advance to the CFP.
Nick Chubb and Sony Michel exit UGA as the top running back duo nationally in the history of the sport. Roquan Smith completes his junior campaign as the best linebacker in school history, and I made the case for best overall defender in school history in my other Thursday Blawg this week. Three of our best players ever, in 2017.
Ranking this team's place in school history is especially gut-wrenching when I consider what might have been, had we been able to make just one more big play in Atlanta.
Here is how I see it:
1980 – national and league champs went undefeated and were a consensus #1
1942 – national and league champs lost one game to Auburn and won Rose Bowl
1946 – this unblemished team were league champs but did not win it all
2002 – one-loss league champs won a school record 13 games and a Sugar Bowl
1982 – league champs were unmarred and #1 entering final game, a lone loss
2017 – we went out of CFP regulation with a shot at more than SEC, after winning Rose
2007 – two-loss team was best in the country in the end but won no titles
2012 – four yards from at least league glory, for SEC East champs
1966 – 10-1 SEC champs lost one game by one point
1981 – Herschel's second team took two of his three total defeats
---
Recent Articles by Han Vance
[pt_view id="9a9402f8n5″]