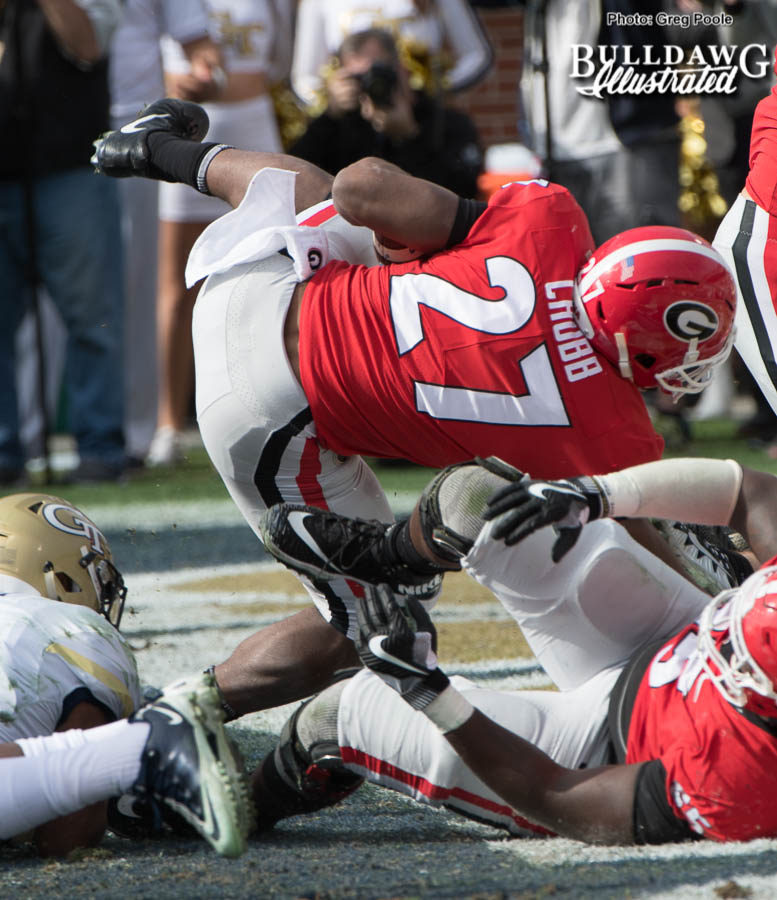 The Dawgs own all of our rivals in American college football.
The traditional three rivalries first began for the University of Georgia when we matched up with our sister school Auburn in Piedmont Park of Atlanta in 1892, in the Deep South's Oldest Rivalry. The World's Largest Outdoor Cocktail Party, as it is no longer officially called, pits the Georgia Bulldogs and hated Florida Gators in Jacksonville, Florida, at the site of the bowl game no longer called the Gator Bowl, in the battle for the Okefenokee Oar (trophy). Clean Old-fashioned Hate pits Georgia versus our only instate rival; the North Avenue Trade School of Georgia Tech and The Flagship University play for the Governor's Cup.


Georgia is the SEC champs. Only Georgia, Florida, Tennessee of the SEC East and LSU, Auburn, Alabama of the SEC West have ever won the relatively modern SEC Championship game, each school winning it more than once. However, Georgia simply doesn't play Bama or LSU (we got at the Bayou next year, BTW) nearly often enough to be considered rivals. Georgia has the numbers 1. Aaron Murray and 2. David Greene passers in SEC history and the numbers 1. Herschel Walker and 2. Nick Chubb runners. Herschel is the greatest college football player in the history of the sport. Terrence Edwards was the leading receiver in SEC history at the end of his collegiate career as well, but he has since fallen (to 8th) with the proliferation of passing offenses and increasingly longer seasons. UGA has finally tied Tennessee for the 2nd-most SEC championships overall, both trailing Alabama significantly. We actually want to become a rival of Alabama and may see them in Atlanta for the National Championship game. Vandy, Mizzou and Kentucky have not had enough ancient or SEC East success to be rivals to Georgia, and only Auburn is in current regular rotation from the SEC West.
I'll give South Carolina the rival nod, down the list at 5th. While Ol' Georgia used to play pretty Ole Miss every year, and Clemson is a longstanding rival of UGA we could see in Atlanta. Considering they are defending champs, it'd be a big deal to beat them…again.
Here's the "ownage" I mentioned:
7. Ole Miss – Dawgs lead series 32-13 and won ten straight before Kirby's rookie year meltdown. Regarding the rampant cheating, you should take your medicine like men instead of complaining, Rebs. Nobody was buying you suddenly becoming this dominant program after years of mediocrity, at best. Nice town, good people. Be you.
6. Clemson – 42-18-4 Dawgs, 7-of-8 starting in 1991 (I was a student there at the time, skipping the Nirvana concert to attend a then-rare night game Between the Hedges). Last meeting was a 45-21 early season blowout in Athens, featuring the breakout running of freshman Nick Chubb and sudden Heisman frontrunner Todd Gurley.
5. South Carolina – 50-18-2 for Georgia, including 4-of-5, they challenged us for a minute in time.
4. Tennessee – The only team on this list with a winning record over Georgia, and it is by just one game: either the Chubb injury or the Hail Mary, take your pick. We beat them 41-0 at Rocky Top, have won 6-of-8 and 12-of-18, after oh so long ago it seems losing nine straight over an eleven-year stretch that encompassed the league splitting into divisions. This is a salty modern rivalry, which I can't say about Carolina post-Spurrier. They are the only team we tore the goalposts down for, ever, and I touched one as it made its way through historic Herty Field on its way downtown. Hobnail Boot. Would you look at those big old thighs. We came right back down the field.
3. Auburn – You hicks fell to third with a 28-7 thud in The City. Dawgs up 58-56-8, 10-of-13 is total "ownage."
2. Georgia Tech – Should be first on the list but just ain't good enough. Chubb and Sony came back to run y'all over and did 38-7. I was there. 66-41-5, 14-of-17 and 21-of-27. Do love that skyline view, though, Jackets.
1. Florida – It gives me extreme pleasure to point out that with our 42-7 decimation of their football program back on October 28th, we've won 4-of-7 over Florida going back to 2011. Finally! Dan Mullen is a 60% winning coach, too, and Miss State feasted on weak non-SEC teams regularly. So not scared of you, anymore, even though you have the "neutral" field advantage, at FLORIDA! The Georgia-Florida game, as it is rightly called, is the world's largest outdoor cocktail party, folks. 51-43-2 U G A.
---
Recent Articles by Han Vance
[pt_view id="9a9402f8n5″]