SEC Champions! All Hail Georgia, I've waited for this moment since 2012, since 2005, since most similarly 2002, but the difference being there is a four-team playoff which we've qualified for at 12-1.

Since my freshman year in 1990, since I was a kid playing football here in this state in 1981, 1980. That heartbreaker to Penn State to end a perfect run in 1982. Sitting on my parents' couch in Marietta off Garrison Road, watching in sadness.
What a great win for the program and the fans! We are champions again, and contending for the biggest prize.
Traditional powers Georgia and Oklahoma have never played before. Oklahoma has won their last four meetings with SEC teams and Georgia is 5-2 all-time versus the Big 12. Quarterback Baker Mayfield will win the Heisman and has the highest QB rating of any college quarterback, like ever bro!
Bulldawg Illustrated on the scene! The crew from San Diego rolling down to Pasadena in style, you know what I'm saying. My man Merv Waldrop too, who I barhopped and tailgated with so epically last year at the Liberty Bowl in Memphis – and several times at the Founders Garden this season – will be setting up shop in Pasadena.
I visited there once by the way, on my book tour in 2015, had a reading and signing at bookstore Distant Lands for "Golden State Misadventures" (Silver Stone Press). Right in Old Town Pasadena there, It's sort of a uniquely separate little town inside the megalopolis that is LA. Keep in mind, 10 million people live in Los Angeles County. Yet, Pasadena has this little Athens-like insularity and flair. One of the amazing things about Pasadena is it is very pedestrian-friendly with wide multi-directional crosswalks and all open backside patios in alleys that have been immaculately restored. Bars to the alley. It has traditional Spanish architecture that screams California.
And I'm going! The Rose Bowl Stadium is the most storied football field in America, and the bowl is: The Grandaddy of Them All. I've heard the smells alone of the Rose Bowl Parade are not to be missed. It's been narrowed down to one-of-three people, all alums I've known a long time, either my brother, my surfer/writer friend who lives in San Diego or my best college roomie of multiple old Athens houses, whom I visited often when he lived in San Diego. Two tickets total and a claiming order, based on various factors. We're sitting with the San Diego UGA Alumni Association folks my wife and I partied with for the Miss State game, when we were out there seeing U2.
Of LA: if you're looking for something else to do during the day The Getty Museum is huge and free and has amazing views of the smoggy city from way up on a hill. It's kind of all about the grounds there, and they have a huge number of works displayed and a trolley. The museum buildings were designed by the original architect of the High Museum in Atlanta, Richard Meier. The quintessential Hollywood stuff is fun, Hollywood Boulevard gets pretty cheesy quickly, but Venice Beach is a fun place to walk around and grab drinks or body surf and tan, that's where all those outdoor scenes of LA are shot that were in every movie in the 1980s. The Sunset Strip is aglow at night and has revving energy; even Downtown has undergone a renaissance. Santa Monica is nice. Hotel Roosevelt pool bar is money. Book Soup on the Strip in Hollywood is where I debuted the book. My best friend David Weiss, who played Tennis at Florida and then transferred to Georgia, is an LA national TV commercials actor and longtime restaurateur (Cheebo, Swingers, Flora Kitchen). I usually hang around the Mid-Wilshire area, recreationally and resting up and whatnot. Hancock Park or La Brea. Then spread out from there. Pinks hotdogs is a fun place to grab a tasty bite. Luna Park if you want someplace a little nicer but still reasonable, fun to drink and nosh there before heading to the Strip. Lots of cool hotel rooftop bars. They have Disney in Anaheim, if you're so inclined.
Back to hardcore football. Back in 2002, Georgia would have qualified under this same four-team format had it been applied. Ohio State edged that last really good Miami team late that year, plus USC was 4th, with us at 3rd, which is also where we finished the year after a Sugar Bowl win. Richt would have gotten in.
Now, in his second year at the helm, Coach Smart will have matched the success Mark Richt had at Georgia (13-1) in the seasonal record if he can get the bowl win. Richt had a half-game better mark in his first year. This time, Kirby is in a much better position than any team Richt ever coached, as a head coach anyway. Georgia has been eliminated by now or isn't getting the votes when we come close, year after year. So, I'm going to savor this SEC championship. That was twelve long years, folks. Kirby has captured that second-year coach magic at the right time in history. Fourteen wins would break Richt's UGA record for most wins in a football season.
Georgia last won the national championship in 1980, with two national titles (1942, 1980), although an unblemished 1946 team was clearly deserving, as well. A third national title would validate Georgia's long-term success.
We face a very formidable opponent in the Rose Bowl and shouldn't be taking this opportunity for granted.
Either way, if we win, Georgia faces a fierce rivalry battle for the national championship, which rarely leaves this general geographic area. Bama-Clemson III. We have a seat at the table this time, too though, and are again the three seed. Glory, Glory getting to go to the Rose Bowl. UGA last won the Rose Bowl in the national championship year of 1942, their only loss to Auburn then as is now. We got to rematch Auburn in a neutral site. Everything has aligned perfectly for Georgia. Consider that if we make the final, three of our last four games would be played in Atlanta, in-state. That's a significant advantage.
Now, look at our upper class in leadership and talent. We have some serious NFL talent on their last run in college.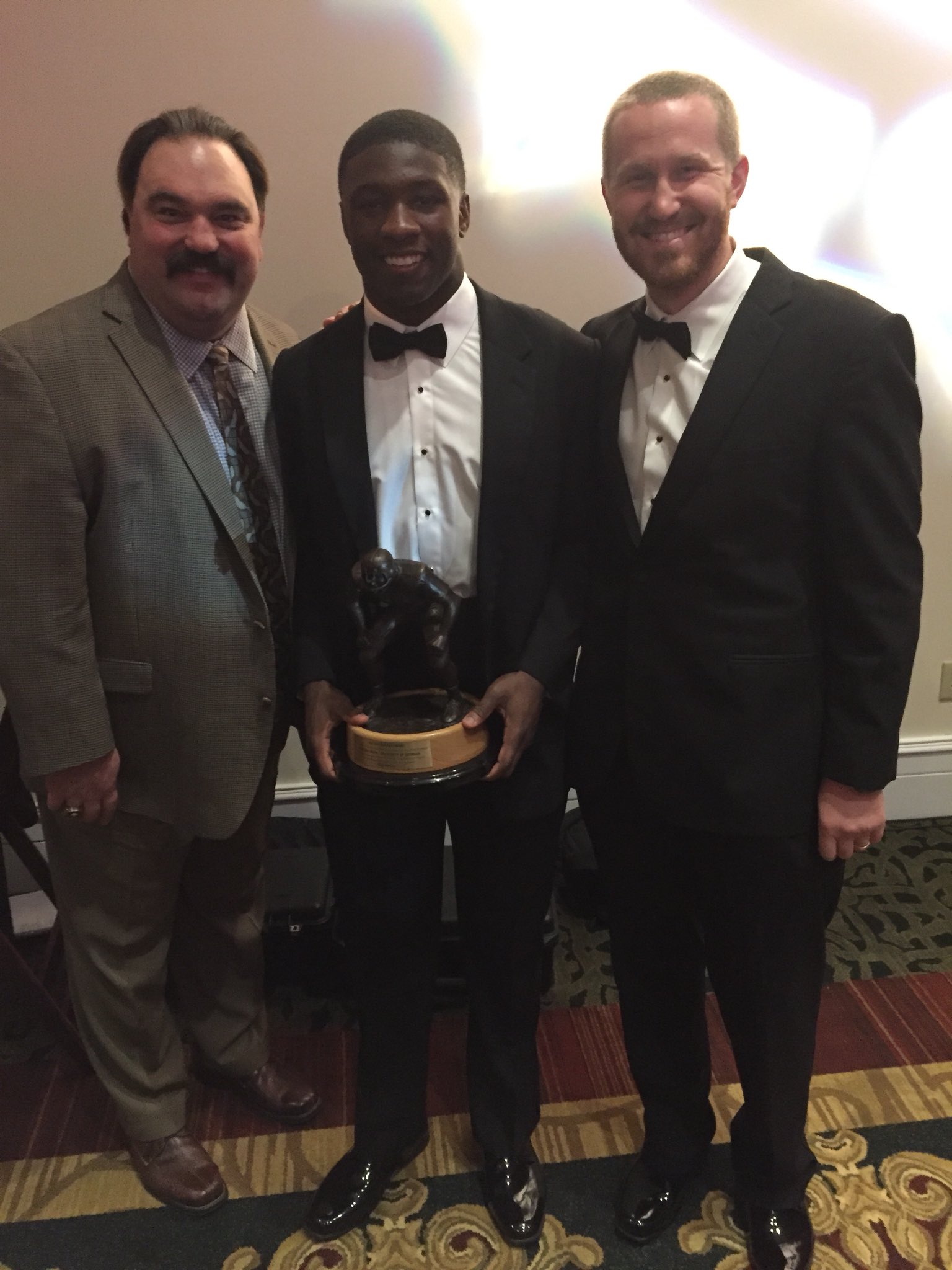 Roquan "The Human Missile" Smith is getting the accolades he deserves winning the Butkus Award already. Look at what our defense did in rivalry games this year, y'all: Tennessee and Florida in the East scored once combined, Auburn scored once in the first SEC Championship played in Mercedes-Benz Stadium. Tech was stuffed, too. The one breakdown (40 points!) was avenged minus-33 scored, so we are clearly beholden to no team at year's end.
We got quality wins in Auburn, Notre Dame, Mississippi State, South Carolina and Missouri. Mizzou hasn't lost since they played us, of interest as an amusement. They look more likely to challenge us next year than UT and the stinking Gators, man. Dan Mullen won 60% of his games. Phil Fulmer doesn't understand Turnover Trashcans.
Moving to 3-3 in SEC Championship games, Georgia has finally tied Tennessee for the 2nd most SEC championships (13) – Bama has 16 Nattys so don't even ask. It's way up there. Look at us though, we look to be the second-best program in the SEC ever. We won the league and may get to face the team ahead of us in history. 2012 doesn't feel over to me at all with this victory. Although my sense of elation is of course through the roof.
Sony and Chubb. What a season this has been for the state of Georgia. What a year. To think it was a year ago when I was watching us eke out the Liberty to get to 8-5. Profound. We went 12-1 in the calendar year 2017. Our next games are to be played in 2018.
The national championship does not have a longer break between games this year, the final is one week after the opening round. Good, I hate waiting. I just hope we can pull this off out West. This will certainly go down as one of the most famous games in Georgia football history, regardless of the outcome. It's a big deal.
An out-of-state team's fan was walking to the store in the Highlands to get more beer and told me the next day (in my coffeehouse) he could hear loud yelling coming from so many different directions, houses, and bars as he walked down the sidewalk. A uniquely UGA urban experience on aural display in the glorious capital of the South and world capital of college football. He got back to his apartment and said, did Georgia just score. She: oh yeah, he broke a long one. It was after the Swift run. My God a freshman. Fromminator outdueling a game Auburn passer and Kerryon stiff as a board and doped but playing gallantly, if not necessarily wisely.
And I mean, my brother Johnny's party was a throwdown. Very intense and rewarding experience with family, after a slew of us had gone to the Tech game together a week ago. Johnny and I went to Georgia together when I was finishing up as a non-trad, and he and my brother August have gone to games with me up there since they were around 12 years old, plus lots of other family who support Georgia.
Seems longer…It's just a week from the Tech game and look at us now…CHAMPIONS.
That was a huge win for Georgia. Talk more Thursday. Until then and always, Go Dawgs!!!
---
Recent Articles by Han Vance
[pt_view id="9a9402f8n5″]