It's almost Signing Day, already. The NCAA now has, for the first time, an early signing period. Those players already committed to the "G" can end any speculation and make it official between December 20th and 22nd by signing a National Letter of Intent (LOI). This is especially special for early enrollees who are all but ignored by the media on National Signing Day in February, while traditional-time signing kids who waiver and wait hold the nation captive and choose between multiple hats in front of them on a table, on television. No drama in a kid already taking class signing a piece of paper, instead of faxing it in to his school.

Although slightly diminished in importance, we will still have a traditional signing day for those unofficially decided, and keep in mind until that paper is received, the player is not bound to the university. Mark Richt's best grab late in his tenure has been proven to be Roquan Smith, who proved an interesting case study by fully illustrating this point. He actually declared for our last Rose Bowl opponent UCLA, but did not "complete the paperwork" as you will hear it called. Instead, going to Georgia, he created a new type of scenario where a player just simply refuses to sign an LOI, then goes where he pleases. Doubt we would be here without him, he is widely considered our best football player. Only a bonafide top-tier talent like Roq could get away with doing that, maybe, but it is a potential scenario.
So clear your calendars for 12/20 and stay tuned in to Bulldawg Illustrated; I suspect most signing early will sign on the first day of the early signing period.
Outside of transfers, 2018 will be the first year any of Kirby's actual recruits are upperclassmen. Give credit where credit is due in that most of our key players in 2017 (and 2016) were Richt recruits. Chubb and Michel, Roquan and company were weapons Kirby inherited at Georgia. I suspect they would have had this success regardless. Not thinking so is selling them short as players, folks. I fully believe in the upper-class talent at Georgia.
After a first year where he matched the modest success of Jim Donnan at 8-4, Richt had a top-flight team his second year and then exactly every five years in Athens over his long tenure. This year would have been another fifth in that cycle. That trend indicating Richt would have won big in 2017, like his second year 2002 (Dawgs 13-1 and would have been in a 4-team playoff as 3 seed), 2007 (Blackout/Dance year we finished #2) and 2012 (four yards from playing for a national championship).
While it's just great that we are in the College Football Playoff, to-date Kirby has factually not outperformed Mark Richt's first two years in Athens, not yet. Richt even has the same record as Kirby in his first two years rebuilding Miami. Georgia was in no way a rebuilding gig. Winning it all would give Kirby a fourteenth, the most wins in school history in a single season. It would be the school's first national championship since 1980. Likewise, even reaching the national championship game is something Richt never did at Georgia. It's still out there but anything other than a Rose Bowl win can't measure all the way up to 2001-2002, the breakthrough after twenty years of mediocrity.
The system now favors the Kirby era, as Georgia would have been locked out this year for Clemson-Oklahoma if the system of just four years ago were in place. Even the 2012 SEC runner-up would have garnered strong consideration for a four-team playoff considering the narrow defeat to number one Bama and a lack of other marquee teams in contention other than undefeated Notre Dame. Richt's second team would have been in, with his seventh team handily favored to win it all. Thinking an SEC Champ wouldn't get locked out is engaging in fallacy. Remember Auburn had a perfect season that went unrewarded during the Richt era. Some pollyanna fans get mad at me for comparing the two, but that is what history will do. They will be forever looked at in comparison.
It took twelve long years to get our thirteenth SEC crown, matching Tennessee for 2nd most in the SEC. In fact, this is the first SEC championship in which I covered Georgia. I started doing this back in 2007, ten years ago. Before that, I was a 50-yard line sun side where it is by far more intense, 18th-row season ticket holder. Before that, I went to every home game and sat where I could. Before that, a student at UGA. Winning the school's first SEC title since 2005 (that two-loss team may have gotten in as the 4 seed, by the way) was a major accomplishment for Kirby Smart, and he didn't just do it with Richt's players. Many coaches have gone down in history after early success holding that stigma, but I think Kirby is too good to not continue winning barring scandal. Kirby also used key transfers and a few freshman to fill major holes in the Georgia roster.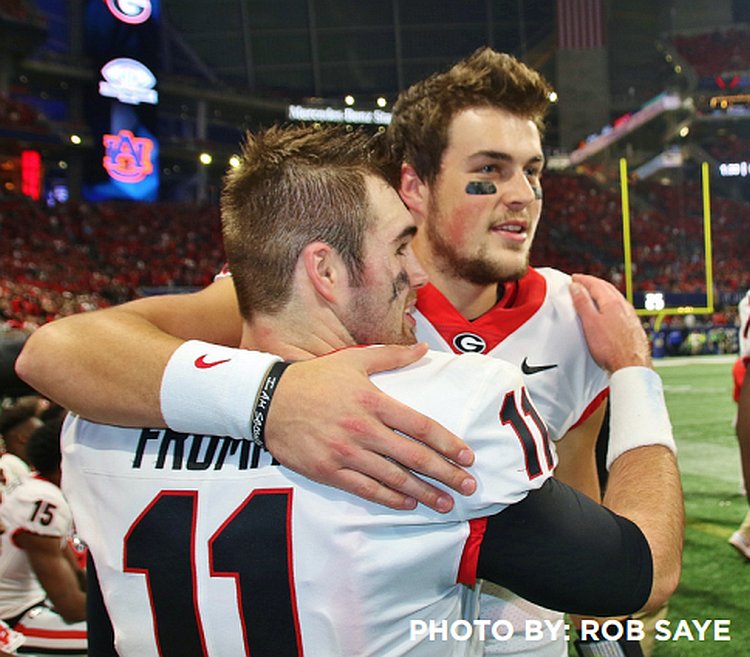 First, Coach Smart convinced number one national recruit Jacob Eason to stick with his verbal commitment to UGA. Generally, when a coach leaves the big recruits jump ship, too. Eason stayed and started. He replaced Greyson Lambert (11-2 as a starter at UGA!) in the first game of Kirby's tenure, those folks also forever linked. Then the next year, in addition to beefing up the offensive line, Smart flipped Jake Fromm from Alabama. Fromm starting after replacing Eason in the first game of this season. Kirby got it right the second time, after injury forced his hand, but their records as starters do indicate that Lambert not starting the bulk of 2016 was a tactical coaching error.
We were small at wideout in 2016, relying on the Jeremy Pruitt-coached defense to win games. Kirby went out and got Javon Wims, the great jump ball specialist from south Florida who had been biding his time in JUCO. That was a good get we may not be in the Rose Bowl without. He came on slow his first year at Georgia, but blossomed into our best receiver as a senior. Nice job with player development, there. He was marked well by Auburn in the rematch, often used as a decoy and held without a catch, so look for him to have a bounce-back game in Cali.
Our special teams were special in a bad way too often under Richt, and versatile Brice Ramsey was our starting punter last year. Cameron Nizialek was a huge addition as an Ivy League grad transfer. We had an excellent offense in 2017, but this team could have won a lot of close games relying solely on our lights out defense and punting, if we had had to, which was exactly the type of thing we could have used more of in Kirby's five-loss debut.
And finally, one safety position has been manned by All-SEC transfers two seasons in a row, and will be for a third next year, as an all new defensive backfield will be under the leadership of Tulsa transfer J.R. Reed. Maurice Smith was perhaps our best defensive playmaker in 2016, a grad transfer from Alabama.
My 6th annual Bowl Show is now rebranding as the BOWL & PLAYOFF SHOW __ coming soon!
---
Recent Articles by Han Vance
[pt_view id="9a9402f8n5″]